Tennis is not only one of the biggest sports in the world, but it is also one of the most popular sports to bet on.
Most fans mainly follow the Grand Slam tournaments and the Davis Cup. The four Grand Slams are the Australian Open (the first of the season in January), followed by the French Open (AKA Roland Garros) in May, followed by Wimbledon in June and July, the US Open is the last Grand Slam of the year in August and September.
All kinds of options when betting on tennis
The Davis Cup is a tournament between national teams. It is the closest thing to a tennis world championship. As of 2019, the format of the Davis Cup has changed. All the top teams from qualifying will now play in one week at one venue, known as the Davis Cup final. This final takes place in November.
But what makes tennis betting so attractive to players? Below we look at the four main reasons why people like betting on tennis.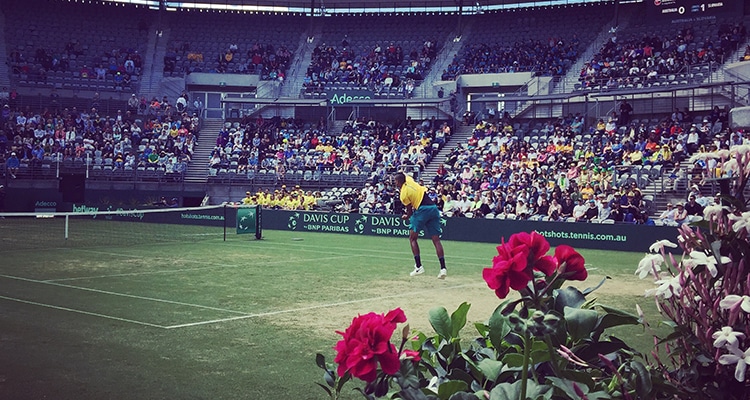 Davis Cup
1. It's one of the most predictable sports
It may sound like a diss of the sport, but for those who want to bet from time to time, tennis is actually one of the best sports to bet on because it is quite predictable. The main reason for this is that tennis has fewer variables than most other sports.
For example, tennis is almost always played in a reasonable climate, with only two players competing (apart from doubles). In doing so, relatively few mistakes/blunders are made, meaning that the favorite often wins.
If we compare this with betting on soccer, where there are at least 22 players who can influence the result, thereby the referee is another variable who can interpret the rules differently, also fields can have bumps and factors like wind, rain or heat can play a factor. It should be clear that tennis is much more controlled. In soccer, matches can also be – and often are – determined by a single moment, which can keep the 'better' team from winning, making it a much more unpredictable game.
If you follow tennis closely, you can generally have a good idea who will beat whom, depending on the event and the surface. Certain players are likely to perform better in certain competitions because of the surface they are played on.
More on betting on other sports
Betting on Max Verstappen

Betting on soccer

Betting on darts

Betting on horses 2. You become part of the game
Regardless of whether you're a tennis fan or not, a little betting on tennis matches can add an extra level of excitement to watching a match. You'll really get to empathize with the player you've bet on.
When you bet on your favorite player, you will definitely feel part of the game and experience the highs and lows as if you were playing yourself. Of course, it is not only match results you can bet on, you can also predict that a player will win a straight set, or not lose a service game or win a tournament. With the latter, you will follow and support the player throughout the tournament.
3. Test your tennis knowledge
If you think you know a little about tennis, what better way to test your knowledge than by predicting tennis matches and tournaments?
If you are passionate about a sport then this will only benefit your betting insights. After all, the closer you follow a player, the better you will be able to know his strengths and weaknesses, and thus better understand whether certain conditions or opponents would be good or bad for them.
There are not many better feelings than correctly predicting the outcome of a match or tournament.
4. Just for fun betting on tennis
Of course, placing a tennis bet is not just about trying to make some money (although of course it's a bonus if you do), it should be mostly a fun activity and one that will make any tennis match or tournament you follow extra exciting.