Often we hear say: Everything was better in the past! The youth of today then just shrug their shoulders. "It will all be fine", they think. Also in the field of slots, this is often said, and then many people refer to the slot machine Random Runner.
But they have a point there. This was by far the most famous slot machine of the late 80s, early 90s. In every gambling hall there were several Random Runners side by side. Every French fry shop/snack bar wanted this slot machine in their establishment.
Go here to our review of Random Runner
Random Runner is back
The reason for the popularity of this slot machine was in the "top game". The basis of this slot, the regular game on the fixed reels was just like many other slots. Only won points could be moved to a separate meter and thus a kind of bonus game could be played. With higher stakes and multiple paylines and higher prizes. And the slot machine had some kind of (unintentional?) bug.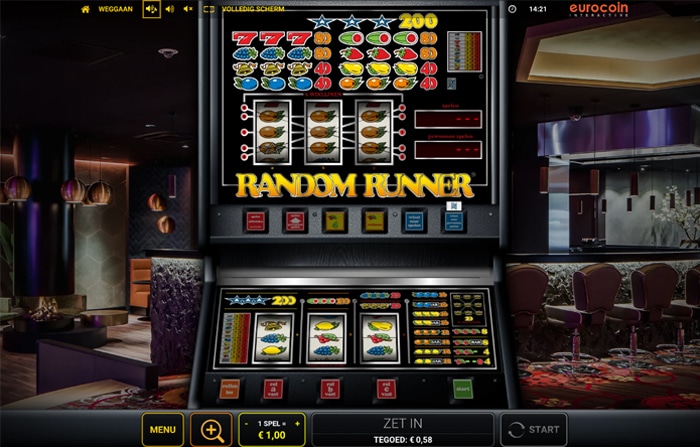 The online version of Random Runner
If the 200 point jackpot fell on the top game, the programming was such that the points were not counted towards the bonus game but went straight to the bottom game. However, there they were not as valuable to the players. However, when the player pulled the plug after a jackpot or "full house" (5 full win lines on the top game) and then plugged it back in, the 200 points counted towards the top game. And this is where the prizes were to be won.
The slot machine could give huge winnings. The flip side was that it could also cost an enormous amount of money. Perhaps this contrast is what made the Random Run so popular. No matter how much money you had in it, you knew it was possible to make up for your losses.
BetCity.nl presents the old Random Runner as an online slot machine
With the regulation of online gambling in the Netherlands, since October 1, 2021, there are ten parties that offer online games of chance. One of these providers is BetCity.nl. This online casino has chosen to approach the original creator of the old Random Runner, Eurocoin, for an online version. And this one can now be played online at Betcity.co.uk. Exactly as you used to encounter the slot machine in many bars and Chinese takeaways.
Play the trusted Random Runner now
Go directly to Betcity.nl Also Book of Ra can be played at Betcity.nl
BetCity.nl has not only thought of popular slot machines from the past, but they also added a mega popular online classic to their repertoire: Book of Ra. This topper from provider Greentube (part of Novomatic) has been one of the popular slots online for years. Thus BetCity.nl is slowly but very well expanding its product range. A very positive development for the Dutch players. Feel free to go to this reliable online casino and have a look around to see what you can play. Besides a nice selection of slots they have of course all kinds of table games, a good live casino and a sportsbook for people who like sports betting.