In an online casino, RNG software is used and in the Holland Casino the cards are constantly shuffled. Because of this, you will also have no influence on the outcomes and cards you receive.
Make the right decisions
You'll have to hope for the best after you've wagered money on the "ante" areas. However, it is true that you can increase your chances of winning by making the right decisions. A big mistake that beginning players often make is not placing enough of their chips in the "call" area.
For example, they have a pair of 4s in their hands and don't dare call because they think the bank has a better combination. If you know the odds of a pair in hands with five cards, then you will also know that the odds of a pair are quite small. As you become more familiar with the odds and possibilities of Caribbean Stud Poker, you'll also be better able to decide whether to continue playing or to fit your hand.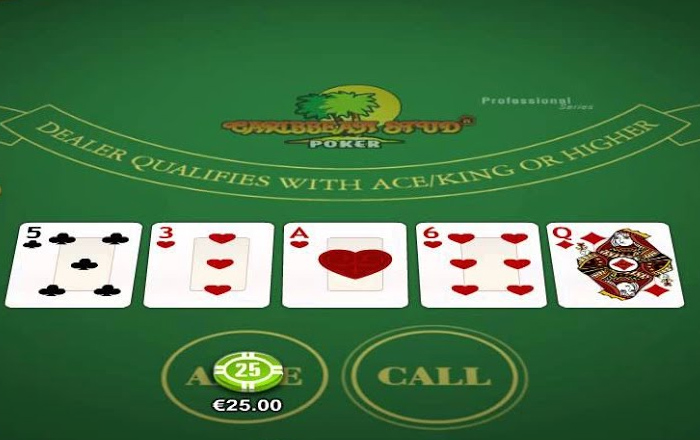 Earning with Professional Caribbean Stud Poker
Are you playing for the jackpot or not?
Advanced players will increase their chances of winning by making the right decisions right from the start. They know exactly when to fold or when to call. It is also important to know when to hit the jackpot and when not to. Some seasoned players will only play for the progressive jackpot after they have reached a certain amount. Has the jackpot just been hit? Then they will ignore it.
Increasing your chances of winning at Caribbean Stud Poker
The banker's face-up card can tell you a lot about his hand. For example, if you yourself already have a matching card with his face-up card, the chances of getting a pair from the bank are smaller. Based on this, you can already decide whether to play or not.
By looking closely at the face-up card, you can increase your chances of winning at Caribbean Stud Poker. This does not mean that you are playing Caribbean Stud on a professional level, but simply with more knowledge.
Let's take as an example that you have a hand such as: A, K, J, 6, 6 and the bank has J as the exposed card and four cards closed in front of him. The chances of him holding J, J are smaller now that you are in possession of a J. Normally you might still be afraid of a pair of jacks because you only hold a pair of sixes, but now you don't have to take this into account as much and we will recommend that you place your money in the 'Call' area at all times.
Play the game with real money! New!
Casino777
Welcome bonus 100% up to €250 Jacks Casino Online
100% Welcome Bonus up to £100
bet365
Deposit min €10 and receive 100 free spins
BetCity
Welcome bonus up to €100 free spins
Our best bonus! Circus
Get a bonus up to €250
Rules to follow
The moment you get a pair, you should always call. You will win more often than not based on the odds of a five-card pair. If you're too scared to bet, you'll be wasting a lot of money. In almost about 45% of cases, the bank will not have a combination and will not play. This is already almost half of all the rounds of play that are played.
Another important rule you must follow is with certain exposed cards of the bank and your own cards as Ace/King minimum. If the exposed card is a 2 through a Q and you also hold at least one of these cards, you should continue playing.
If the exposed card is an Ace or King and you hold a Q or J, you can also continue to play (he has less chance of winning the street). Further, if four of your cards are higher than the banker's face-up card and you yourself have a Q, then also play through.
You may not be able to play Caribbean Stud Poker professionally, but by adhering to certain rules of thumb, you can get pretty far! It will be important that you generate as many chances to win as possible by following the tips above. And would you like to have an extra chance of winning a very high amount of money? Then we recommend you to play for the progressive jackpot at this card game.