This variant is played with two standard decks of cards, which are reshuffled after each round.
Not every online casino offers Premier Blackjack HiLo, so if you want to play it you have to choose carefully. In Holland Casino there is only the standard version of Blackjack offered so to play variants you really have to go and play Blackjack online. Although this game generally follows the traditional Blackjack rules, there are some exceptions.
Rules of play Premier Blackjack HiLo
In Premier Blackjack HiLo, the dealer does not cheat to see if he has blackjack. You may, however, insure for dealer blackjack if the dealer has an ace exposed. The dealer passes on both a hard and a soft seventeen. Splitting is only possible on the first two cards of the same value in your hand, and not on cards that have the same value but are not the same card. Thus, a woman and a king may not be split. A split ace can never make blackjack; with ten more points it becomes 21, not blackjack.
By the way, you can continue playing with split aces; you are not restricted to only one card after splitting aces. Doubling is only possible with the first two cards. This is only possible if the cards combined have a hard value of nine, ten, or eleven. Thus, a hand with an ace cannot be doubled. Doubling after splitting is not allowed. It is also not possible to surrender and thus save half of your bet. If you have eleven cards, you are obliged to pass.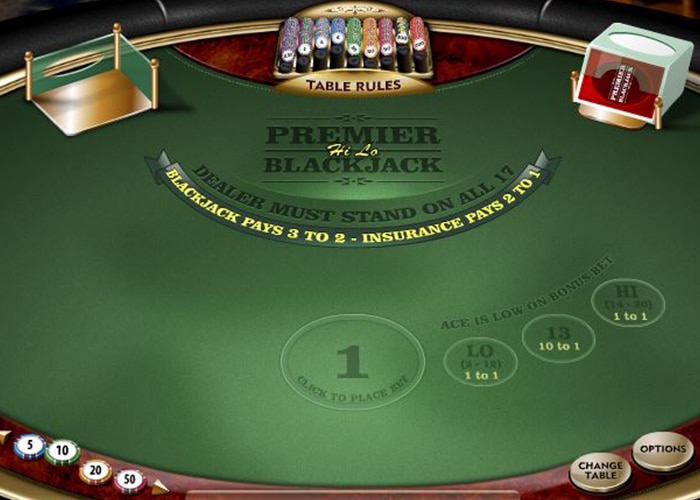 Sidebets in Blackjack HiLo
The HiLo Side Bet in Premier Blackjack HiLo
The most interesting side of Premier Blackjack HiLo is the sidebet that is available with this game. The sidebet consists of three separate parts: The Hi, the Lo, and the thirteen in between. With this sidebet you can bet that the first two cards in your hand will be higher or lower than thirteen. You can only play this side bet if you have first placed your normal bet for this round. Then you can make a choice. If you guess that the first two cards in your hand have a total value of two through twelve, choose the Lo sidebet. If you think the first two cards in your hand have a value of between fourteen and twenty, you choose the Hi sidebet.
And if you want to bet that the first two cards in your hand are worth exactly thirteen points, go for the Thirteen sidebet. It is important to note that for these sidebets, the value of an ace is always one point, and not eleven. This is not otherwise applicable to the game. Thus, even with a high hand, you can still win the Lo sidebet if the first two cards in your hand consist of cards that would be worth less than twelve points if the ace were to count as one point. So with a blackjack in your hand, you always win the Lo side bet. In both the Lo and Hi sidebet, your bet on the sidebet is doubled once. If you are lucky enough to win the Thirteen sidebet your bet on that sidebet is doubled by as much as ten times.
These casinos offer many variations of Blackjack New!
Casino777
Welcome bonus 100% up to €250 Jacks Casino Online
100% Welcome Bonus up to £100
bet365
Deposit min €10 and receive 100 free spins
BetCity
Welcome bonus up to €100 free spins
Our best bonus! Circus
Get a bonus up to €250
The Gold Version
As with some other Blackjack variants, Microgaming has released a Gold version of Premium Blackjack HiLo. In this version, the gameplay has been improved, the audiovisual effects have been polished, and the betting limit for both the regular game and sidebets has been lowered. Thus, in this version it is possible to bet from 1 to 200 on a round. Thus, this game is accessible to both beginners and seasoned players who would like to see a hefty profit. The graphics of the game are praised to the skies, and it is said that this variant can beat even the very best casino games.
The table and its surroundings are rendered in high definition, making you feel like you are at a table in a real casino. The animations play without a hitch and make the game seem just real, and the background music completes it. The presentation of this version of the game will ensure that your Premium Blackjack HiLo playing time will be experienced as better than real.