Pontoon is a game that is widely played online in the larger online casinos. It is one of those games that you have to practice a bit first to see the fun in it. Click on the image below and play Pontoon for free with practice money. This way you can find out if you like the game.
Keep your head above water at Pontoon Blackjack
In the United Kingdom, Pontoon Blackjack is played with six decks of cards that are shuffled each round.
A hand with an ace and a card with a point value of ten wins automatically, and in Pontoon is not called a Blackjack but a 'Pontoon'.
If you win with five cards in your hand it is called a 'Charlie'. In both hands, your bet is doubled twice.
If you win with any other number of cards in your hand, it has no special name, and your winnings are doubled only once.
The dealer is dealt his cards face down, rather than one face up and one face down.
On a hard seventeen the dealer must stop, but on a soft seventeen he must continue drawing cards. You yourself must continue to at least fifteen points; on a soft or hard fifteen you may stop, if desired.
In the event of a tie, the dealer wins.
The terms also differ in Pontoon, as an extra card is called 'twist'. Passing is called 'stick', and doubling the bet is called 'buy'. This can be done when you have two, three, or four cards in your hand, but it may only be done once. You can still take an extra card after buying, or 'twisting'.
You may split once, and then re-split again, for a maximum of three hands.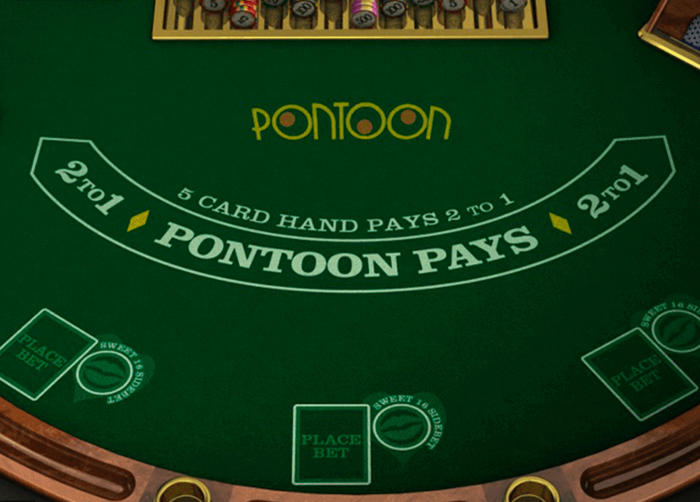 Pontoon
Other countries
In the United Kingdom it is also Pontoon, but the rules are not the same as Spanish 21. They are much more similar to traditional Blackjack, except for some new terms that are retained.
In many countries that were formerly part of the British Colonies, such as the United States, Australia, Malaysia, and Singapore, the rules of play for Pontoon go quite differently, although the game has the same name. Here this variant follows the rules of Spanish 21, which are fairly different from the rules of traditional Blackjack. There are also differences in the rules from country to country, making it difficult to establish standard rules of Pontoon.
In almost all versions, the dealer has no hole card, which means that the dealer is dealt only one face-up card at the beginning, and he is dealt the second card only at the end of the round. This makes it possible for the player to reach 21 points in the first round and win from the dealer, even if the dealer reaches a natural 21. This is not possible in either Spanish 21 or Blackjack. Since the dealer has no hole card, it is possible to lose several hands against the dealer after doubling and splitting.
Other Pontoon Rules
In Pontoon, the ace in a hand that has not yet been doubled is always worth one point, not eleven. Therefore, it is usually not recommended to double on a hand with an ace. Also, you are not allowed to draw extra cards on aces that have been split. You always get only one extra card on split aces.
The rules on splitting are different in the different countries. In Spanish 21 you are allowed to resplit up to four hands, but this is not always true of Pontoon. In casinos in certain Australian states, such as Queensland and New South Wales, you are not allowed to resplit at all. However, at Burswood Casino in Perth and Casino de Genting in Malaysia, you may resplit, but only once at most.
You may surrender only if the dealer has an ace or a jack or higher as the first face-up card. However, if the dealer achieves a natural blackjack you still lose your bet, and miss the chance to reach 21 points yourself and beat the dealer. Therefore, in Pontoon, it is less effective to surrender than in Spanish 21.
In the aforementioned casino in Malaysia and in Adelaide Casino, you are only allowed to double if you have two cards in your hand. In other casinos, it does not matter how many cards you have in your hand.
Although most of Pontoon's playing rules are less player-friendly than Spanish 21's rules, Pontoon's house edge is still slightly higher than Spanish 21. This is because the dealer without a hole card can also lose with natural blackjack to a player with 21 points. This rule makes all the difference to players, and ensures that Pontoon follows a very different strategy than Spanish 21.