The strategy for roulette is actually very simple. All you need to know about the right strategy to play roulette is that you should never play on a roulette with 38 bet options. This roulette is also known as the American roulette and has an additional betting option, which is the double zero.
Your results can be positively affected in other ways when you play roulette. In addition, you should never forget that the roulette is one of the most beneficial games for the casino.
In this article you'll read more about the tactics you can use at the roulette when you don't play according to a strategy.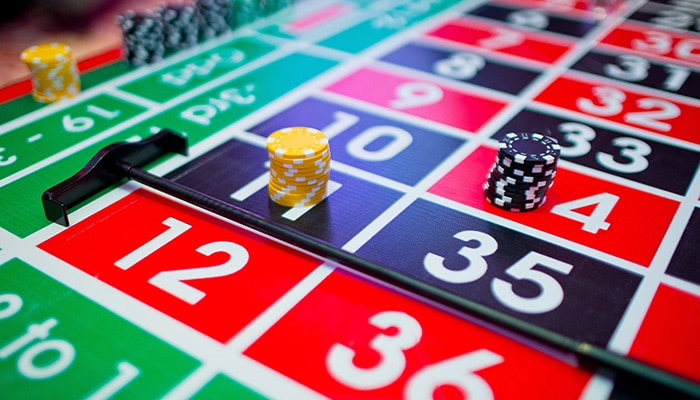 With the smallest possible bet you'll lose less in the long run
Online roulette bonuses
Suppose you have €800 to play roulette with, then you can play for a long time, at least if you keep the bets. In the end, the casino gets all your money unless you stop playing before you lose everything. This is simply how most casino games work because of the house edge. Roulette is no exception.
When playing online roulette you often have the opportunity to use bonuses. These sometimes allow you to double your entire deposit. Say you deposit $800 and the casino gives you another $800. You can then play twice as long and have twice the chance of winning. It doesn't change the fact that the casino still has a house edge, but at least you have a better chance.
In addition, you have at least double the fun because you can play longer, which is also the whole purpose of casino bonuses. You start with the amount you have in your bankroll and the casino gives you more. It's not always double, but usually you can receive a 100% bonus.
Just be aware that not all bonuses are specific to roulette. Also, make sure you always read the bonus terms and conditions so you know exactly under what conditions you will receive the bonus.
Only place a single bet per round of play
The casino house edge is the same for every bet you make when you play roulette. This means that in the long run you're going to lose the same amount, whether you bet on red or number 12.
The only way to lose more in the long run is to risk more in the long run. This is why you should never place more than one bet on each spin of the roulette wheel.
If you place one bet of €20 on a roulette wheel, your total risk is €20. But if you place two bets of €20 each on the same spin, even if you place the second bet on a different betting option, your total risk is €40.
The amount the casino keeps is a percentage of the total amount you risk. This means that in the long run you will lose twice as much money.
The smaller the better
Another way to be less risky when you play roulette is to make smaller bets. For example, instead of betting €20 on a spin, bet €10. In the long run, you'll only lose half as much that way.
If you have €800 and get a bonus that doubles your bankroll, you can play twice as long. If you make a single bet on each spin and you make the smallest possible bet, you can enjoy the game of roulette for a long time. Small bets reduce your losses and limit the risk.
You still need to understand that if you play long enough, the casino will always claim all your money. All of these tactics are designed to help you play roulette longer. You won't find any strategy to beat legal roulette in the long run, as you can with poker or blackjack, for example.
Also take a look at one of these casinos New!
Casino777
Welcome bonus 100% up to €250 Jacks Casino Online
100% Welcome Bonus up to £100
bet365
Deposit min €10 and receive 100 free spins
BetCity
Welcome bonus up to €100 free spins
Our best bonus! Circus
Get a bonus up to €250
Never use a recommended roulette strategy
Don't make the mistake of thinking that there is some strategy with which it is possible to beat roulette. For example, you can find or even buy many systems that claim to beat roulette. Most use complicated mathematical calculations to supposedly prove that they really work. However, very little of those calculations are often correct.
The truth is that there is no system that can beat roulette. No system can legally beat roulette. The only way to beat roulette in the long run is to cheat and that usually ends very badly for the player in question.
The reason you can't beat roulette in the long run is because the probability of a single number appearing is determined by the mathematics of how many possible numbers there are. The payouts for each betting option are set so that the casino keeps a small percentage of each bet in the long run.
The smart thing is to stick with what you've read in this article. It won't beat roulette, but it will cut your losses and keep you playing longer.
Set a profit limit and stop in time
It should be obvious that if you play long enough, you will simply lose all your money. Nothing will change that and those who think otherwise will find that out for themselves. But that doesn't take away from the fact that luck will definitely be on your side from time to time as well. You will lose, but always have a chance to win. When that happens, it's a good idea to have determined in advance the amount of profit you're going to stop playing.
Each time you play roulette, set a profit target. It can be any amount you want, but you should have a goal before you start playing. Once you reach your profit goal, stop playing roulette and put that profit nicely in your pocket.
It depends on how much you risk on each spin. The more you risk per bet, the greater the risk, but also the return. In any case, keep the target profit amount realistic. Setting a profit limit of €1,000 while playing with €5 per bet is not really realistic.
Another option is to place the same bet over and over again and then stop when you win. For example, you can bet on 12 each spin and stop as soon as the bullet falls on the 12. This can happen right at the beginning of your betting session, or it can happen after 40 or 50 spins.
Manage your losses
Many of the tactics covered so far focus on managing or limiting your losses. It is always good to limit your losses, regardless of the type of gambling game you participate in.
Another way to limit or control your losses when you play roulette is to set a limit on how much you are willing to lose. You should set this limit before you make your first bet.
Set your roulette loss limit to any amount you want. Then buy only this number of chips. If you run out of chips, you should stop playing. If you just buy more chips again after that, there is no point in setting a loss limit.
Slow down your game
Earlier we mentioned the advantages of playing online roulette. Another advantage of playing roulette online is that you can completely control how many spins you play. In a land casino the number of spins is controlled by the casino. Of course, you don't have to play every spin, but most gamblers do.
At an online casino, you can choose how many spins you play. Take more time between each spin when you play, as this reduces the risk you run and limits your losses. When you combine fewer spins with a lower bet amount, it slows down losing your bankroll considerably.
Conclusion
Playing roulette online is better than playing roulette in a land-based casino in almost every way. You can start playing with many tactics, but place only one bet on each spin and make the smallest possible bet. Set limits on how much you can lose in a single session, and consider getting a win from time to time by using a win limit.
If you choose to play roulette online, you can get a bonus to increase your bankroll and by placing lower bets you have more control over the speed of the game.