The information below about online gambling is purely informative. In the Netherlands it is currently NOT permitted to gamble online via websites that do not hold a license issued by the Dutch Gaming Authority. As things stand, new online licenses will be issued in October 2021.
Where players first had to rely on land-based casinos such as Holland Casino or the casinos in Las Vegas, to play blackjack; nowadays one can also go to online casinos in the automated and live casino form, as well as on a mobile device.
This means that blackjack can be played whenever and wherever you want.
Choose the right casino for mobile blackjack
In the Netherlands we're almost there, but in the rest of the world online casinos via the desk or laptop have been offering their games at a high level for years. In contrast, the mobile casino market is still developing. Important factors to consider with a mobile casino are graphic performance, proper size and an easy control panel, to name a few.
Other table games such as "let it Ride" can also be played on mobile. Not every mobile casino can actually offer this high quality and this can be at the expense of the experience.
Play mobile blackjack at: New!
Casino777
Welcome bonus 100% up to €250 Jacks Casino Online
100% Welcome Bonus up to £100
bet365
Deposit min €10 and receive 100 free spins
BetCity
Welcome bonus up to €100 free spins
Our best bonus! Circus
Get a bonus up to €250
Anywhere, anytime
Mobile casinos are ideal for players who are often on the move or not around a PC. Something casinos still struggle with a bit is the amount of data involved. Sometimes this requires a strong network for the player.
Blackjack strategy
As with blackjack at a land-based casino or regular online casino, it is important that players have sufficient knowledge of the game. Blackjack is not the most difficult game in the casino world, but with the right strategies you can keep the house edge as low as possible, so it's also interesting for you to do a little more research to find the best strategy.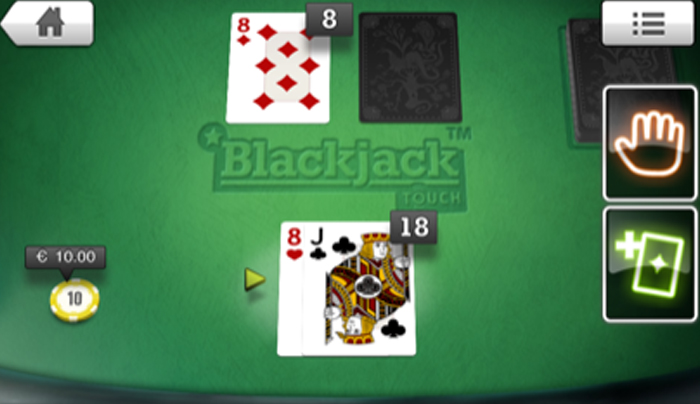 Playing blackjack on mobile
Knowledge of blackjack is not only the fact that 10, Jack, Queen and King have a value of '10' and Ace can be '1' or '11', but also when it's wise to hit (extra card) or pass (no extra card). In practice, this choice also has to do with the first card you see from the dealer in a mobile casino; if the dealer's first card is, say, a "4," then the dealer needs to hit at least two more cards to go over your (so to speak) 16.
So when is it wise to pass and when do you hit again? Read up on it because, as mentioned, it affects the house edge at casinos.
Choose a table that fits your budget
The beauty of blackjack at a mobile casino is that there are plenty of choices. For example, there are tables with a minimum bet of 1 euro, but also tables where the stakes are at least 10 euros. When it comes to playing mobile blackjack, there's a lot more choice in terms of minimum bets than at a land-based casino. There, your minimum bet per turn is at least €5 and a larger bankroll is required.
Another factor that plays a role in choosing a table that fits your budget is the strategy you are going to use and the type of blackjack you are going to play. For example, you might be using so-called roulette strategies, such as the Martingale or Fibonacci strategy. In short, this means that after a losing streak, you'll want to keep doubling your bet, so that your chances of losing money go down. It's a given that you'll need a large bankroll, as it's sometimes necessary to double five rounds in a row when things get tough.