This and the option to limit your losses during a game round are one of the biggest advantages of Let it Ride.If you have played Poker before, you can also master Let it Ride easily and quickly. However, it can be helpful to teach yourself certain strategies, which can increase your chances of winning. That's why it's nice to start off without any real money, allowing you to try things out without any risk.
Where can you play for free?
Fortunately for the novice player there are plenty of opportunities to try out Let it Ride for free.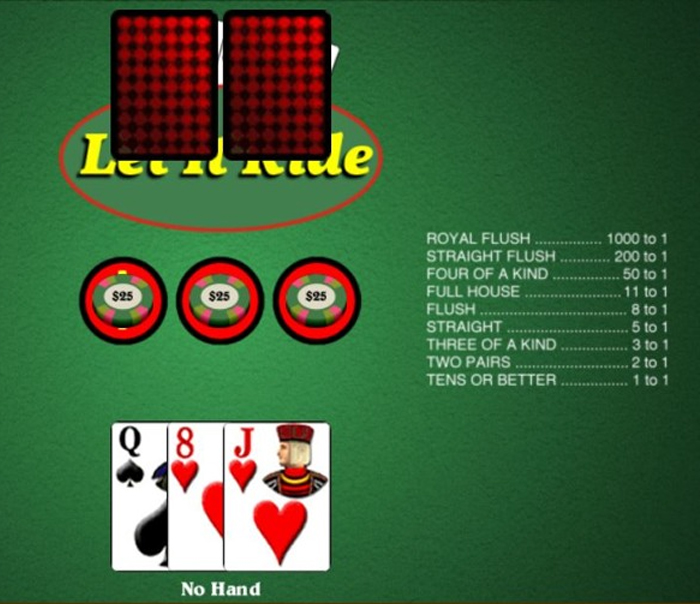 Free Let it Ride
Where can you play Let it Ride?
Of course there are plenty of opportunities to play Let it Ride. Unfortunately Let it Ride is less popular in the Netherlands and the rest of Europe, so you won't encounter it quickly in a casino here. Especially for beginners, it is advisable to play Let it Ride for free first, as you can then easily master the game. Often you don't even need an account for that.
Why play for free?
Like every card game, Let it Ride has its own strategies, surprise elements and rules. Playing for money is not recommended, since you don't know which hands will give you the best chance of winning and which cards will generate a combination. When you first start playing you will notice that a Pair 7 is not a win at all, but a Pair Women is. That's because at Let it Ride your Pair must have a minimum value of 10 or higher. So keep in mind that not all of Poker's standard combinations result in a win.
Playing Let it Ride for free will also help you figure out which cards in your hand are most likely to win. For example, a Pair on the first three cards is not an insurance that you already have a win, but it can still happen on the two public cards, for example, by an additional card with the same value (Three of a Kind) or a higher Pair (Two Pair). You can read more about the strategies that can increase your chances of winning at Let it Ride on this website under 'Let it Ride Strategies'.
Complicated? Not at all!
Furthermore, Let it Ride is not that complicated at all. You now know the combinations and the only thing you need to figure out is when to take your bet back. Suppose you have three reasonable cards, but you don't expect to win, then twice during a round you can do 'damage control', i.e. take back 1/3 of your bet. This way you may still lose the hand, but not your full stake.