Most people already know a game of roulette. Evolution takes the traditional roulette game and turns it into a game show. Not only does this make playing more fun, but it also allows you to earn much more than the traditional roulette game.
The game is offered online and it is a mix of an online and physical roulette game. Here you will find out all about Gold Bar Roulette so you know exactly what to expect.
First things first: traditional roulette
Gold Bar Roulette has all the rules of a normal game of roulette. So in order to know what Gold Bar Roulette is, it is necessary to first look at what a normal game of roulette actually entails. A roulette game consists of a playing field for betting and a dial where a random number comes out.
The basic principle of roulette is that you try to guess where the ball will land. Your earnings depend on how many numbers your bet covers. For example, you can only bet on all black numbers.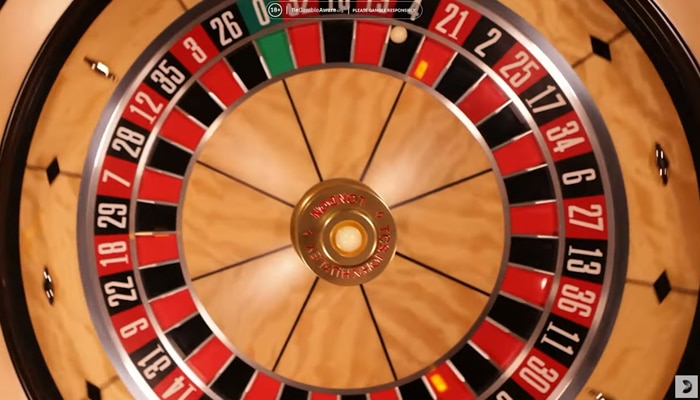 Gold Bar Roulette uses the traditional European roulette wheel
If a ball lands on a black number, you get paid 1 time your bet. If you bet on only one number, you can earn 35 times your stake back. Roulette has few rules so many people fully understand it after just a few plays. The process begins with betting on your numbers.
While betting, the dealer will spin the wheel and then spin the ball in the opposite direction. At some point, the dealer will tell you that the betting period is over and you are not allowed to bet any more.
Next, you must wait until the ball lands in a slot on the spinning wheel. The dealer will then place a pawn on the winning number so that it is clear to everyone where the ball has landed. The dealer will then remove the losing bets first so that the payout can be calculated for the winners. It is important that no one touches the chips on the table before the dealer is completely finished.
Bets
There are a number of choices you have during the betting phase of roulette. You can choose to bet on a specific number, or a group of numbers. The larger the group of numbers, the lower the payout. The first type of bet you can make are the outside bets. These cover a total of 18 numbers in the roulette game. You get into this category when you bet on a color and on an even or odd number. The next bet is the dozen. A dozen is a group of numbers that include a total of 12 numbers. You have this when you bet on one-third of the total numbers.
These are the boxes 1 through 12, 13 through 24 and 15 through 36. The columns are also part of this. The game board shows all the numbers from 1 to 36 in three columns. At the bottom of the game board, there are additional boxes below the columns for when you want to bet on an entire column. The next bet is called transversal simple. These are bets that include 6 numbers in total.
You do this when you place your chips on the side between two numbers. You can also place this between 4 squares making a square bet. Next, you have the option of making a transverse and cheval bet. These are the bets that include 3 and 2 numbers. Finally, of course, you can bet on a specific number. This is called a square and has the highest payouts.
These casinos have live casino games from Evolution New!
Casino777
Welcome bonus 100% up to €250 Jacks Casino Online
100% Welcome Bonus up to £100
bet365
Deposit min €10 and receive 100 free spins
BetCity
Welcome bonus up to €100 free spins
Our best bonus! Circus
Get a bonus up to €250
Odds and Payouts
In roulette it's all about having odds. When the odds of your bet are lower, you will also get more payouts when the ball lands on this number. In total there are 37 numbers on which a ball can land in roulette. The option with the highest payout probability has a win rate of 48.6%. For this win probability you get 1 time your bet paid out. Going a step further, you end up with a win probability of 32.4%.
For this lower win probability you will subsequently be paid twice your stake. In the next step you have a 16.2% chance of being paid out. You will receive 5 times your bet. The number of numbers that comprise your bet will therefore have an influence on how much you are paid out. The maximum amount you can be paid out is 35 times your bet. This is the case when you bet on only one number. The chance of winning is 2.7%.
In the long run a game of roulette will not be beneficial. The casino has a house edge because your chances of winning are lower than 50%. Gold Bar Roulette has therefore added an extra possibility for you to win. This is done in the form of a multiplier. In traditional roulette play, the payout depends on how high the odds are that you will win. In Gold Bar Roulette, low win probabilities are compensated with an extra high payout. A payout of 35 times can easily be doubled. So the multipliers make betting on lower odds more favorable.
How does Gold Bar Roulette work?
The basic principle of Gold Bar Roulette is still the same as in a traditional game of roulette. Only a few additional elements are added to make the game more fun and exciting. The first element that was mentioned earlier is the addition of multipliers.
These are numbers that make the payouts of the roulette game even higher. However, these multipliers only appear on specific numbers. Because of this, the multipliers do not end up on an outside bet. So to make use of the multiplier, you need to bet on a specific number rather than a group of numbers together.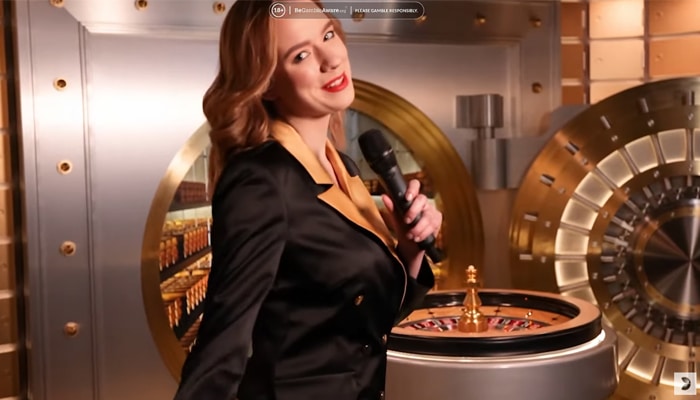 It's all about gold in this roulette variation
The amount of the multiplier depends on what happens in the live game show. This is also the other element that is added to the roulette game. In addition to a normal game of roulette, it is displayed in the format of a game show. This is done through a live stream in a beautiful set that complements the theme of the roulette game. In the gameshow, multipliers are released on certain numbers in different ways.
The multipliers that are released on the game show also apply to the roulette game that you can play online. This, of course, makes the game more exciting because you hope that the multiplier will be as high as possible. It then becomes even more exciting when you play the roulette game yourself in order to win the multiplier. Another advantage is that you can take the multiplier with you to the next round. So you'll have more chances to get the multiplier.
Strategy when playing Gold Bar Roulette
The basic principle of a game of roulette is to get as much back for as little risk as possible. Your risk gets higher when the win chances get smaller. For taking risk, you also want to be adequately compensated. Gold Bar Roulette compensates for risk-taking through a multiplier. While it is not beneficial in a normal game of roulette to take so much risk, it is in Gold Bar Roulette.
So the most important strategy to remember is to always bet on a specific number. Although the odds of winning anything go down for it, in the long run you will be able to grab that multiplier a few times over. Keep in mind to limit the amount you bet on a low probability. After all, the odds are high that you will lose the money. The trick is to play the game repeatedly to get that payout. So by betting less and less money, you can also play multiple times.
Why choose Gold Bar Roulette
If you love roulette, then you will definitely love Gold Bar Roulette. The game plays the same as the traditional game, but it is made more exciting by many extras. As a result, you'll have much more fun playing this revamped roulette game. If you care about winning chances, then the Gold Bar Roulette odds are more favorable than in the traditional roulette game. Of course, the odds of a ball reaching a certain number remain the same. But you get much more compensation in return for taking more risk. This makes playing Gold Bar Roulette more profitable when you take advantage of the lower win odds. Another advantage is that it is very accessible. You can play it on any device. It doesn't matter if you have a laptop, tablet or phone. This way you don't have to travel to a casino to play the game.
Some people don't find playing online roulette that exciting because you don't really get involved. Gold Bar Roulette ensures that you are constantly waiting in suspense. This is done by combining an online roulette game and a physical roulette game. In fact, because of the live stream, you feel as if you are really there. This is because everything that happens in the game show is broadcast directly to you. The events in the game show then influence the game you play.