The Kazuri Casino Module from OMI
In January 2012, OMI Gaming developed the Kazuri Casino Module, this is the solution for the release of games that can be played on multiple platforms. Through the Kazuri Casino Module, a game is played directly from the web browser, thus bypassing any plug-ins that may be required to do so. This ensures that their games are accessible and this module is therefore available for almost every platform, Windows, OSX, Linux, IOS, Android and WindowsMobile. This allows for access on any type of computer as well as cell phones, making it easy for players to play wherever they want.
OMI Gaming is also a contender for many awards in the field of mobile and online gaming, in 2012 and 2013 they have been nominated and finalist several times for "Best Manufacturer of the Year" and "RNG Casino supplier of the year". This shows that they are on the right track and their work is appreciated by the community.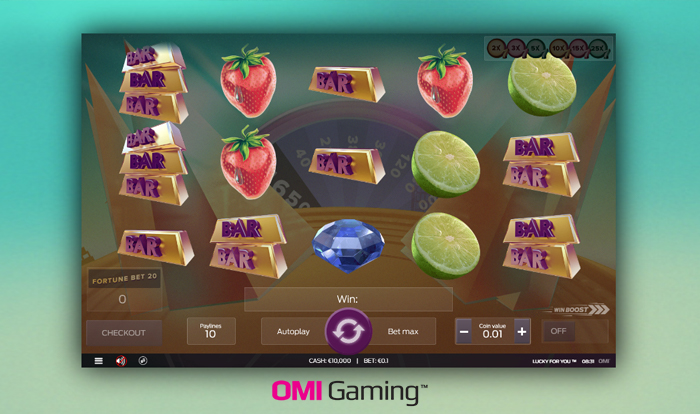 OMI Gaming
Players come first
On the OMI Gaming website, it becomes clear that they put the well-being of their players first. For example, they have implemented various functionality that keeps the games fair and fun for the players. They have also imposed some limits on, for example, stakes and playing times so that things can never get out of hand. To support this even further, OMI Gaming has a partnership with a company that supports and helps people with an addiction to gambling.
Another good example is the RNG (Random Number Generator) used to calculate the odds, the RNG system used by OMI Gaming has been tested and has received several certificates for its fairness and accuracy.
What does OMI Gaming offer?
OMI Gaming offers games on virtually every platform, which is obviously an advantage and ensures that almost everyone can play the games from OMI Gaming. The games that OMI Gaming offer differ in game type, for example there are the so called 'scratch and win' games and the 'slots' games. The majority of the games are slots and there is a clear difference between the newer and older games. The newer games are graphically a lot more impressive and are clearly more recently made. OMI Gaming currently offers 13 games.
OMI Gaming is there for its customers
It is clearly a company that cares about their customers, they have taken several measures to ensure that people do not overplay or spend too much money on the games. Furthermore, they have a pretty wide range of games, the majority of which look good, combine that with their history in terms of prices and then it becomes clear that OMI Gaming is one of the better providers of mobile and online games.