For many casino visitors, roulette is the first game they learned to play. Roulette is old, familiar and relatively easy to learn. This has made it a true classic.
Roulette may be easy, but winning is not always. Are you planning to visit a casino for the first time, and try roulette in the process? Then it's good to learn from people who have played this game before. Before you start playing roulette, it's good to consider the following elements.
A little preparation is wise
Even though roulette is not a difficult game to learn, and you'll get to know it better and better as you go along, it's still good to read up on roulette before you start playing. Roulette has a large number of betting options, whereby there is a difference between the outside and inside bets. If you don't know these terms yet, then it is definitely necessary to go through the basics of roulette. Are you familiar with the options in roulette, the payouts and possibly also the strategies that can be applied in this game? Then you're ready to visit the casino and make a bet at the tables of roulette.
Choose the right table
Landbased casinos have a large number of roulette tables. This is good for you because you'll have plenty of choice. However, sometimes the tables differ from each other. This can be seen, for example, in the minimum bet per round, ranging from 5 to 10 Euros. You can also choose multiwheel roulette: a little trickier, but fun for the more experienced players. Finally, there are options to choose European or American roulette. The former is played with a single '0', the latter with a double '0' and '00'. The house edge in European roulette is lower than in American roulette, so we always recommend choosing the casino's regular European roulette.
At the same time, it's nice for you as a novice player to start at a table that's not too crowded. Especially the first time you need to get used to the pace and possibilities in roulette, and to make this possible you need some space. Therefore, if you walk into, say, Holland Casino, choose a roulette table where it's a bit quieter, so you'll have plenty of room to place your bets.
These casinos offer great online roulette games New Casino!
Casino777
Welcome bonus 100% up to €250 Jacks Casino Online
100% Welcome Bonus up to £100
bet365
Deposit min €10 and receive 100 free spins
BetCity
Welcome bonus up to €100 in free spins
Grab the bonus
Our best bonus! Circus
Get a bonus up to €250
Starting to gamble: from simple to complex
Your first bet in roulette is always extra exciting. Starting simple is therefore a logical choice. This can be done with the outside bets, because at these betting options your chances of winning are extra high. The even money (50/50) bets give you almost a 50% chance of winning. These are red/black, even/even and higher/lower. At the same time, this bet is very simple, and you can see at a glance whether you have won or lost. The payout for a correct prediction is 1:1, or if you bet 5 euros, you win 5 euros. After making a few of these bets, you can of course look elsewhere on the table at roulette's more complex betting options.
These include the dozens and rows, still outside bets. The chance of a good prediction here is almost 33% (1/3), so you still have a good chance of a winning bet. Now that you've gained experience in the simple betting possibilities of roulette, it's time to move on to the inside bets; these are the numbers on the inside of the table. Within roulette, these are a total of 37 or 38 numbers, which you can bet money on in different ways. You can place a full bet on one number, but also choose to place a half (2 numbers), quarter (4 numbers) or even 6 numbers in the same bet. As you bet on fewer numbers at once, your payout for a good prediction also increases. This is of course due to the higher risk you take.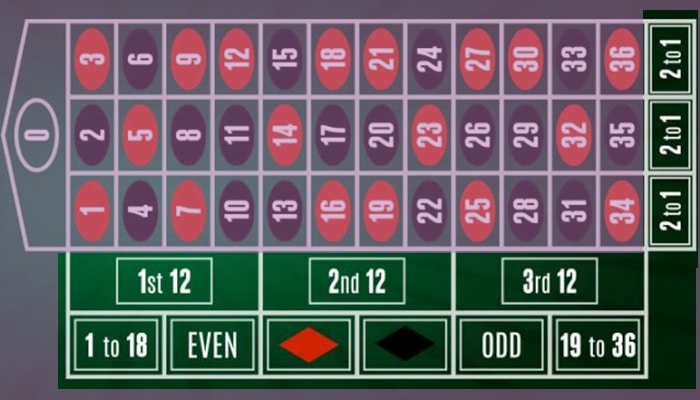 Outside bets
Use a strategy
Roulette makes itself very well suited to using a strategy. The outside bets in particular can be combined with strategies, allowing you to reduce the house edge and increase your own chances of winning. By using systems and learning them by heart before you start playing, you'll have more of a grip on the game. If you choose a special strategy, it is often important to choose a large enough bankroll that you are 'allowed' to lose several rounds in a row. The following strategies are possible in roulette:
Martingale
Labouchere
Fibonacci
D'Alembert
However, there are many other strategies that you can use to increase your chances of winning prizes in roulette. This is an interesting option for both novice and experienced players. Of course, you can also apply these strategies when gambling online.
Roulette: a fun game for everyone!
Roulette is a fun game for every type of visitor to the casino. From beginners to experienced players, anyone can go home with a nice win in roulette. Are you just a beginner? Then start simple, get experienced and choose a nice strategy to increase your chances of winning.