With Multihand Blackjack, you'll have your hands full in no time!
This game is played with 6 decks of cards that are reshuffled after each round. Although it's possible to play Multihand Blackjack in a real casino, it's probably nicer to play it in an online casino. This is because in real life you can quickly feel rushed by the dealer, and there is a greater chance that you will make mistakes or forget parts of your strategy.
In an online environment, this chance is much smaller, you can concentrate better on your own cards, and you don't have to feel intimidated by the dealer. After all, the cards in an online game are usually shuffled by the computer.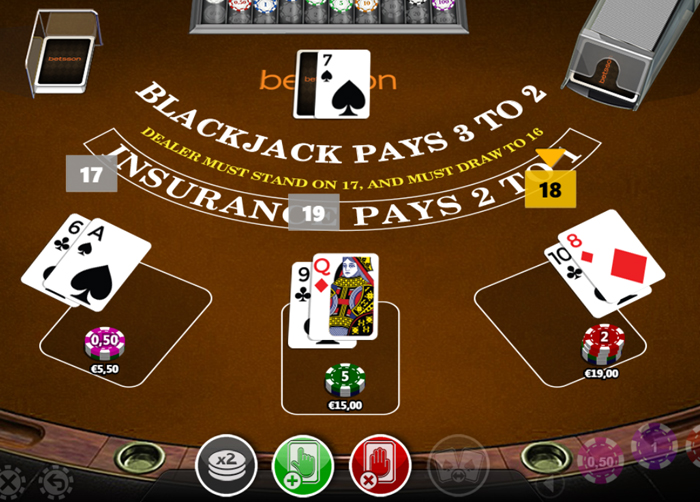 Multihand Blackjack
Rules of Multihand Blackjack
Multihand Blackjack goes the same way as the traditional version. At the beginning of a round, you must first choose how many hands you want to play. On each hand you get to choose how high you bet, and during each round you can increase or decrease the bet on each hand. This way, if your hands are promising, you can increase the bet and if your hands are bad, you can decrease the bet, giving you the chance to win more.
In addition, according to the Multihand Blackjack game rules, the betting limit is somewhat lower, so even beginners are not afraid to try playing multiple hands. Counting cards, however, is almost impossible in this online variant, as the cards are virtually shuffled by a computer, and each hand practically plays with a newly shuffled deck.
Play Multihand Blackjack for free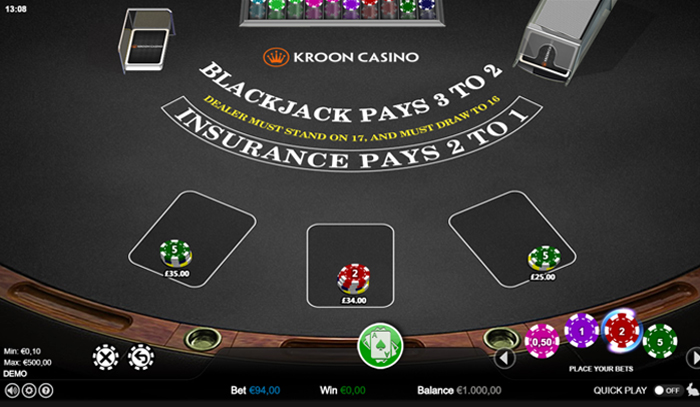 Playing styles
Since you can play with multiple hands at once, you can also use different playing styles and strategies. The dealer is bound by the rules of the game with only one hand, but you can make different decisions for each hand, maximizing the chances of that hand, or one of your other hands, winning.
You can play very aggressively with one hand, and very cautiously with another. You can split cards with one hand, and keep both cards in the other to create advantages for one hand or the other. You can take insurance on each hand if the dealer has an ace, to further reduce the chances of losing your bet.
Effective strategy
A popular strategy in this Blackjack variant is to split your bets. Before you start the game, you should think about how much you are willing to risk, and how much you would ideally like to win. Then you should divide the sum of these numbers by the number of rounds you would like to play. The amount you can risk per round remains. This ensures that you do not continue longer than is sensible. The biggest problem is not to stop when you are losing, but to stop when you are winning.
At some point you stop winning, and usually you want to win back the amount you lost. It is much more effective to stop at your ideal win amount, even if that is in the middle of a good win streak. You've made your profit, so it's better to stop before you risk losing it all again. This strategy is used by many professional gamblers because it limits your losses, and makes it more likely to end up with a profit.