Making online payments when iDeal is not offered feels strange and unsafe. And it is therefore not surprising that people start looking for another way to do this securely.
A recent development in that area is MuchBetter and this total solution was voted the "Payment Innovator of the Year" in 2018.
Since then, it has been touted as a particularly secure program that allows you to pay securely, both online and offline. You can receive money and where you can use a credit card.
And all that for particularly low or no additional fees. MuchBetter seems like a good option. With the information below you can decide whether this is the best choice for you.
Create an account at a MuchBetter casino
MuchBetter works with an app on your phone. You can simply install it from Google Play or from the Apple Store. First, you must then be accepted and you do this by sending information about yourself, such as a picture of your passport, driver's license or ID. If you are accepted, then you deposit money in your MuchBetter wallet.
Until you put money there, you can't use the program for payments. So you can never go overdrawn and you won't have to deal with large fines. Depositing money in your wallet can be done via iDeal and then used at a MuchBetter casino. You can also deposit in other ways, like with a credit card, with a bank transfer or with services like Sofort and Trustly.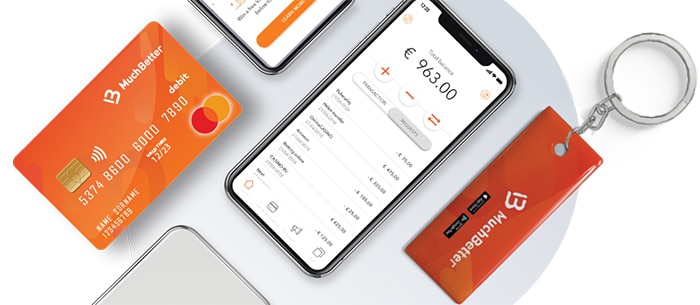 MuchBetter payments are becoming increasingly popular
What can you do with MuchBetter?
Now that you've created an account and you've put money on it, you're ready to start using MuchBetter. And then there are several services at your disposal.
1. Paying online at a MuchBetter casino

At a MuchBetter casino you can pay safely. This can be done, for example, at an online casino or online shops that accept MuchBetter. MuchBetter has made deals with large casinos such as PokerStars. PokerStars had to withdraw the iDeal payment method last year at the request of the Dutch Gaming Authority. This made it much harder for Dutch online casino enthusiasts to deposit money into their PokerStars account. This can be done again in a safe way.

2. Send a payment request

With MuchBetter you can also send a payment request to another user, similar to a Tikkie from ABNAMRO. The recipient pays you quickly and easily with their own app. You then have the money immediately.

3. Pay at an offline store

MuchBetter users can apply for a free credit card. This card is linked to your app and the technology behind it is unique to MuchBetter users. Because the credit card is linked to your app, the payment becomes much more secure. With each payment, the app generates a separate code that you need to make your payment.

Without your app, your credit card cannot be used, which is of course ideal in case of theft or fraud. One requirement, however, is that the store accepts MuchBetter cards. There are already millions of locations worldwide that do. Offline payment is also possible with a handy key fob that is also available for free.

Find the best MuchBetter Casino for you
Try it out here!

User Rewards

When you top up your account at a MuchBetter casino with 10 euros or more, you automatically enter a lottery. This takes place every week and you can win up to €1000. So if you add money to your MuchBetter account every week, then you will participate in this lottery every week. In addition, you build up points, called the MegaDraw Points. Every time you put money in your account you automatically get points added to it. With these points you enter an annual lottery that takes place on December 31.

The future

That brings us to the future and it seems positive. The company has entered into a large number of deals with online casinos such as PartyPoker, 888 and Bwin. In addition, they are now the official sponsor of English Premier League soccer club West Ham United and of Lex Veldhuis, one of the best-known Dutch poker players. So it seems that MuchBetter will only grow and will not disappear from sight any time soon.

The advantages and disadvantages of a MuchBetter Casino

So MuchBetter seems like a good candidate to join the big online wallets like Skrill and Neteller. If you're wondering if a MuchBetter casino is right for you, I'm sure the pros and cons below will be helpful.

Advantages

Unique credit card that allows you to pay securely. In case of theft, you disable it yourself via your cell phone.
Secure online payments. MuchBetter has entered into deals with a number of major online casinos.
Fast, easy and user friendly.
Usage is almost free. You pay when you want to use your credit card to get money from an ATM, when you want to change money, for some methods of sending money to your account (Visa/Mastercard and Sofort) and when you transfer money from your MuchBetter account to a bank account.

Disadvantages

It's still a fairly new e-wallet and that means you can't pay with it everywhere yet.