With Monopoly Slingo the object is to unlock as many Slingos as possible. You do that by getting five in a row within the 5 times 5 playing card.
It does not matter how you get 5 in a row. Both horizontal, vertical and diagonal is possible. The more Slingos you unlock the higher your chances of winning.
Monopoly Slingo Review
The Slingo games now dominate the online slot market. This is not for nothing, because the quality of these games is superior. Slingo Monopoly is next to well-known games such as Slingo Deal or No Deal and Slingo Fortune the next hit from the makers Slingo Originals. With Slingo Monopoly, the familiar elements of the original board game Monopoly return and the makers have done a great job of it.
You have the elements of the board game Monopoly during this game, but the makers also stick to the game elements that Slingo has become so famous for. That means that here also you have a 5 times 5 playing card and you have to unlock as many Slingos as possible. That are as far as Slingo Monopoly is concerned 5 streets in a row.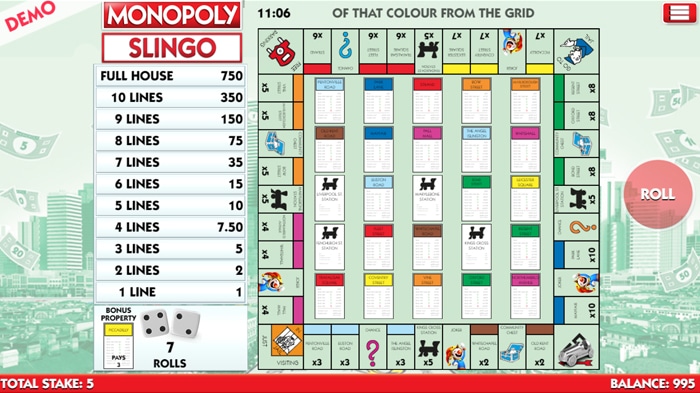 Theme
You are missing out if you have never played a real Monopoly game. This board game is almost centuries old and brings a lot of fun during an evening of board games with family or friends. If you have no interest in those old-fashioned board games, but you are an avid online slot player then Slingo Monopoly may be the answer. This game has much of the same excitement as the board game and on top of that it is possible to win large amounts of money.
You can think of it as a win-win situation. Slingo Monopoly has a very cool graphic design that just looks like a real Monopoly board game. In addition, the creators have added nice sound effects to give the game extra dynamics. This makes playing Slingo Monopoly even more fun and exciting.
Prizes
So the big goal of Slingo Monopoly is to get that extra five in a row within the playing card. The more Slingos you unlock the more chances you have to win bigger amounts of money. But that's not the only way to win a lot of money. You can also increase your winnings by collecting streets of a certain color. If you manage to land on all the streets of a certain color then you will receive a multiplier. This will give an extra boost to your winnings. The brown streets are the least profitable, namely times 2. The blue streets the most, times 10. Expect to encounter streets like the Kalverstraat and the Coolsingel then you will be disappointed. This game is from Slingo Originals and they are English.
Possible extras.
One of the main bonus feature extras is landing on a Joker. As soon as you land on it the bonus round starts. You are shown 9 different cards, one of each color and one of a station. The game shuffles the cards and you have to pick one. As soon as you choose one, the card is turned over and you are then moved with your pawn to the card you chose.
If you don't have this card, you can buy it immediately. The color is also removed from the card, if that has not already happened. If you want more spins you can. As with all Slingo games you can buy extra spins at the end, giving you more chances to unlock Slingos or colors.
Buying Extra Spins
When all the regular spins and any free spins are done you have the option to buy extra spins. The price of such an extra spin depends on the chance of getting a bigger prize. The better the prize, the higher the price for an extra spin. So it's a matter of weighing up each time whether it's worth taking extra spins.
Play Monopoly Slingo here for free
Play the game Frequently Asked Questions What is the return to play percentage for Monopoly Slingo?
It is currently at 95.94%. Advice is to bet low to get familiar with the game.
What is Monopoly Slingo?
This Slingo variant combines the classic board game Monopoly with the bingo and slot game.
How do you play this variant?
You play Slingo Monopoly by rolling 2 dice. On the 5 times 5 playing card you must collect as many streets and cards as possible.
What is the minimum and maximum bet during play?
You can bet from 0.50 cents up to a maximum of 100 euros. While playing you can earn back up to 200 times your bet.
Summary
Slingo Originals brings with Monopoly Slingo an entirely new online slot to the market that combines the classic board game with the online bingo and slot game. You can expect plenty of excitement and there are large sums to be won. With many extras you can make your chances of winning even higher which can be up to 200 times your stake. The graphic design of Monopoly Slingo looks just like the real board game and it seems while playing that you are just playing the real board game.
The sound effects that the creators have incorporated into this game bring that extra dynamic and excitement. Slingo Monopoly is a very popular game within the Slingo offer and many online players play this game. This is due to the high Return to Player percentage which makes the chances of winning even higher.