The creators of online casino games all agree that it's time for something new. Only that sounds easier than it actually is. The online gambling world is always waiting for new innovations.
It seems that the latest craze is about to be released. It's called LiveSpins.
What are LiveSpins?
Many of you will be thinking, What are LiveSpins? The answer is simple, live play along with a streamer playing on one of the popular online slots. In doing so, the online casino creates a social platform, so to speak, for online slots enthusiasts.
The streamer is playing your favorite slot machine and you can join him in his betting, just as you can with a table game like Blackjack. You determine your own bet. You can play the same bet as the streamer, but also a higher or lower bet if you prefer.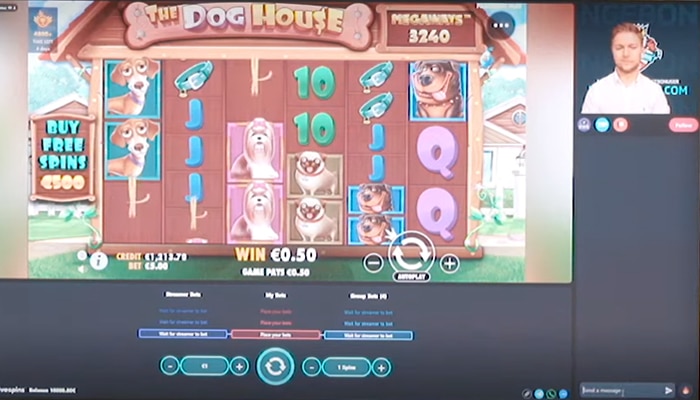 At LiveSpins you play along with a streamer
In this way, there is constantly a collective thing going on. You win together and you lose together. Winning together is always cozier than alone and losing together is more bearable. Playing LiveSpins is also interactive because of the chat. You can constantly chat with your fellow players and share experiences. This creates a close social bond which, it is expected, will be highly appreciated by the players.
The inventors of LiveSpins
The brains behind LiveSpins are no strangers to the online casino world. Robin Eirik Reed, former director of GiG is the founder and CEO of HappyHour.io. Together with his team they came up with the new phenomenon LiveSpins.
They saw that on Twitch many people like to follow the stream of online gamblers. They are curious about what they are doing. The idea behind LiveSpins is that a large portion of casino enthusiasts don't just look at games for the entertainment value. A big part of casino streaming is to feel connected to other people who have the same passion for casino games. They actually want to experience winning together.
So why not offer a stream within an online casino where people can not only watch, but also play along with the streamer? Win together and lose together. It gives the viewer the chance to play along with the streamer. They can bet on the same spin in the same game, but with money from their own account.
Every time the streamer wins, the viewer gets the same multiplier on their bet. Since it gives the option to set your own bet, any player can afford to play along. That's the beauty of this setup.
These casinos have a Dutch license bet365
#Deposit min. €10 and receive 100 free spins
BetCity
Welcome bonus up to €100 with free spins

Bingoal
Get a 100% bonus up to €300
THE ONLINE CASINO


Kansino
The online casino with the fastest payout
Frequently Asked Questions Do I have to play along with LiveSpins?
No, you can choose to just watch. This way you don't run any risk and you can still enjoy the social aspect. A minor disadvantage is that you won't be able to win anything.
Where can I find LiveSpins?
At the time of writing, it is not yet available anywhere online. On October 21, 2021 LiveSpins was introduced at iGamingNext and online casinos could sign up to offer LiveSpins in the near future.
When can we actually see LiveSpins at online casinos?
LiveSpins is expected to be playable in many casinos in early 2022.
Our expectation
We are super excited about the idea behind LiveSpins. Looking at how popular live casino games are, especially shows like Monopoly Live and Crazy Time, we see that the social aspect of these games is huge. The group feeling of winning and losing together is something that many online players enjoy. The chat in these games is constantly running and people like the interaction.
It is therefore expected that many online casinos will embrace the idea of Robin Eirik Reed, founder of Happthour.io, the creator of LiveSpins. It's something that won't be imagined in a few years. And whether it's exactly this idea or a spin-off of it, the future will tell. We can't wait and are looking forward to it.