Please note: The information below about online gambling is purely informative. In the Netherlands it is currently NOT permitted to gamble online via websites that do not hold a license issued by the Dutch Gaming Authority. As it stands now, new online licenses will be issued in October 2021.
The purpose of Live Ultimate Texas Hold'em is for players to take on the dealer and form a better 5-card poker hand. To do this, they can use two of their own cards and five cards from the table, also called common cards. The flop offers three additional cards and the turn and river both also offer one additional card. It is up to the player to form the best combination out of seven cards in total.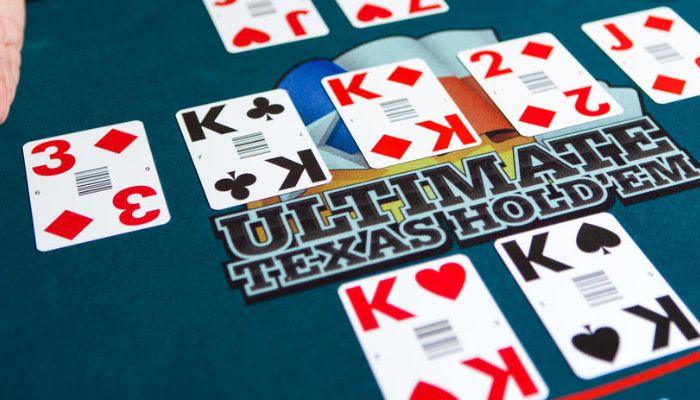 Playing Live Ultimate Texas Hold'em
How to play Live Ultimate Texas Hold'em
Players are required to ante at the beginning. Then they receive two playing cards and there are the options to 'call' and 'fold'. To call, you must place double the initial bet. Let's say you place €30 on the ante area, then it will cost you an additional €60 to call before the flop (€90 total). After the flop opens with three cards, players are again given two options, this time 'bet' or 'check'.
If you check, you don't have to bet any extra money to see a fourth card. If you choose to bet, it will cost you 30 euros (original bet). The fourth card will open and then you can choose 'bet' or 'check' again (another 30 euros). In total you will have bet 150 euros if you have chosen to raise on all streets. In principle, you can also keep the bet lower if you have a less good poker hand.
What is the goal in the Live Ultimate Texas Hold'em game?
The idea is to beat the live dealer with a better hand, consisting of five cards in total. The flop, turn and river can be used as your own cards. These are five cards. You have two cards in your own hands and so with seven cards you can form a poker hand of up to five cards. You pay money to see and use these cards. First, an ante, as mentioned before, and second, you have to place additional money to 'call'.
Play Live Ultimate Texas Hold'em at: New!
Casino777
Welcome Bonus 100% up to €250 Jacks Casino Online
100% Welcome Bonus up to £100
bet365
Deposit min €10 and receive 100 free spins
BetCity
Welcome bonus up to €100 free spins
Our best bonus! Circus
Get a bonus up to €250
Frequently Asked Questions Do I play live ultimate Texas hold'em against other casino players?
No, you always play against a live dealer at the live ultimate texas hold'em game. Other players can also compete against the dealers at the table at the same time. The idea is that you beat them with a better poker hand consisting of 5 cards.
Which software producer developed texas hold'em live?
The software producer Evolution Gaming is guilty of the fact that this wonderful poker game is now offered in the live casino. High quality graphics, good sound effects and many options make it seem like you are playing poker in a land casino.
You won't find this game at all land-based casinos yet, but it is becoming increasingly popular in Europe.
Is it possible to play ultimate texas hold'em for free in the live casino?
Unfortunately, it is not possible to play for free at live casinos online. The employees have to be hired, studios and rooms are paid for and therefore they are forced to allow players only with a real player account. Participating can only be done with real money and not for free.
Trips bonus bet
An optional bet in live Ultimate Texas Hold'em is the trips bonus bet. Here the player's goal is to form the best five-card poker hand. This will be done on the flop with three community cards and the two received cards. This bet will only pay out from combinations such as three of a kind, straight, flush, full house, four of a kind, straight flush and royal flush.
The poker hands that can be formed
Royal Flush: Get consecutive cards from 10 to Ace of the same suit and this is called a Royal Flush.
Straight Flush: A Straight Flush can be formed with five consecutive cards as a street, but of the same suit and not a Royal Flush.
Four of a Kind: Four matching cards form a Four of a Kind.
Full House: The Full House can be formed with a pair and a Three of a Kind.
Flush: The Flush is formed by five cards of the same suit. The cards must be random.
Street: Form a street with five cards in sequence and not of the same suit.
Three of a Kind: With three similar cards you form a Three of a Kind.
Two Pair: Two x two similar cards form Two Pair.
One Pair: One pair is easily obtained by getting two similar cards.
Ace/King High: An Ace/King High is not a combination, but at least A and K in hands.