Please note: The information below about online gambling is purely informative. In the Netherlands it is currently NOT permitted to gamble online via websites that do not hold a license issued by the Dutch Gaming Authority. As it stands now, new online licenses will be issued in October 2021.
It is not only fun for poker enthusiasts, but also for new players in the online casino it is an easy to learn poker game.
Most people know Poker as a game that you play with 5 or 7 cards. In this variant, both the player and the dealer play with only 3 cards.
Game play
The casino game is also very fast paced because there are almost no actions required. All players have to do is press "call" if they think they have a better poker hand than the dealer. To do this they must place an additional wager equal to the original wager. Any side bets that players are involved in will also have to be paid for. This bet does not have to be the same as the 'ante'.
Furthermore, you have the option to directly 'Bet x2' in the next round. This ensures that you place double the bet of the previous round. Often this is useful for experienced players who like to double their bet after losing a round at live Three Card Poker.
In the live casino, you will be competing against the live dealer in this game. The live dealer will qualify with a hand that is better than a "woman high". There is also an Ante Bonus for players who form a street or better. In this case, it will not matter what the dealer holds. This version from Evolution Gaming also brings an optional Pair Plus and Six Card Bonus. These bets allow players to win extra money up to 1000x the original bet (regardless of the dealer's hand).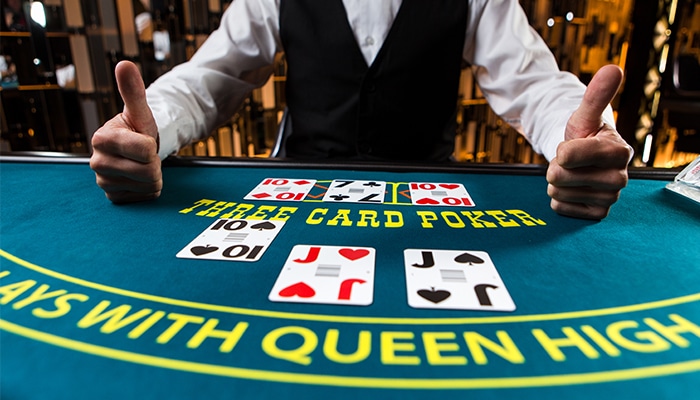 Live Three Card Poker is exciting
Options
After the cards have been dealt, you will be clearly shown whether you want to make a decision. You have two options. You can choose to play by pressing 'PLAY' or 'FOLD' to discard the cards. When you win an Ante Bonus bet, you will get a message saying "Play to collect and win the Ante Bonus". By clicking on 'PLAY' you need to place an additional bet.
This bet is equal to the original bet you started with. If you have not made a decision within the time limit, your hand is automatically discarded and you lose all bets.
Play Live Three Card Poker at: New!
Casino777
Welcome bonus 100% up to €250 Jacks Casino Online
100% Welcome bonus up to €100
bet365
Deposit min €10 and receive 100 free spins
BetCity
Welcome bonus up to €100 free spins
Our best bonus! Circus
Get a bonus up to €250
Win Opportunities
Three Card Poker is played with a standard deck of 52 playing cards. The cards will be shuffled each round before being dealt. In live Three Card Poker, a 3-card street is higher than a 3-card flush. Simply because there are fewer ways to form a street rather than a flush.
The individual values of cards are in the following order: Ace (high or low), King, Queen, Jack, 10, 9, 8, 7, 6, 5, 4, 3 and 2. The Ace can have the highest value in a street of A, K, Q and have the lowest value in a street of A, 2, 3.
If you and the dealer have similar hands such as a "street" or "flush," the game looks at who has the highest card values. For example, three kings beat three queens. A street of Q, J, 10 beats another street of 10, 9, 8 and so on.
Frequently Asked Questions Is it possible to play live Three Card Poker for free?
It is not possible to play for free, but you can watch other players play for free.
What is the RTP of this poker game?
It ranges from 91.44% to 96.62%.
Where can you play Live Three Card Poker?
At an online casino that offers the games avn Evolution.
Because Three Card Poker offers multiple side bets, it also uses multiple payout tables. For example, you have the Ante Bonus, Pair Plus and 6 Card Bonus payouts. Check out all of Three Card Poker's payouts live below and know exactly what to expect per poker hand formed.
Ante Bonus
Straight flush or higher: 5:1
Three of a kind: 4:1
Street: 1:1
Pair Plus
Straight Flush: A straight flush has a payout of 40:1.
Three of a kind: Receive 30:1 payout for a three of a kind.
Strait: Receive a 6:1 payout for a straight.
Flush: A flush gives you a 3:1 payout.
Pair: Get a 1:1 payout for a pair.
6 card bonus
Royal Flush: 1000:1
Straight Flush: 200:1
Four of a kind: 100:1
Full House: 20:1
Flush: 15:1
Straight: 10:1
Three of a kind: 7:1
Pair plus bonus bet
One of the optional side bets in live Three Card Poker is the pair plus bonus bet. If a player has bet on this, he will be paid out if he receives a pair from the first three cards received. The winnings will be paid according to the payout table. The highest payout is 100:1.
Six card bonus bet
Another nice option of this poker game is that you can form a 5-card poker hand by using your own three cards and the dealer's three cards. This bet will only pay to a three of a kind or better, regardless of the dealer's hand. The highest payout is 1000:1 for a royal flush.