Infinite Blackjack is an exceptional version of Blackjack. An unlimited number of players with low betting limits can play at the same time.
The players all receive the same first two cards but after that each one decides for himself.
Live Infinite Blackjack review
Thanks to the advanced casino software, it's just like playing blackjack in a real casino, only now you don't have to wait for an available seat. That's right, there are an unlimited number of spots available!
Furthermore, there are fun Side Bets like "Any Pair", "21+3", "Hot 3" and "Bust It". These can provide higher payouts. Last, but certainly not least, you have the "Six Card Charlie Rule", but more on that later.
The basic rules
This blackjack type from Evolution Gaming works a little differently than the other live blackjack types. You will now only have one hand in view, but you can decide the actions. Everyone will start with the same two cards and can make their own decisions from there. The usual functions such as Split, Double, Insurance, Hit and Stand are available.
Split
You can choose to split cards the moment you receive two similar cards. With aces, you can only receive one additional card per individual hand. With other cards such as for example two nines or two eights, you will be able to take additional cards after splitting. Moreover, it is also possible to double the bet after splitting. It is advisable to always split two eights because this has the worst possible number of points, namely 16.
Double
Double the bet on any two cards. Often the usual rule is that if the value is 9, 10 or 11 you may double the bet, but at Live Infinite Blackjack this is possible on all cards!
Insure
Insuring hands is possible in the case of an exposed Ace from the live dealer. If you decide to make the insurance bet, you will need to surrender half of your original bet. Then the live dealer will check if he/she has a value of 21 with the second card, and you will be paid 2:1 if this is the case. This way you can still make a profit with a bad hand.
More about Live Blackjack
Evolution Gaming

Live Blackjack

Live Casino

Types of Blackjack Payouts
Live Infinite Blackjack has a huge amount of side bets, which makes it even more interesting for players. You can bet on four different areas called Hot 3, 21+3, Any Pair and Bust It with each round. You can see these to the left and right of where you placed the original bet. Drag the chips with your mouse to them and have an instant chance at extra cash winnings per round! First see below the most common payouts, including a 'Natural Blackjack' and a winning hand with a value closer to 21.
A value of 21 with the first two cards (10 including Ace) pays out 3:2.
A winning hand closer to 21 than the dealer's pays 1:1.
An insurance bet pays 2:1 in case the dealer has a Blackjack.
Hot 3
The Hot 3 side bet at Live Infinite Blackjack comes with a maximum payout of 100:1 in the case of three sevens. The combination of the hand is formed with the first two cards you receive and the dealer's face-up card added. The value should be 19, 20 or 21. See below for all possible payouts:
100:1 payout with three sevens (7-7-7)
20:1 = 6-7-8 of the same suit (21 total)
4:1 = 5-6-10 without the same suit (21 total)
2:1 = 5-5-10 without the same suit (20 total)
1:1 = 4-5-10 without the same suit (19 total)
21 + 3
The 21+3 side bet will pay out money based on poker hand values that you can form with your own first two cards received and the dealer's face-up card. See below the possible poker hands you can form and get huge winnings paid out in the case of three aces, for example.
100:1 = Suited Trips (A-A-A of the same suit)
40:1 = Straight Flush (A-K-Q of the same suit)
30:1 = Three of a Kind (K-K-K without the same suit)
10:1 = Street (for example, K-Q-J without the same suit)
5:1 = Flush (e.g. Q-J-3 of the same suit)
Any Pair
With an additional bet on "Any Pair" you can win money right away if your first two cards form a pair. The payout does depend on what kind of pair you formed:
25:1 = Suited Pair (e.g. K-K of the same suit)
8:1 = Pair (for example, Q-Q without the same suit)
Bust It
The Bust It side bet allows you to win money based on how many cards the dealer holds when he/she passes 21. The payout will increase as more cards are dealt. See below all payouts for this side bet at Live Infinite Blackjack:
250:1 = Bust with 8 or more cards
100:1 = Bust with 7 cards
50:1 = Bust with 6 cards
9:1 = Bust with 5 cards
2:1 = Bust with 4 cards
1:1 = Bust with 3 cards
The Six Card Charlie Rule
In the main game of Live Infinite Blackjack it is possible to win money with an original bet using the Six Card Charlie Rule. Players do not have to do anything else for this. When a value of 21 or below is obtained with six or more cards (even if the dealer were to get a 'Blackjack'), players receive a 1:1 payout. Please note that if you have split cards, this rule does not apply.
Live Infinite Blackjack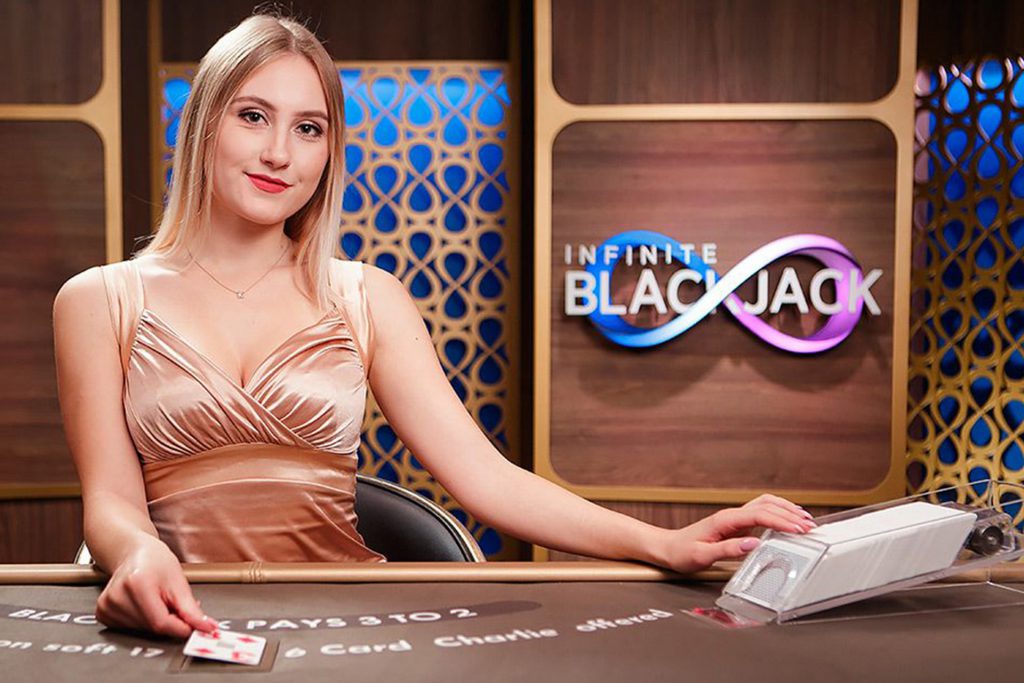 Live Infinite Blackjack in action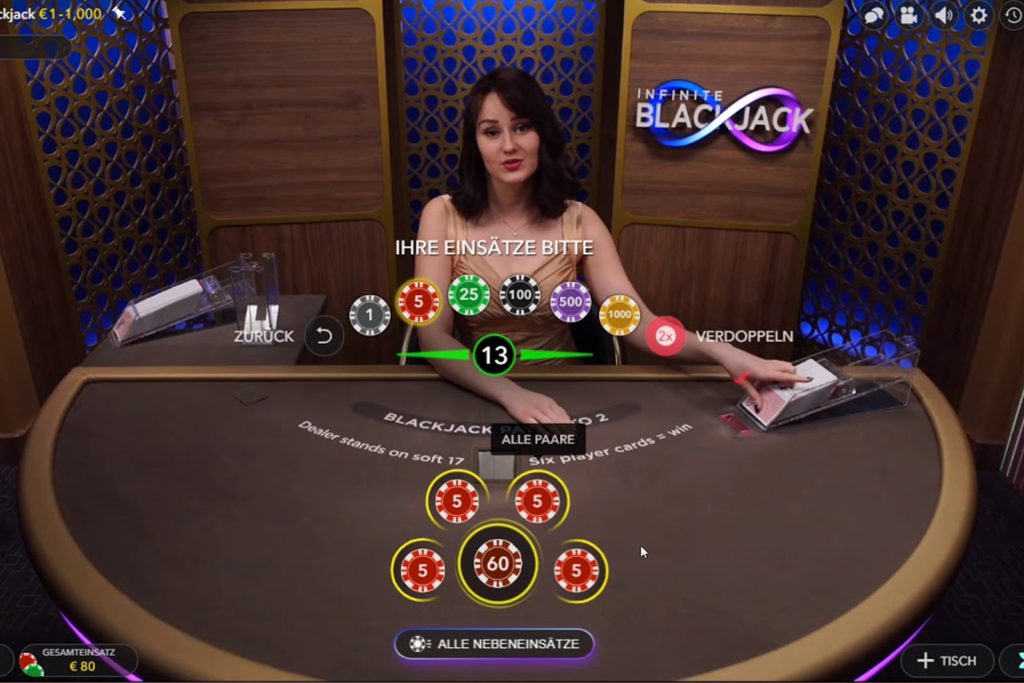 This time the player wins