Please note: The information below about online gambling is purely informative. In the Netherlands it is currently NOT permitted to gamble online via websites that do not hold a license issued by the Dutch Gaming Authority. As it stands now, new online licenses will be issued in October 2021.
The live Dragon Tiger game is a variant of live baccarat. The casino game is extremely popular in Asia and it is beginning to gain popularity in other parts of the world.
Although it is not yet offered in many land-based casinos in Europe, it is offered in live casinos. This game is also specially developed by Evolution Gaming.
Rules Dragon Tiger
Baccarat players are very fond of the super fast version Dragon Tiger. Much simpler casino games are hardly to be found. This may also explain its popularity.
The dealer deals two playing cards, the 'Dragon' and the 'Tiger'. Players must bet on who will have the highest cards, Dragon or Tiger. A King (K) is the highest card and an Ace (A) is the lowest card.
Beautifully simple yet distinctly different, Dragon Tiger is a super-fast card game set in a beautiful setting. Lighting effects synchronized with the outcome of each game round add another dimension.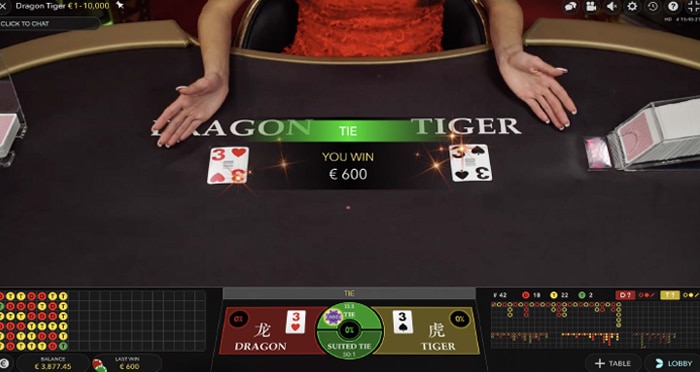 Live Dragon Tiger revolves around 2 cards
It is also possible that Dragon and Tiger get a card with the same value. In that case it is a "TIE", a draw. This is also a betting possibility. As you can see, Dragon Tiger is a tremendously simple game that involves no skill at all. It's just 100% gambling.
The betting options
In total there are four betting options.
Dragon

You bet on Dragon getting a higher card than Tiger.

Tiger

You bet on Tiger getting a higher card than Dragon.

Tie

At live Dragon Tiger you can also bet on a tie. Place a bet on "TIE" and if the dragon and tiger draw the player will receive a payout of 11:1. You will also receive half of your original bet back.

Suited Tie

A more risky bet is also available. The live Dragon Tiger offers a unique option where and player can win up to 50x his original bet per round. Players can bet on two exact same cards, symbol and drawer. This option is possible because the game is played with eight decks.
Communication with the live dealers is possible and the live video images provide an immersive gaming experience.
Statistics on display
Players have access to all possible statistics. They can see how many times a particular bet has been placed. They can also see what the latest results were and also specifically for the 8-deck deck of playing cards. As a player you can also choose to hide these to get a quieter view.
Facts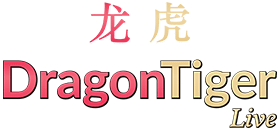 RTP Dragon/Tiger Bet: 96.27%
RTP Tie Bet: 89.64%
RTP Suited Tie Bet: 86.02%
Stunning gameplay
New game every 25 seconds
Play Live Dragon Tiger at: New!
Casino777
Welcome bonus 100% up to €250 Jacks Casino Online
100% Welcome Bonus up to £100
bet365
Deposit min €10 and receive 100 free spins
BetCity
Welcome bonus up to €100 free spins
Our best bonus! Circus
Get a bonus up to €250
Frequently Asked Questions
.
🎯 What are the betting options and payouts?
It is possible to bet money on the winner or a tie. A draw is much less common, therefore the payout is also higher. See below what the payouts are at Dragon Tiger:
Dragon pays 1:1. This means one time the original bet.
Tiger pays 1:1. Win one time the original bet, just like Dragon.
Tie pays 11:1. This means eleven times the original bet.
🎯 Is there a strategy for Dragon Tiger?
Basically, there isn't really a strategy to apply to increase your odds of winning at live Dragon Tiger. Putting money on the bets that offer the best payout percentage is the best strategy.
🎯 What are the minimum and maximum betting limits?
It is possible to place a bet of at least €1 and up to €15,000 at a time.
Live Dragon Tiger has a beautiful setting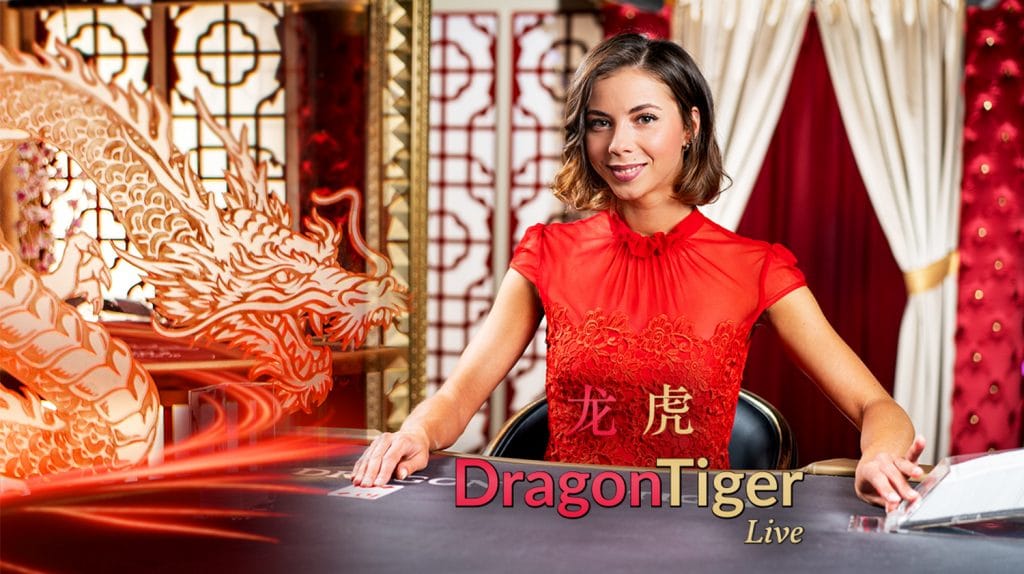 Predict who will get the best card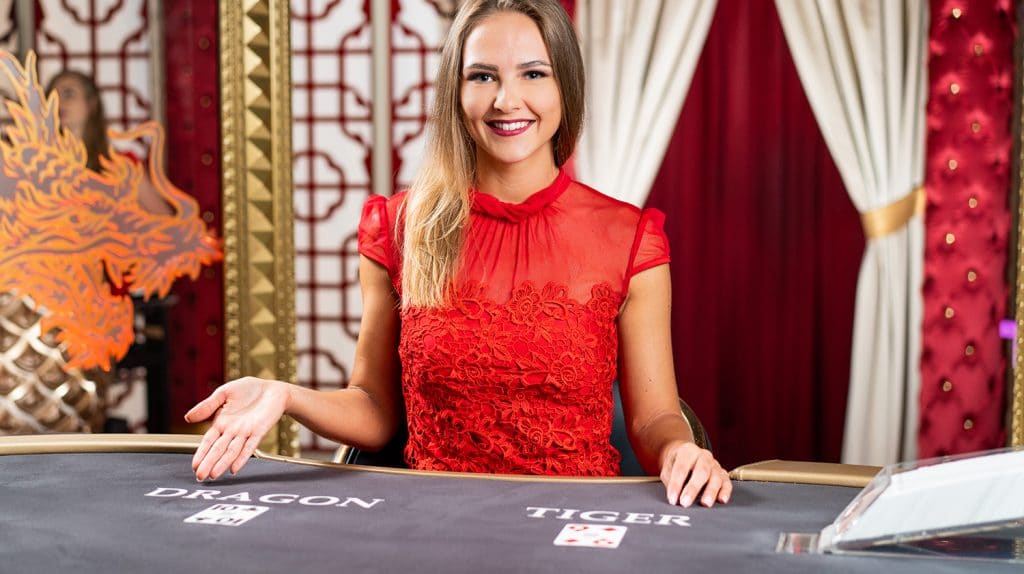 Summary
There is no easier casino game than Dragon Tiger. No tactics or insight are required. There are also no difficult rules of the game. There are four possible bets to place. Everything revolves around the card that "Dragon" gets and the card that "Tiger" gets. Predict who will get the highest card, or bet on a tie. An average of 25 seconds per game, so wonderfully fast for the impatient gambler. As usual, Evolution portrays the game super beautifully and there are very professional live dealers present. The game is placed in a beautiful Asian setting, so the eye is not deprived either.
Truly a wonderful live casino game for gamblers. It belongs in every online casino. Fast and easy. A must try as far as we are concerned.