When you go to the casino, the choice of different casino games to do is huge. Not sure what to choose? Then first take a good look around to see what's available and what you'd like to do.
Many casino visitors, especially in gambling cities like LAs Vegas, agree. Craps is by far the most sociable casino game there is. All of us around that big crap table pursuing a common interest. Having fun and winning.
Craps Live at Online Casinos as Legal Dutch Casinos Are Coming Soon
The downside of the wonderful game of craps is that you really have to go to a casino outside of the Netherlands because it is not offered in any Holland Casino here. But there is very good news.
Evolution Gaming, the world's leading developer of live casino games is coming up with a Craps Live version for online casinos. The wonderful game of dice can soon be played from home.
The basic rules of Craps are not difficult to learn
Craps is played with dice and the key is to bet on the number of pips that are thrown. You may roll the dice yourself, but if you don't feel like it, you can also place a bet on someone else's roll. Although the game may seem complicated at first, the rules are not that hard to learn.
Have you figured out how it works? Then you can have a lot of fun playing the game that allows more players to participate. And soon it will also be possible to play a live version of the game.
Playing live craps is also possible at an online casino
Online at a live casino there is a live dealer who hosts. This dealer ensures that everyone can participate and tries to mimic the situation in an actual casino as much as possible. A mechanical arm acts as a shooter. When the game starts, each participant can bet and the dice are rolled. If you win something, you can cash it in and get ready for the next round of gambling.
These casinos will soon have Craps Live from Evolution Gaming New!
Casino777
Welcome bonus 100% up to €250 Jacks Casino Online
100% Welcome Bonus up to £100
bet365
Deposit min €10 and receive 100 free spins
BetCity
Welcome bonus up to €100 free spins
Our best bonus! Circus
Get a bonus up to €250
Important role for the Live dealer
A lot of effort has gone into making the live version of Craps as real as possible on the screen. It's not the same as playing in a real casino with 20 people around the table, but Evolution Gaming takes the technical gimmick and brings it very close. It is also a really nice game to play online. Special buttons allow fellow players to cheer and clap and be excited.
Much is expected of Craps Live
Since Americans are especially fond of craps, it took some time before casino software developers started focusing on craps. Americans were not allowed to gamble online for a very long time.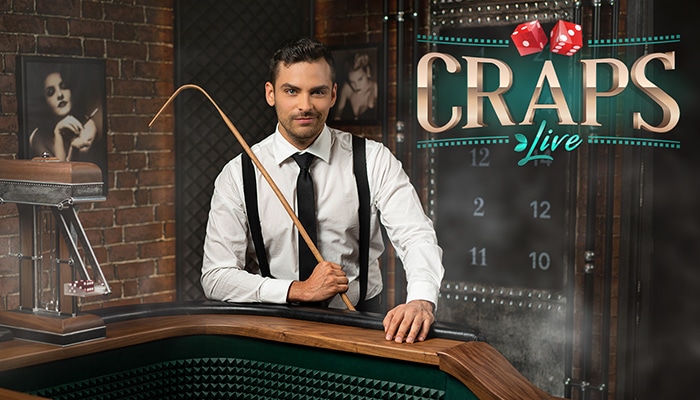 Much is expected of craps live
But the legislation is slowly changing and there are now a number of states where online gambling is allowed. The laws in the US regarding online gambling are changing rapidly, so developers are also seeing opportunities there. Evolution Gaming, no small player in the online gaming market, is introducing new live games, including Craps Live.
Simple Craps rules
Like all gambling games, craps also has its rules. These are quite simple and can be learned quickly so that you, the gamer, know what is smart to do and what is not when you want to bet. Certain gambles that are seemingly very beneficial to take are often not so in practice, and as a Craps player you'll learn that pretty quickly. As a beginning player you may still make those kinds of mistakes but practice will teach you and you will avoid these mistakes.
Learn how the game works first
If you are a newcomer to Craps, it is important that you first learn the rules properly and understand how the game is structured. It's best to place relatively safe bets where there's less chance of the casino winning. For example, you can win if 7 or 11 is rolled and only lose if 2, 3 or 12 emerges from the roll. The chances of that are considerably smaller than rolling 7 or 11 because that number of pips can be formed in more ways with two dice. These gambles are also known as Pass and Come.
When can you win at Craps?
As a Craps player, you can also choose Do Not Pass or Do Not Come. If the result of a roll is 2 or 3, you win. If it is 7 or 11, you lose. And if it is 12? Then it's a draw and you only get your stake back. Betting on a Field outcome does involve a greater risk but you can win more with it. The profit can also be doubled. For a field bet you have to roll a 2,3,4, 10, 11 or 12.
If 2 or 12 is rolled, your bet is doubled. A bet on 6 or 8 is also recommended because the chances that this is the outcome are higher than on various other numbers of eyes. And the more practiced you are at the game, the better you get at judging what's smart to do. Not only is craps entertaining, but it's also a great way to win.