First Person Live Games
Nowadays, more and more you see in the lobby of a live casino a game with "First Person".
This can be, for example, "First Person Blackjack", but also "First Person Baccarat". They form a new category, sitting exactly between online casino and live casino.
They use 3D images, making the gaming experience a lot more realistic than the online casino games you're used to. We will show you the difference.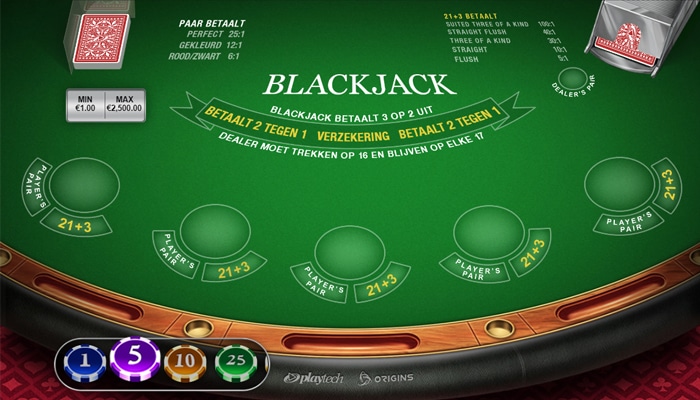 Regular blackjack in online casino
This is the table and the game as you are used to it when not playing live. The next picture shows how the environment looks when you play the First Person variant.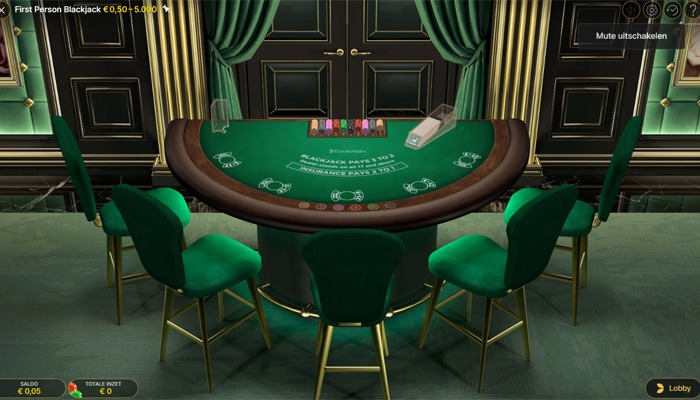 First person blackjack with 3D images
There are more and more First Person variants of well-known casino games. They remain online casino games where the outcome is determined by the RNG. In live games, of course, you play against a real dealer.
The nice thing about First Person games, is that you can switch to the live variant during the game. You do this very simply by clicking on the "Go Live" button.
See all live casino games
Go to our live casino games page Dutch Live Casinos
With the licenses handed out by the Dutch Gaming Authority on October 1, 2021, there are more and more Dutch casinos that are allowed to offer online games of chance.
Some have been a bit more innovative than others. They have developed exclusive live games. We will explain them for you.
Live Casino Scheveningen – Holland Casino Online
Holland Casino Online is one of those smart ones that started offering exclusive live games. The advantage? The games are in Dutch and for once you see a different environment. Holland Casino in Scheveningen has a separate room fully equipped to broadcast the live games.
Watch Live Casino from Holland Casino Online
As a visitor to the physical establishment in Scheveningen, you can watch this. You cannot talk to the dealers, as there is a glass wall between them. But you can see what it looks like when these images are recorded and streamed to the screen of your PC or phone.


Exclusive live games at Holland Casino Online
If you want to play the exclusive live games online, you have a choice of six exclusive tables:
Live blackjack – 3 tables
All bets blackjack – 1 table
Live roulette – 1 table
Live baccarat – 1 table
Holland Casino Online collaborates with Playtech to offer live games. Therefore, the studio in Scheveningen is also equipped by Playtech. The dealers are employees of Holland Casino. At the moment there is still room in the studio in Scheveningen for expansion of 1 or 2 tables. Who knows, maybe another studio will be added in the future!
Dutch Live Casino TOTO
TOTO has also chosen to offer exclusive live games. They do this by collaborating with Evolution. From a vacancy from TOTO, we can conclude that the studio is located in Malta. We assume that the live games are recorded there.
You will recognize the exclusive live games by the "TOTO" sign in front of them. TOTO offers the following exclusive live games:
Lightning Roulette
Blackjack (A, B, C, D and E)
Roulette
Speed blackjack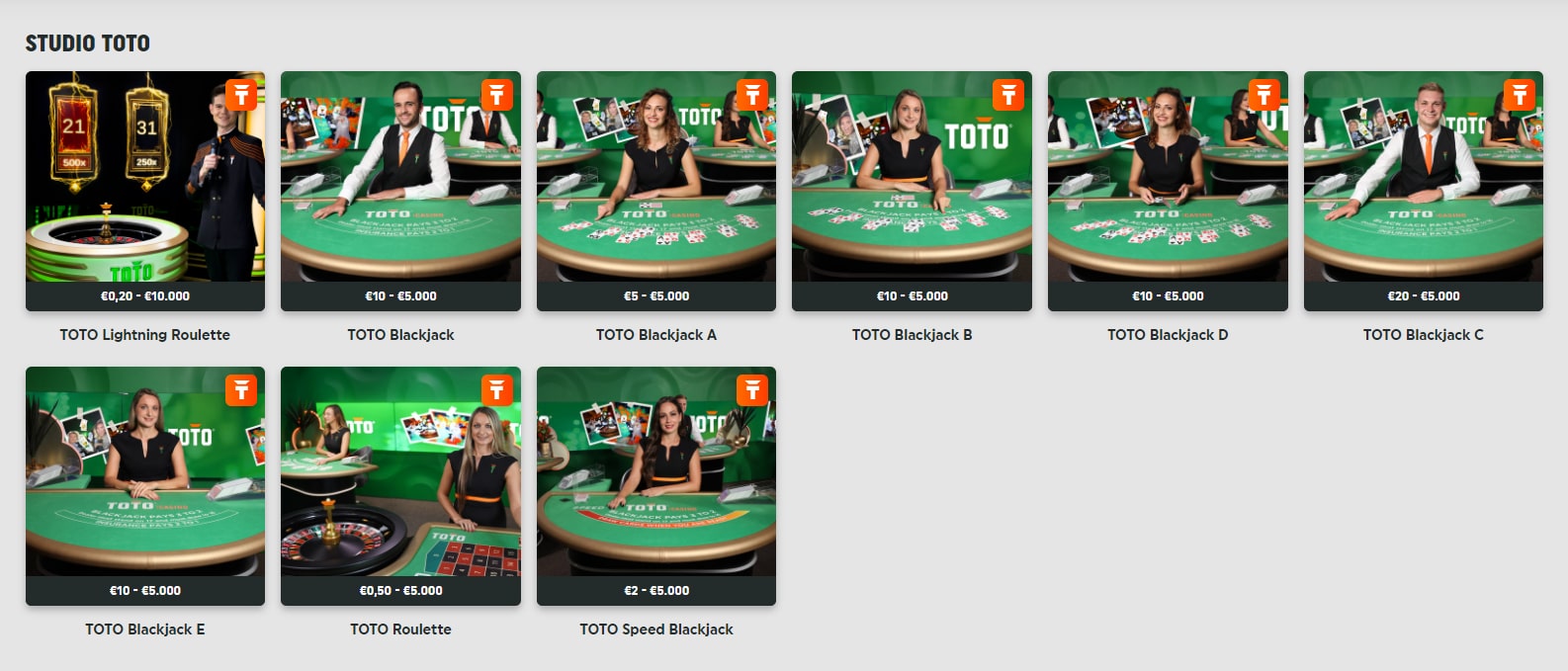 Studio TOTO exclusive live games
Dutch Live Casino Jacks
Jacks Online didn't want to be left behind and decided to offer exclusive, Dutch live games as well. JVH started a cooperation with Evolution Gaming. With this partnership, it was also agreed that the online casino will have a dedicated environment to offer exclusive live games.
Watch live casino of Jacks
The studio where these games are recorded and streamed is located in Malta. Currently, Jacks Online offers 2 types of games, on 4 tables. All exclusive live games are denoted by "JACK'S"
Roulette – 1 table
Blackjack – 3 tables


Exclusive Jacks live games
New Dutch Live Casino Stakelogic – Eindhoven
Stakelogic noticed that there is a great demand for Dutch language live casinos. For this reason Stakelogic started to build a studio in Eindhoven.
Since early 2022, Stakelogic Live has been developing great live games. And these can be found in the offer of online casinos with which the provider cooperates.
BetCity was one of the first to announce it would be partnering with Stakelogic Live.


Live studio Stakelogic from early 2022
Pluses
Playing against real dealers
You can enjoy the best games anytime, anywhere
Games for every type of player: high-rollers and beginners
Fair play
Cons
Dutch live casinos are sometimes not available 24/7
Sometimes minimum bets are on the high side
Technical problems may occur
Playing at a Dutch live casino
At a Dutch live casino you can count on both male and female dealers. Of course these are all trained employees who know the rules of all the games they play.
The nice thing about gambling at a land-based casino is that the dealers you'll find will also speak English. For example, you can use the chat to have a conversation about the game, but talking about whole other topics will of course also be among the possibilities.
Only playing with real money in a live casino
Given the fact that live casinos in the Netherlands use a real dealer, players must always have an account. This is where you can deposit with either iDeal or Credit card.
The fact that you can't play for free at a live casino has of course everything to do with the fact that a paid casino employee is present at the game. Casinos don't want to put this one to work to cost money. Also, the casino naturally wants to have chances to come out of a round of play with a profit.
How do you play in a live casino? 1. Log in to the online casino
To be able to play you must first log in. To do this you need to have an account. Don't have one? Then you can register, this is often done within minutes.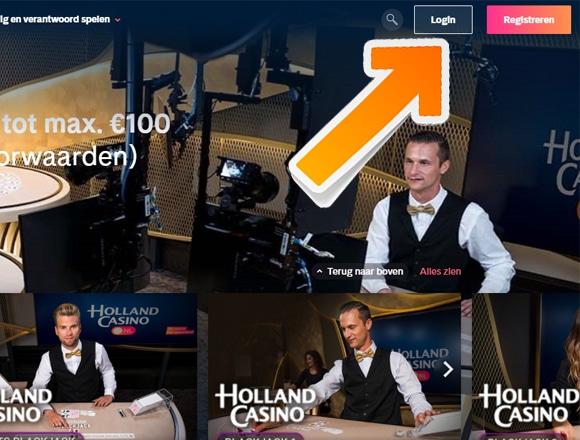 2. Go to live casino
On the homepage choose the category "Live Casino". Now you get into the lobby with all the live casino games of the online casino.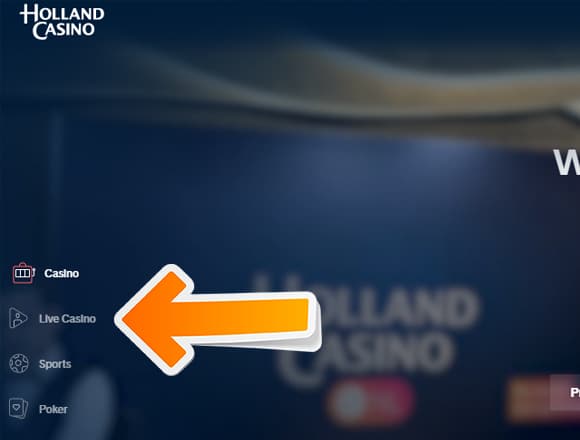 3. Make a choice
Once in the lobby you can choose which game you want to play. Make sure you know the rules of the game beforehand. It's a shame to lose money unnecessarily.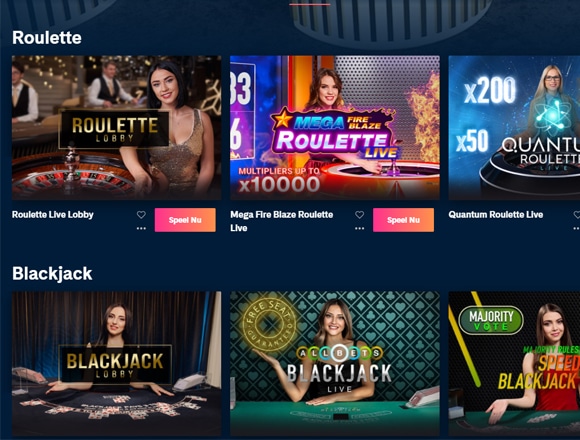 4. Place a bet
If you understand the rules of the game, you can start playing. You do this by placing a bet. Then wait until the timer reaches 0. Then the game will begin.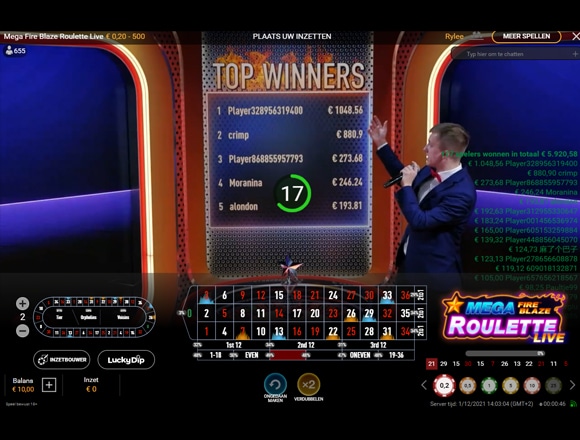 5. Wait for the result
When the round of play stops, you will immediately see the result. In the case of roulette, the game stops and the result is known as soon as the ball lands on one of the numbers.
See if you won or lost something. Wins are automatically credited to your balance. Then you can repeat the same steps to play another round.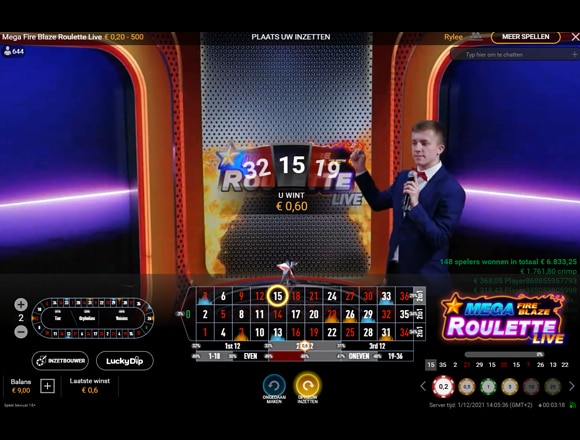 Hide explanation
Frequently Asked Questions 🔵 Is it possible to play for free?
Playing live casino games for free is not possible. However, you can watch for free during the game.
🔵 What are the most famous games in the live casino?
The best known are live roulette and live blackjack. But now game shows like Monopoly Live and Crazy Time are overtaking these games in terms of popularity.
🔵 Where are the live games streamed?
The casino games are mainly provided by the software companies. They stream the images to the online casinos. They make sure that you can participate.
With the advent of Dutch live casinos, Holland Casino Online now has a studio in Scheveningen. Stakelogic is building a studio in Eindhoven. And Jacks and TOTO have a studio in Malta.
🔵 Who provides the software?
The software and infrastructure to support live casino games have been developed by several software companies. Some have only live casino solutions like Evolution Gaming, while Playtech or Microgaming have also focused on other types of games like video slots, table games and scratch cards.
Because some companies have fully plunged into the live casino world, they can also provide nicer products. Evolution Gaming currently provides the best software for Dutch live casinos. Other well-known providers are Authentic Gaming, Playtech and Pragmatic Play.
🔵 Can I communicate with live dealers and croupiers?
Yes, you can. You do need to select the chat icon to be able to enter a message. Live dealers will reply immediately after they read your message.
🔵 What language is spoken in the live casino?
The most commonly spoken language in live casinos is English. If you play at a live casino based in Costa Rica, Spanish is often spoken as well.
Nowadays there are also more and more Dutch casinos that offer live games in English.
Many online casinos now offer games in many different languages. Search in the live casino for Native Roulette and terms like that. You'll find all kinds of languages there.
🔵 Can the live dealers see me?
No. The live dealers cannot see with you. The only thing they can see is your player name. You can enter this "screen-name" yourself before you start playing.
Craps Live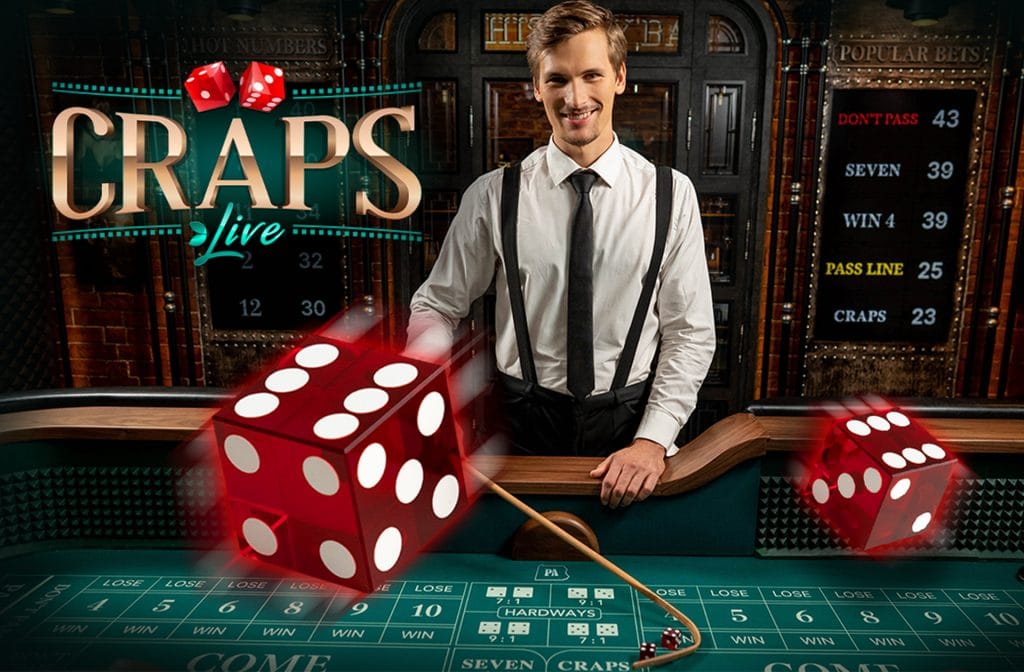 Craps Live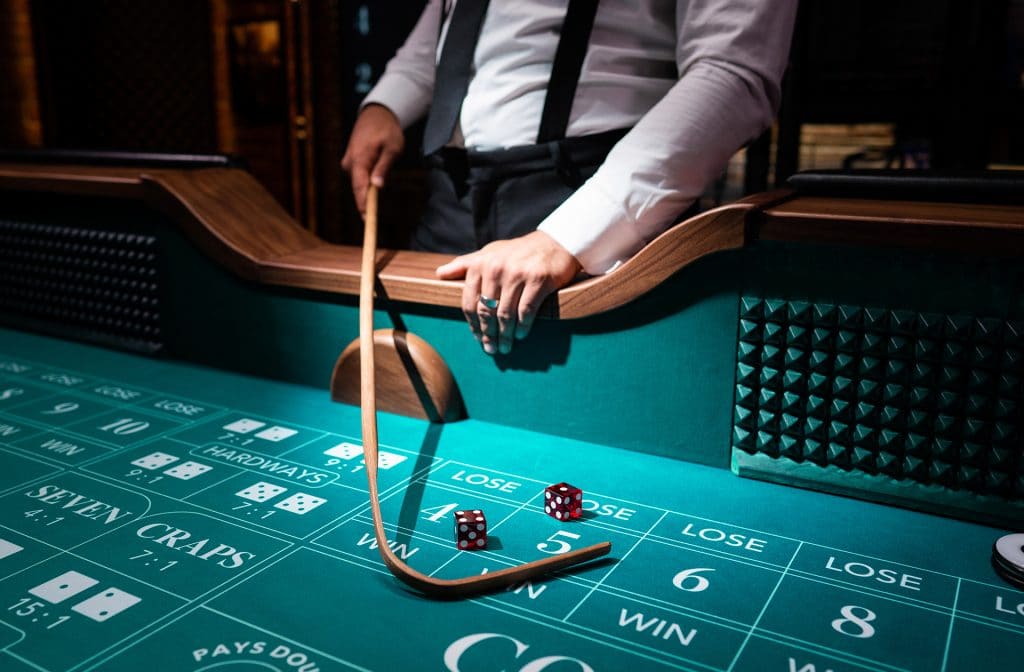 Lightning Roulette Live – Italiano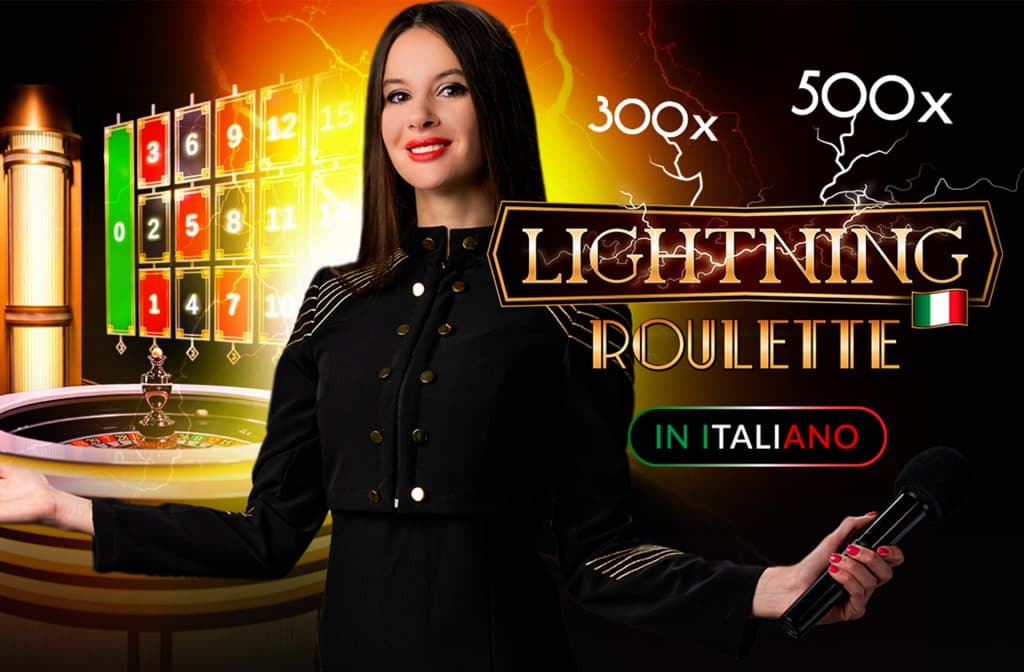 Lightning Roulette in the live casino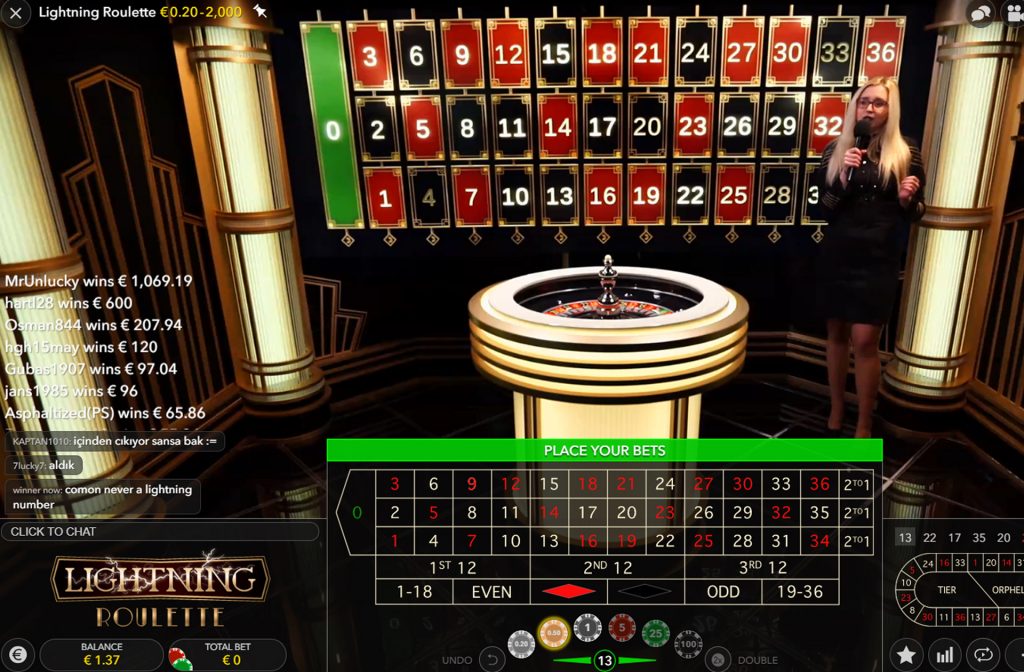 Cash or Crash Live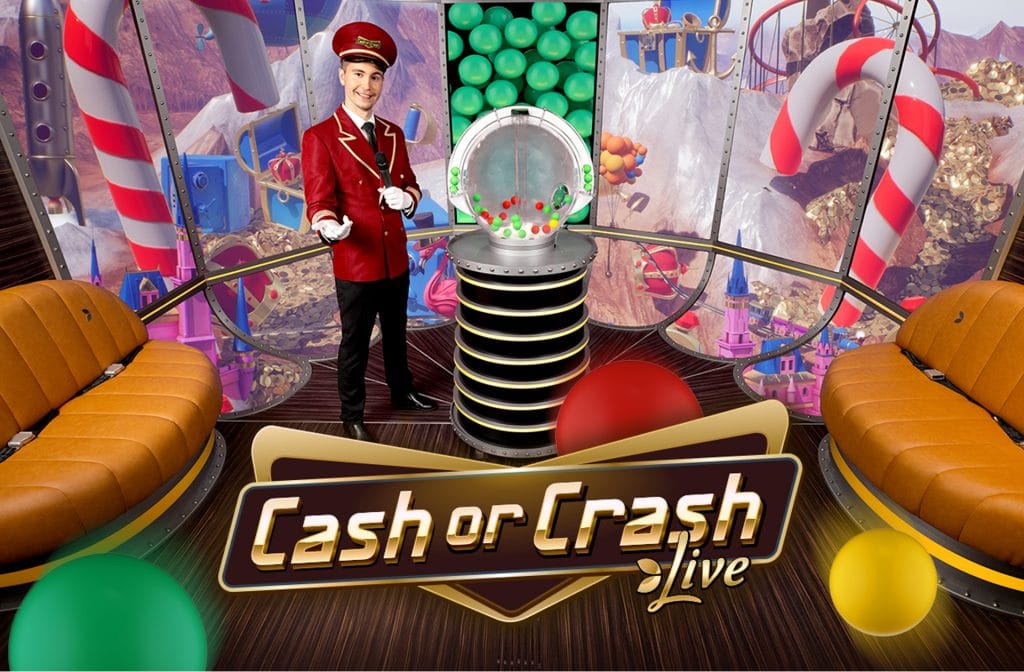 Crazy Time Live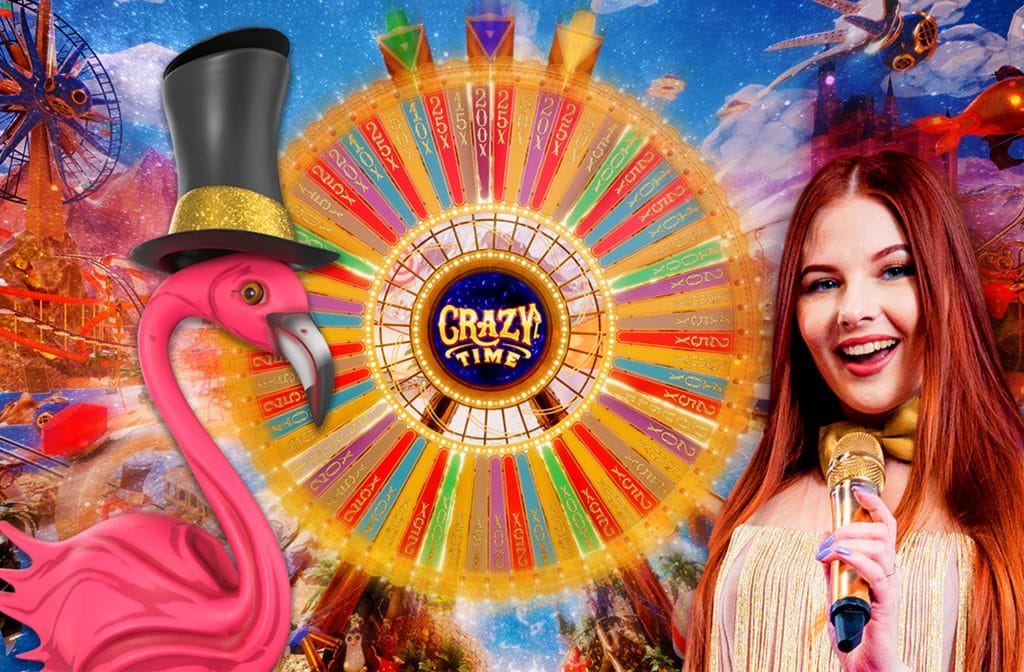 Blackjack Live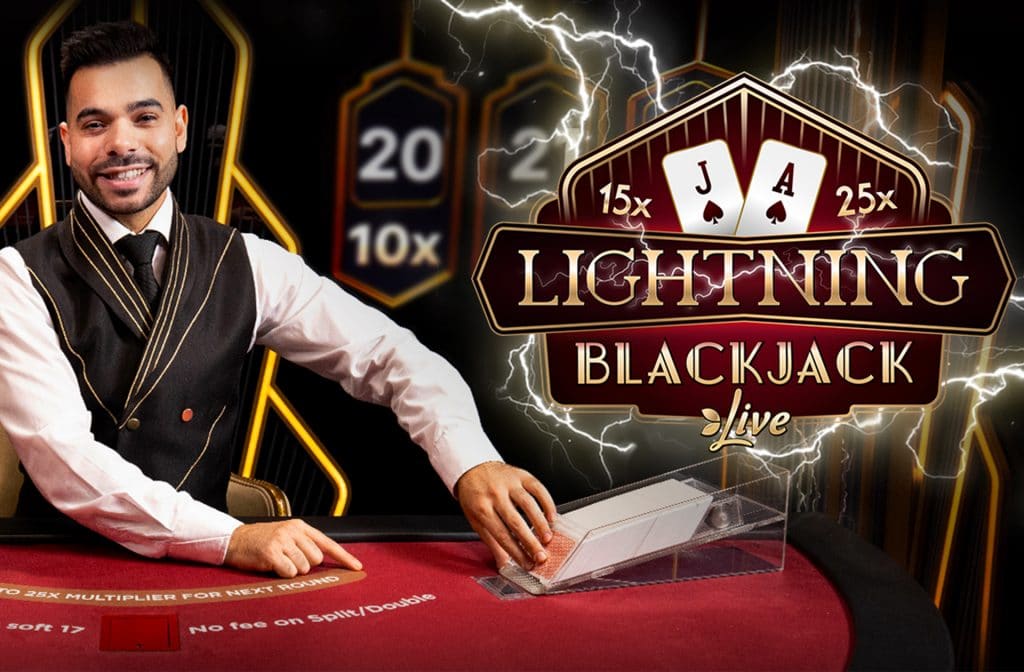 Blackjack Live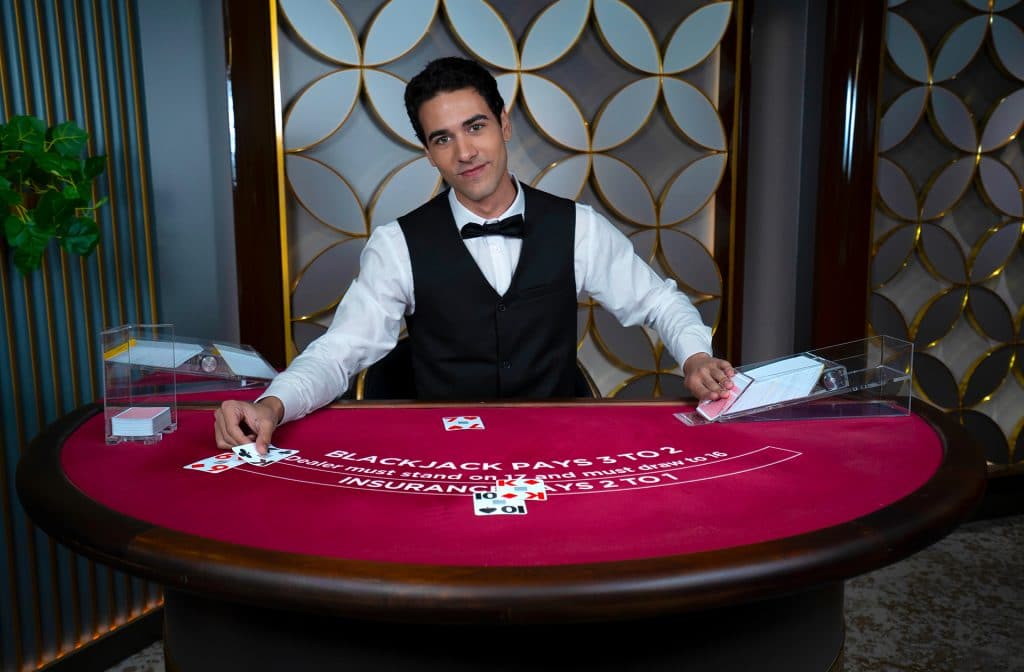 Play Cash or Crash Live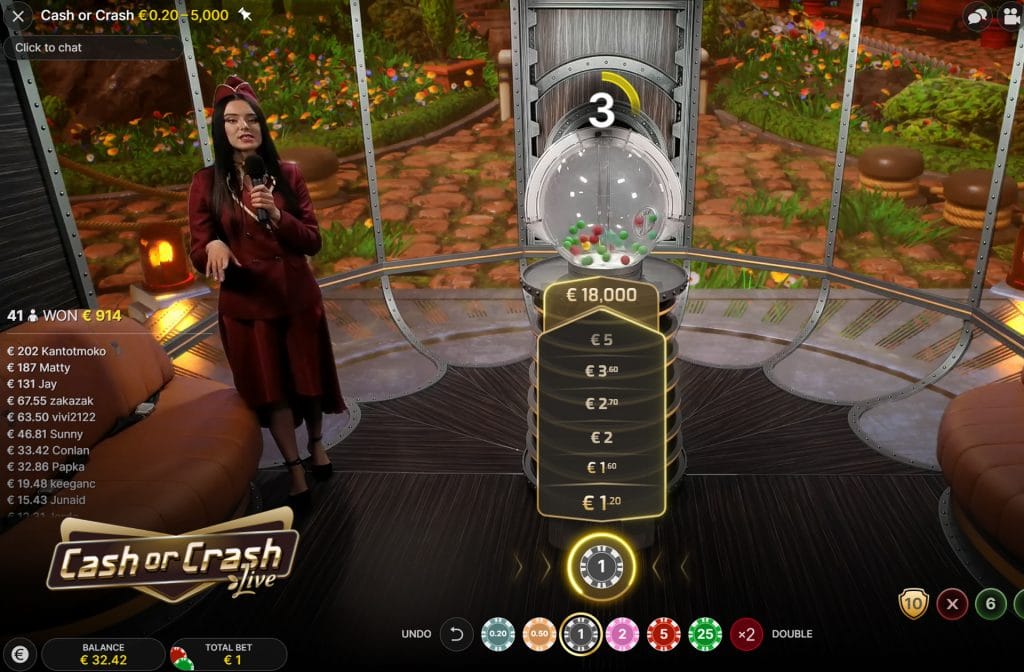 Tips for playing live games 𝕋𝕚𝕡 𝟙: Choose a reliable Dutch live casino
As a Dutch player, we recommend playing at a Dutch live casino. You can expect Dutch-speaking dealers and thus communicate in your own language. If you choose a Dutch live casino you can chat with the dealers.
This way there will be less miscommunications about, for example, the rules of the game.
Keep in mind, however, that Dutch live casinos are usually not available 24/7, but at certain hours of the day. You can see this on the website of the online casino itself.
𝕋𝕚𝕡 𝟚: Check it out first
Most people looking for live casino tips haven't played live before. Not a bad thing, because there is a first time for everything. What we can definitely recommend when it comes to live games is to take a look for free first.
Choose one of the casinos that also offer live casino games and create an account there. Don't register yourself? Then you can't have a free look at a live gaming table. Moreover, creating an account doesn't cost you any money and you can often get bonuses with it even without depositing.
Once signed up? Then open a live game of your choice and watch how a game round is handled. This way you can take your time, without losing any money, to see how the game works and be well prepared.
T𝕋𝕚𝕡 𝟛: Play small stakes first
If you have little experience at a live table, always start out slow. By starting with small bets you can get used to the playing environment. Moreover, you'll still have chances to make a profit.
By playing with small bets, your chances of losing too large amounts of money are minimal, but you can still get a taste of live play. Moreover, your winnings can also gradually increase and eventually become large.
Have you made a nice profit after a few rounds? Then it is always an option to play bigger bets. If you do this you can win even bigger amounts. But keep in mind that even live casino games are based on chance, so you can lose this large amount again.
Always play responsibly!
𝕋𝕚𝕡 𝟜: Increase your odds with a strategy
To end up with better chances of winning, using a live casino strategy is definitely recommended. How can you increase your chances of winning with a strategy? By capitalizing on your placed bets and the results that come with them.
These strategies do not apply to every live casino game. Take Crazy Time as an example. No strategy can determine the outcome here to any degree. The only strategy you can use here is budgeting.
For blackjack, there is a strategy that you can apply. If you apply the blackjack strategy you are at less risk of losing.
𝕋𝕚𝕡 𝟝: Pay attention to the bonuses
Today there are not many casino bonuses available for the live casino, but they are coming more often. If you haven't played at a casino before, remember that a welcome bonus will be excluded for the live casino in almost all cases.
If it is possible to gamble with the bonus money live against a dealer, you can find this in the bonus terms.
Within these tips, we always recommend that you read the terms and conditions of a bonus before you actually start using it. Possible snags for live games or other conditions can thus be taken care of in advance.
Also read these articles:
Benefits of a live casino

Evolution Gaming

Live Casino Strategy

Holland Casino Online What do we think of the live casino?
The live casino at an online casino is really something that all the gambling world was waiting for. For years, the live casino experience was missing from the online casino. Fair is fair, it's still different when you hear the slot machines rattling around you and you actually see people gambling. That social aspect has a physical casino ahead of an online casino. But when you look at the benefits of playing live online, it's a great alternative. You are no longer dependent on time or location.
With today's technology you can also play very well from your mobile phone, so it couldn't be much easier. Our expectation is that when the Virtual Reality technique is further developed, we will simply walk through the casino with our VR Glasses on and place our bets. In this respect, we are entering exciting times!