As in everyday life, time does not stand still in the online gambling world. Online casinos continue to evolve and come up with new ideas to attract visitors.
The biggest change that has taken place in recent years is the introduction of Live Casino games at online casinos.
What is live casino at an online casino?
Quite a few visitors of an online casino said they missed the social aspect. When visiting a landbased casino such as Holland Casino that aspect is of course present. This was not only the social contact one has with the other players. It was especially the contact with a croupier or dealer. That lack among these visitors has not gone unnoticed at online casinos.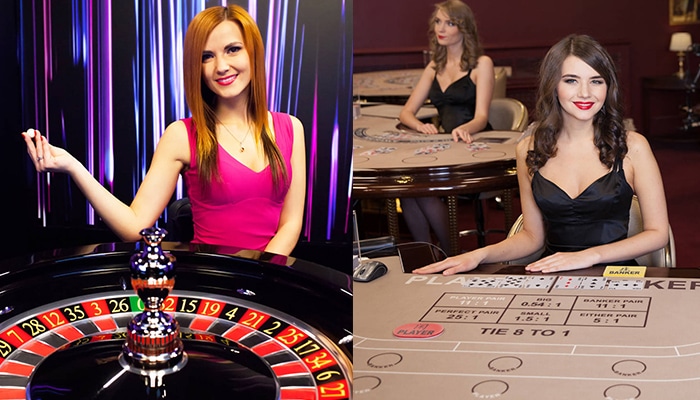 Variants of all table games are offered
Live dealers at an online casino
Nowadays, every reputable online casino has a Live Casino section. There players can play table games like Blackjack and Roulette with a real dealer. A dealer who talks to the players and who actually deals the cards and rolls the ball. The social contact with the dealer is offered online. A golden touch.
These online casinos have a fantastic Live Casino New!
Casino777
Welcome bonus 100% up to €250 Jacks Casino Online
100% Welcome Bonus up to £100
bet365
Deposit min €10 and receive 100 free spins
BetCity
Welcome bonus up to €100 free spins
Our best bonus! Circus
Get a bonus up to €250
How does a Live Casino at an online casino work?
The solution was actually quite simple. An online casino sets up a studio somewhere. Put Blackjack tables there and Roulette tables. Cameras are put up and dealers are put behind the tables. Some microphones are placed and with some microphones and a good internet connection you can contact the players. Of course it does take a little more than this , but this is basically what happens.
Special live casino dealer training
There are also game developers that cater to this demand from online casinos. Playtech is an example of such a company. With years of experience in the gambling industry, Playtech saw this gap in the market fairly quickly. They have set up their own studios with Live Casino games that online casinos can then stream. They have a training center for dealers where they teach mostly ladies and gentlemen from the Eastern Bloc how to deal. They give language courses to speak to the players in their own language. Something that is perceived as very pleasant.
Advantages of playing a live casino at an online casino
There are quite a few advantages of playing a live casino at an online casino compared to going to Holland Casino. First of all, you don't have to leave your house and travel to one of the Holland Casino branches. While there are 14 casinos spread across the country, this often means that on average you have to travel at least half an hour to the nearest one. In addition, a Holland Casino branch is bound by opening hours. Most of them open at noon and they all have to close their doors to the public at 3 am. An online casino does not have this restriction. An online casino is open 24 hours a day, 7 days a week.
Furthermore, an online casino never has staff shortages or lack of space. Also, they are never too full. This means that there are always tables free and always dealers available to speak to the players and lead the game. All these aspects make people love playing at the Live Casino at an online casino.
More news about Live Casino
Live Casino Strategy

All live casino games

Advantages of a live casino

Win more easily with blackjack at a live casino Conclusion
With the introduction of live casino games at online casinos, the industry has taken a huge hit. This in combination with the new Distance Gaming Act that has been passed will cause a huge shift in visitor numbers in the coming years.
As the online casinos become legal there will be a lot more done by the companies behind the online casinos to make the players feel even more comfortable. If we see how many people are already playing in the Live Casinos of the foreign providers, and how satisfied and enthusiastic these players are, then it can't be helped that this number will only increase in the future.