Please note: The information below about online gambling is purely informative. In the Netherlands it is currently NOT permitted to gamble online via websites that do not hold a license issued by the Dutch Gaming Authority. As it stands now, new online licenses will be issued in October 2021.
Another great live casino game from Evolution Gaming. This provider still manages to present a great new live casino game every time.
In this casino game live Casino Hold'em you compete against the dealer instead of players. Furthermore, there is an additional bet available, the jumbo 7 jackpot side bet. This offers players to take a chance on a high jackpot win.
How does live Casino Hold'em work?
An unlimited number of game players can participate in the game. The dealer has a normal deck of 52 playing cards and shuffles them after each hand. Players must place chips in the ante area to receive cards from the live dealer. Both the player and the dealer receive two cards. Next, the dealer places three cards face up on the table. This is called the "flop."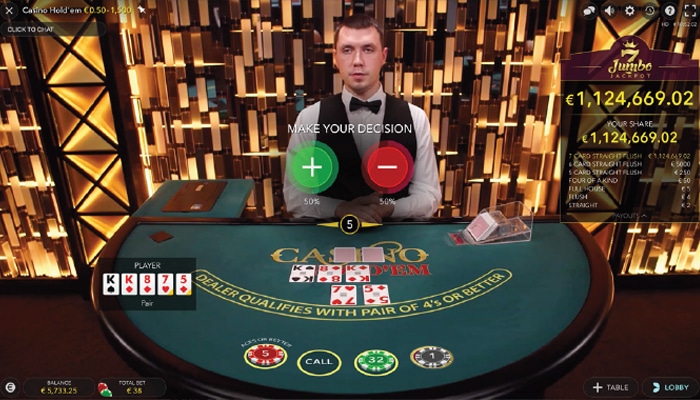 After the flop you must decide whether or not to continue playing.
The player must decide whether to place an additional bet and play for the turn and river. For this the player will have to place an additional bet equal to the initial bet. Of course players can also choose to fold their hand immediately. This is called a "fold" and indicates that the player does not wish to continue playing. You have a limited amount of time to make a decision. If you do not make a decision within the time limit, your hand is automatically folded.
Object of the game
The objective is to beat the dealer's hand with the best possible five-card hand. The best possible five-card hand is made by combining the player's 2 cards with the five community cards. To give the game a little more excitement, side bets are also possible.
Aces or better

A bonus bet that pays out when the first 5 cards dealt are a pair of Aces or better.

Jumbo 7

An optional progressive jackpot for a 7 card straight flush and somewhat lower prizes for lesser combinations.
Facts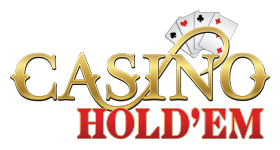 RTP between 97.84%-99.18%
Easy live casino game
Possible large progressive jackpot win
Real time in HD with chat
Playable 24/7
These casinos have live casino games from Evolution What's New!
Casino777
Welcome bonus 100% up to €250 Jacks Casino Online
100% Welcome Bonus up to £100
bet365
Deposit min €10 and receive 100 free spins
BetCity
Welcome bonus up to €100 in free spins
Grab the bonus
Our best bonus! Circus
Get a bonus up to €250
The hand values at Live Casino Hold'em
Live Casino Hold'em features pretty much the same hand values as most traditional poker games like texas hold'em or seven card stud. See below how to form them and what the payout is for each combination at this exciting live casino game:
Royal Flush: Five cards from ten to Ace of the same symbol
Straight Flush: Five cards consecutively as a straight and then from the same symbol
Four of a Kind: Four similar cards, e.g. 4 Jacks.
Full House: Three similar cards (three of a kind) and two similar cards (a pair)
Flush: Five cards of the same symbol but random and not consecutive
Street: Five cards in sequence and not of the same symbol
Three of a Kind: Three similar cards, e.g. 3 nines
Two Pair: Two times twwe similar cards
One Pair: Two similar cards
Ace/King High: An ace and king in hand with no other combination
An unlimited number of players can take place at the live Casino Hold'em tables. The dealer uses real cards and live dealers will also deal two cards to themselves. Try to get a better poker hand value than the dealer and win money. By betting on the Jumbo 7 jackpot you can also have a chance to win other prizes at the same time.
Frequently asked questions about live casino hold'em Can live casino hold'em be played against other players?
It is not possible to play this game against other players. In casino hold'em you compete against a live dealer.
The minimum and maximum stakes in live casino hold'em
The most common betting limit is €1 minimum and €200 maximum per ante or bonus bet. Do you place an ante of €200? Then it will cost you an extra €400 to go along for the turn and river and play out a full hand. Keep this in mind.
How do I know if a live casino is trustworthy?
Make sure you only play at a casino with a Dutch license.
Jumbo 7 jackpot side bet
The jumbo 7 jackpot side bet of live Casino Hold'em offers one of the largest progressive jackpots in the live casino. Every time players place a bet and the jackpot is not won, a percentage of the bet will go towards the jackpot. The jackpot can be won with a straight flush with seven cards. A combination such as 4-5-6-7-8-9-10 of hearts wins the jackpot.
Other payouts
Moreover, with a jumbo 7 jackpot bet, players can also have a chance to win other payouts. For example, when a player gets a straight flush, four of a kind or full house, it will also bring in extra money.