With Poker having so many options to choose from, Let it Ride may be experiencing a revival. The game is still around, but not very common in land-based casinos. What is the history of Let it Ride as a card game?
Shuffle Master
Let It Ride is one of the many ways to play Poker. Many types of Poker use a seven card system, but Let it Ride is played with only five cards. The game was designed by Shuffle Master, also known today as SHFL entertainment. Other games by this company include Three Card Poker, Blackjack Switch and Casino War.
In the late 1990s, under the guidance of John Breeding, an old truck driver, they came up with the new Let it Ride. It is based on the original Poker with all possible combinations, but with five cards instead of seven and low Pairs no longer allow for profits. Let it Ride was first introduced at the casino in Reno in 1993.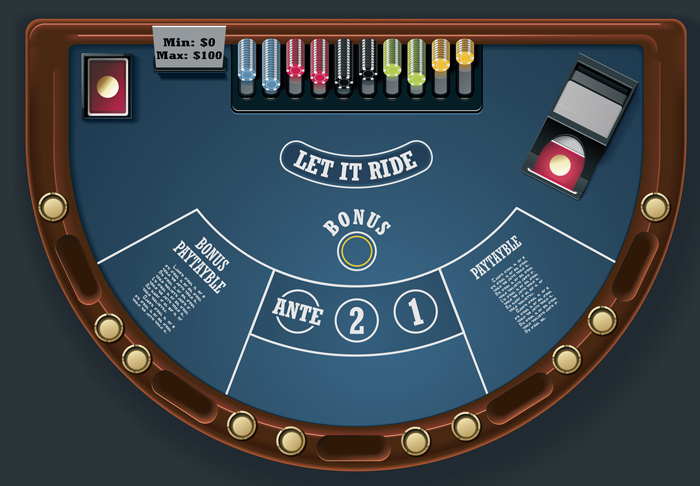 Let it Ride History
Five-Card stud Poker
Let it Ride Poker is part of the Five-Card stud Poker. This gives players the chance to withdraw their bets on two of their own three cards, if they are not satisfied with the course of the cards.
Thus, the interesting strategy possibility is that you may immediately withdraw your first of three bets (on all three cards) upon seeing your cards and then withdraw another bet after seeing the first public card by the dealer. This keeps your losses very small if you have a bad hand once, but allows you to make a hefty profit if you win. If you know Poker from other forms, for example Texas Hold'em, then you can learn Let it Ride in the foreseeable future as well.
In combination with other types
Poker is one of the games that has been greatly innovated in recent decades. Unlike, say, roulette or blackjack, Poker has seen more and more forms and game systems added, which makes it extra interesting. Although Let it Ride features all the regular combinations of Poker, it is still a completely different type of Poker. This actually puts Let it Ride in another row with special Poker types, such as Pai Gow Poker, Carribean Stud and Double Deuce Poker.
Single player only
Unlike other forms of Poker, Let it Ride is a typical single player game. This means that as a player you do not sit across from other players, do not play against the dealer, but only for yourself. You get three cards and you have to combine them with two cards that come up on the table.
So you don't have to worry about the cards that other players have and you can hardly take them into account, because you can't see anyone else's hand. So you only see five cards, including three of your own, in the game and that makes it extra exciting.
History and Present
In the recent history of Let it Ride, the game has held its own with other forms of Poker and has also built up a solid following. Currently, however, the popularity of Let it Ride is stabilizing a bit. For you as a gambler this is not a problem, because Let it Ride can be played in many casinos. You can also learn it easily by practicing at home.