Bingo, who hasn't grown up with it. For years families have played bingo at home and there are fun bingo nights at community centers with great regularity.
Besides the excitement of the game, the social aspect of this game plays a major role in bingo. The target group looks forward to meeting their fellow players every week.
Go directly to Tombola's website to play bingo
Tombola offers legal online bingo
Due to the legalization of online gambling in the Netherlands, it is now also possible to play online bingo. The company Tombola, which has been offering online bingo in the UK for years, has been granted a Dutch license by the Dutch Gaming Commission to offer bingo online.
This is great news for the people who like to play bingo. From now on, they will not have to leave the house to play their favorite game. Seven days a week and twenty-four hours a day you can play bingo at Tombola.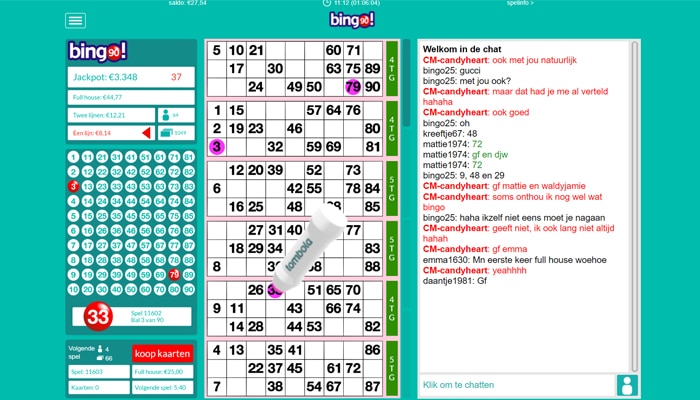 Bingo at Tombola is fun
Years of experience in the UK
Tombola is no newcomer when it comes to online bingo. They have been offering online bingo in other countries since the year 2012. This online casino game is super popular in the UK and Tombola expects this to be no different in the Netherlands. Given the popularity of camping bingos and bingo nights in community centers, we think they are right.
Several games
The main game at Tombola is Bingo90. A bingo game with 90 balls. You can play multiple cards at once if you want. If you don't feel like playing bingo for a while, Tombola also offers a number of simple slots games. New bingo variants are on the way and new slots games are also expected to be added.
Many players can chat together
The social aspect is clearly present online as well. In the chat there is contact between players all the time. As long as you keep it clean and civilized you can chat about anything. A moderator from Tombola looks over your shoulder and chats with you if you need to.
We see a bright future for Tombola. In the near future, more bingo games will be added to the product range, making it even more fun. If you like bingo, it is definitely worthwhile to take a look at this legal provider of online bingo.