There are several stories circulating about Leap Gaming. This software developer was supposedly founded in 2006 and has its headquarters in Malta, where they also received an official license to offer their games.
They are also based in the United Kingdom. The company mainly focuses on the iGaming industry. Also, they have enabled technological advances for online gambling in recent years.
Leap Gaming Review
A plus point is that both partners (read: online casinos) and the general public can gain insight into the way Leap Gaming operates. This makes it a reliable partner. A review.
Different games and unique genres
Leap Gaming also features video slots and table games. In total, this developer now has around 20 games. That doesn't seem like much, given that Leap Gaming has been in the online casino market since 2006. Still, all of Leap Gaming's games function phenomenally, and it has a strong presence in several segments of the casino business. Unlike other developers, Leap Gaming specifically chooses to grow quietly, by, among other things, entering into strategic partnerships with online casinos. Currently, for example, 888Sports has become a partner of Leap Gaming, as well as Bet365 and bwin previously.
Video slots from Leap Gaming
The video slots from Leap Gaming are really of great quality, despite the fact that the developer does not seem to focus exclusively on this. If you are looking for a slot from Leap Gaming then you need to look hard because they only have two: 'Hercules: Do or Die' and 'Secrets of the Nile'. Both have a theme about the Egyptians and about the Greeks. These Old Slots are always welcomed with open arms by the general public.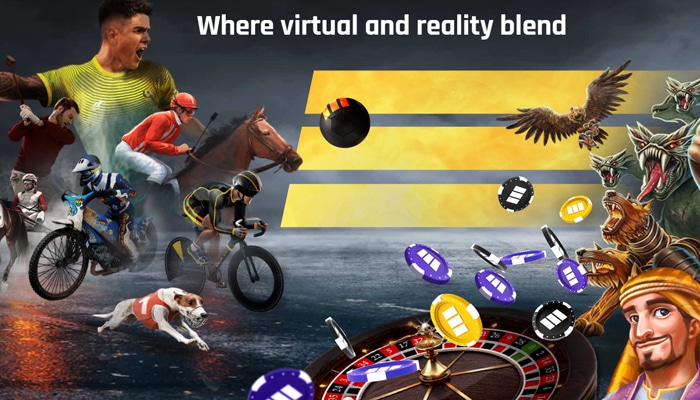 This is Leap Gming
Nice table games
Leap Gaming also features some fine table games, although there are not many of them. The look of these table games is authentic and with a touch of their own. You play roulette and blackjack here, a total of four games. The layout is somewhat dark, but this gives it a classic look. Thanks to the high value 3D graphics and the spinning wheel in roulette, you really have the classic casino feel at Leap Gaming.
Gambling on sports
From day 1, Leap Gaming's goal has been to ensure a unique iGaming sports experience. The offering can be roughly divided into 'Scheduled Sport' and 'Instant Sport'. In both variants, players can choose from soccer, horse racing competitions, greyhound racing and more. The only difference between instant and scheduled betting is that with an instant bet you can start the game immediately, while with a scheduled bet you have to wait until the game starts. This means that more people participate at the same time.
In Leap Gaming's iGaming sporting events, you always make use of the unique 3D camera. This allows you to see the course of a match from all angles. Especially with horse races and greyhound competitions this gives a real kick. Leap Gaming is one of the few software developers who can show iGaming in this way.
Mobile responsive games
As a software developer these days you can't get away with a game not doing well on mobile devices or tablets. At Leap Gaming, the details have been thought of as well. Regardless of the number of active players, you will find the highest quality in the image. For example, Leap Gaming uses HTML5 in its video slots and table games, which manages to offer the highest quality. Leap Gaming's game variants are fully responsive on both mobile and computer.
Follow the latest news from Leap Gaming
If you are curious about the latest developments surrounding Leap Gaming, then you can visit the extensive news overview. Here you will find various news about new partnerships, but also developments in the games on offer and the software. You will also find information about the existing and new countries where Leap Gaming may offer its services, and there are more and more.
Play Leap Gaming at: Best Live Casino
Betsson
No license in the Netherlands
Read review
A promising brand
Leap Gaming is not a familiar name to many people, but that could change in the years to come. This party has a number of strong collaborations with iGaming parties. Leap Gaming now features virtual games to bet instant and scheduled money on, which seems to be the future of online casinos. The authentic experience, but virtual and with instant results.
Leap Gaming has not developed very many games, but what they do have is of the highest quality. HTML5 and mobile responsive, allowing players to play the games anytime, anywhere. The table games and video slots look high-end, with the highest graphics. Thanks to strategy collaborations with major players like bet365 and 888Sports, they will play an increasing role in the online casino environment in the coming years. This is a name to keep an eye on.