An investigation by Nieuwsuur has shown that throughout the country illegal gambling can be found. Illegal gambling kiosks (gambling via telephone, laptops & slot machines) can be found in over 800 places.
Mostly sports betting
The illegal gambling activities are often run by Turkish owners in coffee or tea shops, tobacco stores, call stores and barber stores. The Hague and Rotterdam saw the most action against these illegal sports betting activities. Collectively, some 45 betting kiosks have been closed in these municipalities as of 2015.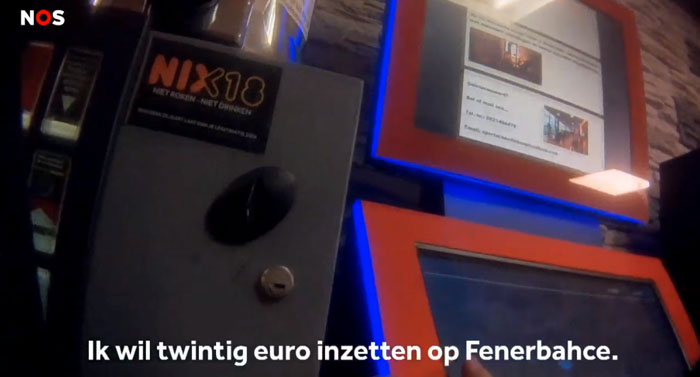 Illegal betting on football- Source: NOS.nl
Investigations launched into illegal sports betting
Since 2015, a total of 84 investigations have been launched into illegal money-making and betting kiosks. It was concluded that in some cases serious crime was also behind them. They are often individuals or criminal groups who are already involved in the drug trade. And sometimes they were entrepreneurs who also wanted to get a piece of the action in this illegal multi-million dollar industry.
The Kansspelautoriteit (the Dutch Gambling Authority) is responsible for the supervision of the legal and illegal provision of gambling, including sports betting. It indicates that it is difficult to reduce the number of providers of illegal TOTO. Marc Merx (head of enforcement Kansspelautoriteit) thinks that since the research, carried out on behalf of the Kansspelautoriteit in 2015, the number of illegal betting providers has not decreased very much, but for that matter has not grown either.
Making tons of black money
A Turkish former owner of a teahouse earned around 1,500 to 2,000 euros weekly from visitors who could gamble illegally on international soccer matches in a back room, he indicated. At the time he started his business, it seemed attractive to work with an intermediary who pretended to be a bookmaker. In a few years' time he managed to rake in tons of dirty money. The bookmaker provided all the necessary equipment, including laptops and printers. The ex-owner estimates that there are currently about fifty bookmakers active in the Netherlands.
How it could happen that this Turkish ex-owner could continue offering illegal bets on sports for years, enforcer Merx of the Kansspelautoriteit has an answer to: "We know it happens and are not naive, but the fact is that you cannot eliminate all entrepreneurs. We are doing our best and we are making the best of it. However, this does not guarantee that all illegal sports bets placed in gambling kiosks can be traced."
Increased chance of catching gamblers with police, justice and tax services cooperation
The Kansspelautoriteit does not have observation teams or wiretapping installations to tackle illegal gambling in the Netherlands. It employs a total of thirteen enforcers. Marc Merx wants his team of enforcers to work more closely with the police, the judiciary and the tax authorities. This will increase the chance of being caught. There have already been cases in which the municipality has acted against providers of illegal sports betting in recent years. Merx could not comment on the number of measures taken.
Top layer must be tackled instead of small entrepreneurs
Criminologist Spapens says: "When one store closes down, the next day another store will offer illegal gambling. It is important to tackle the top layer instead of going after small entrepreneurs of illegal gambling kiosks." Merx recognizes this problem. He therefore wants the Kansspelautoriteit to be kept more informed in the coming year by municipalities that are investigating illegal TOTO. This will allow his enforcement team to get a better picture and make better choices for a future approach.
Source: Nos.nl
Click here for the original NOS article