The Kansspelautoriteit (KSA) has announced that it will add age verification as a priority criterion for tackling online games of chance as of 1 January 2020.
This means that (illegal) providers of online games of chance must clearly indicate how they check the age of people who want to participate in the game.
Large supply of illegal online games of chance
The KSA has the protection of the Dutch consumer as a starting point in combating illegal providers. The providers of illegal online games of chance are there in large numbers. The Kansspelautoriteit already had a lot of criteria for dealing with the offenders, and now the criterion of age verification has been added.
In this way, the KSA wants to prevent minors from not being able to register at an online casino or at providers of other games of chance. The KSA will impose a fine on providers who do not clearly indicate how the age of participants is verified. Only a confirmation button in which the participant can indicate that he is old enough is not sufficient in this case. Similarly, only indicating the date of your birth and no other verification is also not permissible. The providers will have to clearly indicate how they check and verify this.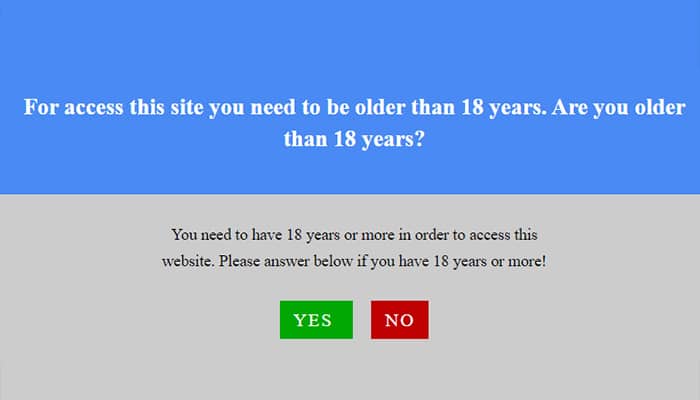 This type of age verification is not sufficient
ID as proof
Age verification will require the use of an objective means of proof, such as a passport or ID. It must also be clear to the person who is going to register how age verification is done. The KSA emphasizes again that offering games of chance without a license is prohibited in the Netherlands.
In addition to age verification, all other criteria used by the KSA remain in force. Based on all these criteria, the KSA determines whether providers are illegal and whether they can be considered for a possible license in 2021.
More information on online gambling
Legislation on online gambling

Online Gambling Holland Casino

Online gambling Legalization in 2021
In February 2019, the Senate passed Minister Dekker's Remote Gaming Act (KOA). This means that by April 2021, companies can apply to be considered for a license that will allow online gambling to be offered legally in the Netherlands. Think of offering sports betting, which is now only reserved for the toto. Also, permits will be issued for online casinos. Now, offering casino games is only possible in Holland Casino and online gambling is not yet allowed in the Netherlands.
The permit application alone will cost €45,000, and that money is only to check whether a company can qualify for a permit. What the actual permit will cost is not yet known. What is clear is that regardless of whether a company qualifies or not, that €45,000 is lost. The KSA says that this amount is necessary to check and find out everything per company.