Our favorite jackpot casinos
The purpose of this page is to explain to you what the best jackpot casino is, how it works, and why you might be interested in playing there. We have also provided a description of some of the most popular casino jackpots available at both an online casino and at Holland Casino.
What is a jackpot casino, and how does it work?
A jackpot casino is a casino where you can win big jackpots. The biggest jackpots these days are on progressive slot machines. In a progressive game, the jackpot rises the moment players put money in the slot machine and spin the reels. A portion of each money a player puts in is used to feed the jackpot. There are three different types of progressive jackpots.
Standalone jackpot: A standalone jackpot slot or video slot works the same, but only betting on that particular machine will feed the casino jackpot. This was the only way progressive video slots could be played in the early days of gambling, but most jackpot video slots contain multiple machines that are linked together. There are still many standalone jackpots to be found as plenty have been developed over the years. Usually their jackpot prizes are under €10,000.
Local jackpots: The local jackpot was the next step in the evolution of this type of game, and is still often found in casinos. These games offer a jackpot at a specific casino that are connected to each other. This network may come including a dozen machines, or it may come including hundreds of machines – it depends purely on the casino where you play. Usually these jackpots are available with prizes below €1,000,000, and often even below €100,000.
Wide network: There are some of the most popular casino games on the market today. A wide network jackpot that is connected to video slots from different casinos. This ensures that the jackpot can pay out huge amounts at the time it is well filled.
Often the jackpot prizes of these progressive jackpots are above €1,000,000 and sometimes even over €10,000,000. Examples of online jackpots with a wide network are Microgaming's Mega Moolah and NetEnt's Mega Fortune. These can be played at most online jackpot casinos. Keep in mind that you only have a chance of winning at a jackpot casino if you play for real money.
Mega Millions from Holland Casino
The most famous jackpot slot machine in the Holland Casinos is Mega Millions. This jackpot is linked to 169 Mega Millions slots in all 14 Holland Casino locations combined and has already paid out huge prizes.
In 2015, a player at Holland Casino Utrecht won the highest Mega Millions Jackpot of a whopping €3,650,609.85. This makes Holland Casino the number 1 jackpot casino in the Netherlands.
Mega Millions is a progressive jackpot that has several machines per establishment connected to each other so that the jackpot rises faster. In addition, they continually replenish this jackpot with a certain minimum amount when the jackpot is won again. The prize you can win depends on the stake you are playing with. See below for the cash prizes that can be won with this jackpot:
€1 bet – €75,000
2 Bet – €150,000
€3 bet – €250,000
€4 bet – €500,000
Five euro bet – €1,000,000 or more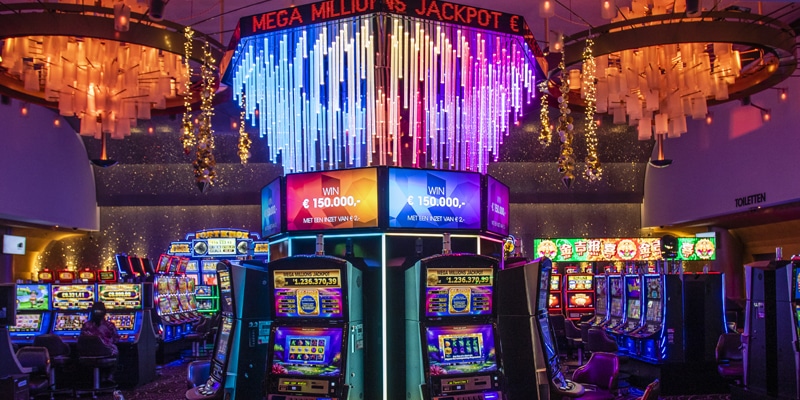 Holland Casino Mega Millions
How to win a progressive jackpot?
There is no possible strategy or system for increasing the chances of winning a progressive jackpot on a video slot. The odds of winning are similar to the odds of winning a lottery, although you do get more chances of winning per hour with a video slot than you would if you were playing a lottery.
One important thing to keep in mind about progressive jackpots is that the odds do not increase when the jackpot is higher. It is possible for a jackpot to grow large enough that a bet on that particular jackpot game can be a positive expectation, but don't just assume that you will win the jackpot. Some jackpots have a 1 in 7 million chance of winning.
Online jackpots that are progressive
With the growth of online casinos, progressive jackpots have also proliferated on the Internet. Microgaming is one of the software providers that has built a huge reputation based on their huge assortment of colorful, and relatively high progressive jackpot games. Online jackpot slots work just like in a land-based casino.
Every bet you place from your desktop, mobile or tablet, a small percentage is put into the jackpot for that game. Because many players these days gamble online from the comfort of their own homes, these jackpots can become just as large, or sometimes even larger, than land-based progressive casino jackpots.
The advantages and disadvantages of progressive jackpots
Although progressive jackpots are the most popular, it also has its drawbacks. The reasons are obvious, who wouldn't want to win a big prize or leave the casino a millionaire, without having put in too much effort (after all, you only press a button). The person who does not feel excitement and thrill during a turn where they have a chance to win a high jackpot has yet to be born.
For the beginners reading this, a progressive jackpot is one that keeps growing after players place a bet at a casino, or a network of casinos. In simple words, let's say you bet €1 on Microgaming's Mega Moolah. A small portion of the €1 goes to the progressive jackpot prize. This happens every time someone places a bet on the same video slot, so the potential amount you can win can grow enormously fast.
Because players can win life changing amounts of money, these video slots are hugely popular. The more players play on a jackpot slot, the bigger the jackpot becomes. You can probably see where we are going with this, can't you? The lesson to be learned from this is that if you are lucky enough and manage to win the progressive jackpot, then your life changes overnight.And it is very likely that this change comes including champagne for breakfast and oysters for brunch. This is what has happened to several players before when they won a huge jackpot.
The progressive jackpot is tremendously difficult to win. But you probably knew that already. Otherwise everyone would be a millionaire. The big progressive jackpots typically fall every few months.
The higher the jackpot rises, the faster people think the jackpot is going to fall. This triggers even more players to play so the jackpot contains unprecedented amounts. But still it comes down to luck, more precisely, the Random Number Generator – which means that a jackpot can be won several times in a given period, but also only once or not at all in such a period.
Jackpots that have to fall
Some online casinos have the "Must Drop Jackpots". These are jackpots that can reach a certain amount before they drop. This way players know when it is best to play on these progressive jackpot slots. There are also casino jackpots that can fall daily or at a specific time.
Some software developers have created video slots that offer a fixed jackpot prize. An example of this is the Steam Tower. When you get the dragon's eye in the picture five times, you win the set jackpot with a payout of 2000 credits. The big advantage of this is that players often have a chance of winning these jackpots with a lower stake already.
Moreover, they also come with low volatility, which means that you win prizes more often, but the payouts are slightly lower. For risky players, we still recommend the progressive jackpots which have no limits.
Some tips
These are some of the things you could take into account to make playing at a jackpot casino as enjoyable as possible. Use them to your advantage!
Volatility and hit frequency
The video slots we have mentioned above all have one thing in common; you want to have a good time and have the chance to win generous payouts. Maybe you just play for fun and hope to win a jackpot one day. Or the day has come when you go all in and put everything on the line. Then it's important that you don't just pick up the first progressive jackpot slot, but that you do some research first.
This is when you need to start thinking about volatility and frequency. Let's say that the Aztec's Millions video slot currently has a jackpot prize of €4 million euros, that's enough to be tempted right? The moment you are willing to risk your entire balance to win this jackpot, you realize that the Mega Fortune has a jackpot of €6 million.
What are you going to do now? Are you confident in your choice of Aztec's Millions? Will you split your balance and use it for both video slots? You can do all of these, but it's a better idea to check out the payout percentage (RTP), volatility and hit frequency of each video slot before you start playing with real money.
Let's start with the RTP (Return to Player). The RTP of a game measures the likelihood of you making a win on one of the video slots. Let's say you play a video slot with an RTP of 97%. This means that in the long run you expect to win back 97 cents with every 1 euro bet you place. The lower the RTP, the worse the chances of winning a prize.
The RTP, in turn, is influenced by the volatility, which is referred to in terms like low, medium or high. The lower the volatility, the more regularly you will land a winning combination on the reels of a video slot. The downside to this is that these winning combinations usually carry less value. The higher the volatility, the less often you get a combination, but when it happens, you win a higher potential payout.
To put things in perspective, NetEnt's video slot Dead or Alive is very popular among high rollers because it has a very high volatility and when players get a win, they win a lot of money. On the other hand, you have for example the Starburst video slot, also very popular, and for the reason that it comes with a very low volatility. This means you can expect your balance to last longer and pay out small wins every now and then.
Assortment of games
A rule of thumb is to choose a jackpot casino that offers a large assortment of games and familiar titles. The online casino is also likely to have more jackpot games available as a result. The largest casinos risk offering Mega Moolah and Mega Fortune, while some smaller operators avoid them. It is important to check in advance what the offer is and to know which jackpot slot you want to play.
Payout Conditions
This is a very important tip! Some jackpot casinos pay out large amounts of money. But the majority do not. Look at the monthly payout limits. If it's around €10,000 a month, then it will take forever to pay out a jackpot with an amount that goes over the millions of euros (if you're that lucky). That said, it's important that you play at a jackpot casino that pays out bigger prizes faster.
Reputation
The reputation of a jackpot casino is of great importance. The reason is that you can check on forums and comparison websites whether jackpots have been won before, where they were won, and perhaps more importantly – really paid out. Always choose the casino that is mentioned for the right reasons, and not when players have had bad experiences (multiple times).
The past
Look at the track record. It is a bit similar to our previous point. A casino should have nothing to hide and offer transparency in terms and conditions. When you see that the online casino has paid out jackpots before then you can be sure that it is a good place to play.
Licenses
After you have done your research on the above points then you are in a better position to choose an online casino that is worth your hard earned money. Make sure the casino is licensed so you know they are doing everything they can to keep you well protected. And should you be tempted to gamble too much money, they now have playing limits that you can set in advance.
This is the place to be!
Click here and play for the jackpot Frequently asked questions about the jackpot casino 🍒 How to choose the best jackpot casino?
The next big question, of course, is where to play for a chance to win these jackpots. The vast majority of jackpot casinos offer a large selection of different jackpots that you can win. So the question you need to ask yourself is that if you want to play the Mega Moolah, for example, which jackpot casino can offer you the best overall gambling experience?
There are a number of aspects to consider when you decide to take risks on progressive jackpot slots. You obviously don't want anything to get in the way of your dreams of becoming a millionaire. For example, a casino that can't pay out the winnings. If you are serious about winning a jackpot do your research on the jackpot casino.
🍒 What are the different types of casino jackpots?
Progressive jackpot slots are the most popular in the jackpot casino and the ones that offer huge payouts because they keep rising until someone wins the jackpot. The video slots with multiple small jackpots are nice for smaller wins, and easier to win because they have to fall at a certain time of day.
Finally, you have the predetermined jackpot amounts on video slots with a limit on the size of the jackpot. These are often won during the bonus game and offer lower prizes.
🍒 How often do progressive jackpots fall?
Progressive jackpots cannot be predicted for when they fall. All you can do is look at the history of payouts to players. What is clear, however, is that a progressive jackpot does not fall often.
🍒 What are the biggest jackpots?
The biggest payouts at a jackpot casino are Mega Moolah and Mega Fortune. Both video slots has created millionaires and are the holy grail of jackpots. It is best to come up with enough balance if you want a chance to win these jackpots. It is purely dependent on your own taste as to which video slot you choose. Both deliver high quality visuals, and work on mobile devices or desktop.
🍒 How do I qualify myself to win a jackpot?
Usually the maximum bet is enough to have a chance of winning the jackpot. When the right symbols land on the right spots of the reels you hit the jackpot. This gives you access to all available jackpots on the video slot.
🍒 Which software has the best jackpots?
Microgaming: The jackpot slots from Microgaming are hugely popular among casino players. The two best known are Major Millions and Mega Moolah. Microgaming is a true specialist when it comes to creating top jackpot slots. They have turned regular players into millionaires.
Realtime Gaming: With a total jackpot rising above €10,000,000 and won more than 2,500 times, Realtime Gaming, or RTG, has a good range of jackpot slots to offer. Well-known video slots include Midlife Crisis, Shopping Spree and Jackpot Pinatas.

Finally, they have the Aztec's Millions which is very suitable for high rollers. In theory you can win a cool mega jackpot of €1,000,000 if you manage to get 5 Aztec symbols on a payline. In the past this jackpot has reached heights of up to €3 million.

NetEnt: The software company NetEnt has created many popular video slots in the past that have a high progressive jackpot. The most famous of all is the Mega Fortune. This casino jackpot has even received a spot in the 'Hall of Fame'. This is due to a high payout of no less than 19 million dollars. It's no surprise that the Mega Fortune is a big hit.

More NetEnt slots with a jackpot is Hall of Gods (three progressive jackpots to win). Also Arabian Nights (with maximum bet and five Arabian Prince symbols on any of the active paylines). How about Cosmic Fortune (five jackpots, three of which are progressive). Finally, NetEnt also has some local jackpots that do offer nice prizes. However, these are not as high as the real progressive jackpot slots. These include Tiki Wonders, Cash Bomb and Gold Rush.
Summary
Now that you know which jackpot casino is popular among other players you can find out which one you would like to try out yourself. On our website you will find plenty of online casinos that are reliable and have previously paid out large jackpots. We rate each jackpot casino on reputation, game offer, jackpots, customer service, license and many more important points to look out for when choosing a casino.