Luck is with the stupid it is sometimes said. Or lucky in love, but unlucky in play. Be that as it may, some people seem to have more luck than others. Of course, gambling has everything to do with luck.
But is it just a coincidence that some people win sooner or are luckier than others? Everyone wants to be as lucky as possible, preferably on all fronts, including gambling.
Are some people luckier than others?
From real life we already know that not everyone is equally lucky or unlucky. This obviously applies to gambling as well. The chance that a slot player will win a big prize in the first round is not great, but it does happen. And there are also people who win the jackpot more than once, although statistics show that the chances of that happening are extremely low.
No matter how small the chance is, it does occur. So are they just luckier than others or what about that? Sometimes people play hours and hours on a slot machine and win nothing while someone else walks away with a big prize after only five minutes.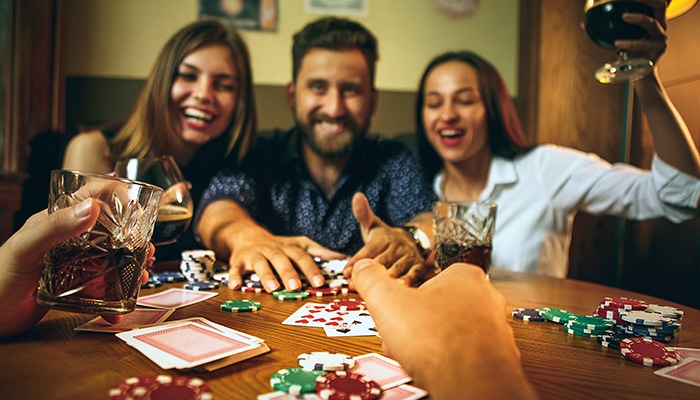 Sometimes it seems like some people are luckier than others.
Random is random
Be that as it may, winning the jackpot on a slot machine is a random event. As a player, you can't influence when it's paid out. If this happens to someone who has been playing for hours on the same slot machine, then it's nice if the jackpot hits but we usually don't find it very special. Has someone just started playing and wins immediately? Then we are all amazed that this person is so lucky.
If you keep playing the same machine day in and day out, you would think that you would have a better chance of hitting the jackpot, but that is not true. The payout is completely random and could just as easily be from someone who has just played one round. Even though we would like to believe that we have a hand in it, random is still random. Coincidence is and will always be a coincidence even though, according to some people, it doesn't exist.
These casinos have good bonuses New Casino!
Casino777
Welcome bonus 100% up to €250 Jacks Casino Online
100% Welcome Bonus up to £100
bet365
Deposit min €10 and receive 100 free spins
BetCity
Welcome bonus up to €100 free spins
Our best bonus! Circus
Get a bonus up to €250
Luck can just turn
Luck is a variable thing that can suddenly turn. If you win a long time in a row, this does not guarantee that it will continue and your chances can suddenly turn again. You shouldn't tempt fate, but if you've won a lot, it's no longer a matter of luck if you take it all home. If you stop at the right moment, you are the big winner and it has little to do with luck. Did you win?
Then take the right step and stop playing in time so that you can take your winnings home and do something nice with it. Or save the money for later and invest it in something you need or have always wanted.
Practicing a lot and developing tactics can help
Now, winning a game is not always entirely a matter of luck. There are also casino games that will bring you profits sooner if you are well-trained in them or if you have a knack for them. Gambling is still gambling and if you go home earlier you will probably lose less than if you stay longer (and with some bad luck forfeit all your winnings). While most games require little technique in the casino, that doesn't mean that your odds of winning are always the same and you can't give them a helping hand.
For example, in a game like Blackjack, if you know how it works, you can certainly increase your own chances of winning. That's why a game of Blackjack is often more profitable for a professional than for someone who only plays it occasionally and is less familiar with the rules and tactics. The same is also true for Roulette.
Gambling on intuition
Intuition is something that is very hard to describe. It works significantly better for some people than others but it can also be used many ways and in many areas. Perhaps intuition can also play a role in gambling but that is not entirely clear. Some people rely on their feelings while gambling and this can work out positively for them. However, this should take into account the fact that you still cannot predict outcomes (we would all like to see into the future) and that it is not possible to rely on instinct alone. If people play on their intuition at all, they often do so out of experience of what has happened in the past. If it worked well then, they are more likely to trust it to be successful now.
Happiness is a coincidence
Happiness varies from day to day and from person to person. If one day you are not very lucky in the game then the next day it can suddenly be different. Of course, this is also true the other way around. If you are very lucky that may also change at some point. You can encourage luck but you can't force it so you'll just have to wait and see what the day brings. And in the case of the casino, what the game brings. The best luck is to leave the table when you've won so that you can do something fun with your winnings.