A professional gambler is someone who makes a living from gambling and spends most of their time in casinos. These can be either online or land-based casinos. Professional gamblers earn their salary by placing the right bets at the right time.
The lifestyle of gamblers has been portrayed as very glamorous by film clips about Las Vegas, among other things. Men are always neatly dressed and women always look sexy and provocative. Everyone seems to be having a good time. They win money, eat at 5-star restaurants and drink the best champagne. You might just get the thought that you want to be a part of that. However, the reality of the casino world is very different.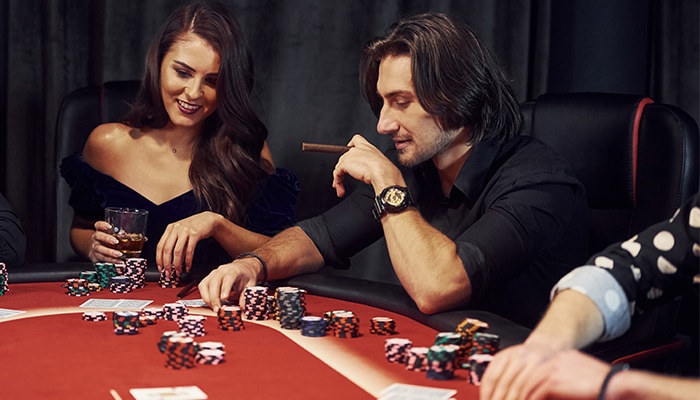 Professional gamblers dare to bluff and gamble with big stakes
What makes a professional gambler?
The term "professional gambler" can be used for people who make their money from gambling either full- or part-time. In this article, we distinguish between professionals and semi-professionals.
Professional gamblers earn enough to pay all their expenses and make a living. This includes housing, energy costs, loans, insurance, food, clothing and other essentials.
A semi-professional is someone who earns enough to supplement his income. However, he or she does not earn a full income from gambling. When professional players do not get good results, they will soon start to doubt their skills. The reality is that professional gambling is a dismal business when such a thing happens.
On the other hand, of course, it can be a very lucrative way to earn your money. However, the hard truth is that the mindset of a professional casino player is similar to that of a manic depressive.
The gambling world does not offer an abundance of opportunities to earn a living. However, there are a small number of games where nice profits can be made. At least, if you play smart and follow a certain plan.
Profitable casino games
In the casino you can find a wide range of different games. Only a few offer the potential for long-term profit. The games where this is possible are:
Blackjack
Fantasy Sports Games (FSG)
Poker
Betting on Sporting Matches
In blackjack you try to win money from the casino. You play against the casino and they will do everything they can to prevent you from, for example, counting cards. For example, they use machines that shuffle cards continuously or multiple decks of cards.
Players who are caught counting cards are often banned from the casino. This is why it is so important that card counters blend in with normal players. In FSG and poker, you play against your fellow players.
The platform where you play earns only a small percentage of the tournament fees or pots. Betting companies create systems where they earn from players' losses. Each form of betting has its advantages and disadvantages. With each form, it is possible to build a stable income.
Counting cards
Since the early 1960s, people have been making money from counting cards. Despite the fact that casinos have taken all sorts of measures in this regard, it's still possible. However, you'll need a sizable bankroll to spread your bets and survive the variance of the game. Think of a bankroll of between €20,000 and €40,000.
Your earnings depend on the following factors, among others:
Skill level – Successful card counters have between a 0.5% and 1.5% advantage over casinos.
Hands per hour – 50 to 200, depending on the speed of the dealer and the table size.
Bet spread – The difference between your lowest and highest bets.
Deck penetration – The further you get into the deck, the higher the bets.
Counting system – Some systems are more accurate than others.
Game rules – You want to use inexpensive game rules with the lowest possible house edge.
Tips – €5 per hour for the dealer is standard.
The final step is to figure out how many hours you will play and convert this into an annual salary. The key is to keep records of your performance and income.
Also take a look at one of these casinos New!
Casino777
Welcome bonus 100% up to €250 Jacks Casino Online
100% Welcome Bonus up to £100
bet365
Deposit min €10 and receive 100 free spins
BetCity
Welcome bonus up to €100 free spins
Our best bonus! Circus
Get a bonus up to €250
Fantasy Sport Games
Fantasy Sport Games (FSG) are one of the modern games where gamblers have the opportunity to earn money.
Daily fantasy games require you to pay an entry fee to participate in competitions. In these you compete against other players. The goal is to create formations that score the most points and score the highest in tournaments.
Daily Fantasy Games experienced a big boom in 2015. This is thanks to clever marketing campaigns that make it seem like any sports fan can win. However, the truth is that only a small percentage of players actually win. A 2015 study found that 1.3% of daily fantasy baseball players collect 91% of the profits.
Saahil Sud, one of the most successful players, said he made over $3,000,000 in profits in one year. Former poker pro Aaron Jones switched to DFS and won a DraftKings game worth $5,000,000 in early 2016.
Of course, the average professional Fantasy Game player doesn't earn that much. Let's consider the following factors to determine a standard FSG salary.
Matches per day – Most FSG professionals participate in hundreds of matches each day.
Wagers – Typical entry fees range from $1 to $1,000.
Fees – FSG sites charge a 10% fee for each buy in.
Skill level – Some pros have a greater edge than others.
Fantasy Games are, of course, full of variables. Therefore, it is important to have a bankroll large enough to survive the ups and downs.
Poker
Poker has long been one of the most viable options for becoming a professional gambler. The reason is that you play against other opponents instead of the casino.
These days, it's harder to make a living playing poker because more players are playing poker. Online poker allows players to quickly accelerate their learning curve by playing more hands per hour.
However, you can still become a profitable player with enough effort. Some pros still earn an annual income in the six or seven figures. However, the vast majority of pros today earn between €40,000 and €100,000 per year.
Poker is unique in that there are essentially two types of professionals: tournament and cash game pros. Let's look at the differences between these two options:
Cash Games
Profits measured in big blinds (BB) made per hour.
The house (poker platform) receives 5% rake from each pot.
More control over annual salary than tournaments.
Tournaments
Profit measured by return (ROI) on buy ins.
House adds 10% fee to buy ins (e.g. $10 + $1 fee).
Only the top 10-15 players in the field make money.
Tournaments have more variance than cash games.
A cash player must figure out what bets to play to make a comfortable living based on the BB earned per hour. A tournament pro must decide what buy in level to choose in order to achieve a high enough ROI to live comfortably.
Another consideration here is whether you spend most of your time in live or online poker. Online cash games and tournaments offer more volume because you can play at multiple tables. In addition, hands and tournaments move much faster, giving you the chance to increase your hourly earnings.
Nevertheless, many players find that their winning percentage is higher in live games. Therefore, the most lucrative tournaments can be found in land-based casinos, such as the World Series of Poker events.
Sports betting
The great thing about sports betting is that you don't have to have a huge profit percentage to make a profit. Betting firms only take 10% of the losing side. This differs from FSG and poker tournaments. There you have to pay an additional 10% fee, regardless of whether you are a winner or a loser.
Professional sports gamblers typically win between 53% and 55% of the time. Professional sports gamblers do have to manage their bankroll well. This is because they are dealing with very small profit margins.
Some sports gamblers have made millions of dollars using this model. But average gamblers are looking at more modest salaries, ranging from €50,000 to €150,000 per year.
Conclusion
Being a professional gambler has some distinct advantages. You are your own boss, have flexible hours and you have opportunities to increase your income. Some gamblers, such as Saahil Sud and Bob Voulgaris, have become stone rich with their skills.
There are also drawbacks to consider. For example, there are highs and lows and you don't get paid anything if you're sick. Not to mention that you risk losing everything.
The potential rewards can be great in the case of card counting, FSG, poker and sports betting. But this is only true for those who are disciplined and can handle risk well.