As it looks now, as of October 2021, that's it. You will be able to play completely legally at a Dutch licensed online casino. Online gambling becomes legal in the Netherlands.
An online casino doesn't only have to offer video slots or live casino games, but can also offer sports betting, with wagers on the biggest International sports. How does an online casino get its games?
Video slots software
Are you familiar with online casinos? Then you've undoubtedly played on one of the many video slots on offer. A video slot is a virtual slot machine, but a lot more elaborate and with different themes.
For example there are themes where your favorite singer or band has been given a video slot, or a video slot takes you back to the time of the Vikings or Romans. By the way, you can also just enjoy the standard video slots with a familiar look and easy game rules.
Do online casinos make these video slots themselves? The answer is in the vast majority of cases 'no'. For video slots there are major providers available, which can offer the right software and which all online casinos like to have within their assortment. Some of these video slot providers are;
Netent
Microgaming
Play and Go
Playtech
What is important?
When you play one of the many video slots, you can assume several fixed conditions. For example the major software providers always take into account the reliability of the game but also the high chances of payouts. There are also video slots that have a progressive jackpot, such as Arabian Nights and Mega Fortune. Thereby you can play for a unique jackpot or a combined jackpot.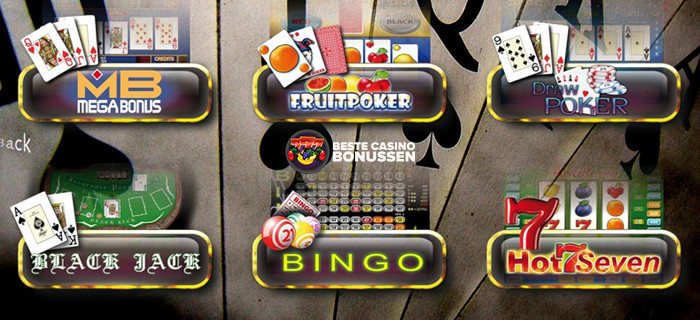 A video slot can have various themes and you may also come across video slots that is created not by one, but by two or sometimes more providers. Online casinos in particular are taking advantage of the huge opportunities for video slots.
Live casino
Many online casinos also have a live casino. In it you can play the well-known casino games like Poker, Blackjack and Roulette. Although these services are offered by third parties, in most cases they are unique interfaces of the online casino.
For example, many online casinos have created a Live Casino environment in the Eastern Bloc or Southern Europe. Here you can follow on live camera footage how things are going in Punto Banco, Blackjack or Roulette.
The battle for a unique casino game
The big video slots like Starburst or Mega Fortune are offered by most online casinos. However, within the online casino world it is more and more about standing out and therefore every online casino is looking for a unique game, with an imaginative interface and with high payout percentages. In this way an online casino can create a video slot that perfectly matches the look and feel of the overall casino.
Choose your favorite
Most online casinos offer hundreds of video slots and with one exception, these are not unique or in-house designed video slots, but are offered by the major providers in the market. Picking a favorite casino game can therefore be quite difficult, partly due to the different payout percentages and themes. Choose from one of the attractive video slots offered by the likes of Netent, Microgaming, Play and Go or Playtech.
If you really want to gamble safely on the Internet, then it's better to wait until 2021 because from then on online casinos with a Dutch license will enter the market.