The fact that playing video poker is so popular doesn't come out of the blue, of course. Since the advent of video poker machines in 1970, many players have started playing the game. The reason? Video poker is one of the few casino games with the highest odds when it comes to winning a payout. This is due to the many hands that can be formed with the cards and the low percentages of house edge that are used.
Playing Profitable Video Poker
When you choose to play online video poker you naturally want to win as much money as possible. At several online casinos it's possible to beat the video poker odds and win a lot of prize money. Another advantage is that you can play anonymously at the online casino without players watching or following your play style. Moreover, at the online casino we see the lowest house edge and the advantage seems to lie precisely with players.
It doesn't matter if you choose Jacks or Better, Deuces Wild, Joker Wild or any of the other video poker types. With the best skills, strategies, knowledge and of course some luck, it is certainly possible to beat a video poker machine. What do you need to know about this? We'll explain it to you in detail in this article.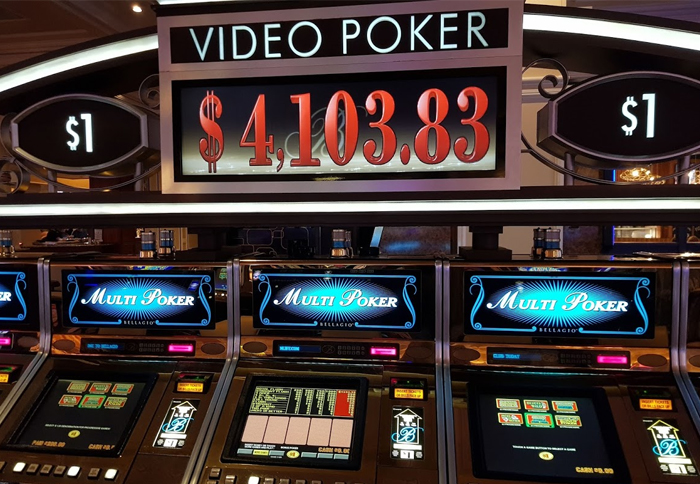 Playing video poker
Learn the rules first
Before you can beat video poker the right way, of course, you need to know the rules of the game. If you want the question "How do you beat video poker" answered? Then you should know that these game rules are handled very simply. In fact, in video poker, a deck of 52 cards is used by default. The first step you need to take is to place a bet, after which you can have the cards dealt. In video poker you are dealt 5 cards at random to gamble with. You must indicate which of these cards you wish to keep and which you do not wish to keep. You can bet on a card by clicking on it. Have you made a choice? Then the cards not dealt are replaced and the round is over.
After a round of video poker, the system checks what kind of hand you have formed. Think of hands like a flush, street, two pair or even a royal flush. Depending on the hand formed, a payout will be made as shown in the prize table. How best to beat video poker within the rules of the game? It's by making the right choice of which cards to keep during a round and which to discard. Moreover, there are also video poker machines that have a jackpot as an added bonus, and even that win will be well worth it.
Basic video poker strategy
The worst thing you can do when playing video poker at an online casino? Selecting cards at random that you might be able to win is the worst thing you can do. This is pure gambling and can be seen as playing all or nothing. This way you often lose a lot of money, while video poker is a game where you certainly have a good chance of making a profit. Basically, you need to know which cards offer the best chances of winning. Select only cards that make sense and don't gamble on a card that's going to be turned over, because that's not the way to get the best hand.
Choose the right pay table
One of the best things we have to give you about video poker has to do with the pay table. When you play video poker, the prize you can expect to receive if you win a certain hand is clearly stated in advance. This is different from a slot machine, where you have nothing to do with the symbols that are rotated to win. Before playing video poker, it's a good idea to check out the pay tables that show the highest winnings for the hands. This will help you beat video poker because you'll have better chances of earning back your bets.
Another important point about video poker? That's the Return To Player percentage. All online slots, video slots and video poker machines have an RTP percentage. This indicates how much money is paid out of the bets back to the players. For example, do you have an RTP of 96%? Then €0.96 of each euro is paid back to the players. Of course this is not 1 to 1. It can happen that you lose everything and someone else wins everything, because that's what gambling is. Do you want to have the highest chances of winning? Then you should choose a video poker machine with the highest RTP percentage. There are machines that even have an RTP of more than 99,5%, so the chance of losing is very small.
Play video poker for free
One tip we would definitely like to give you? It has everything to do with practicing video poker. Online casinos offer the option of free access. This is a good thing, because it allows you to play unlimited video poker games without having to pay for them. Playing for free is done with virtual credit. With this you play as if you were playing for real money. Moreover, the game rules are the same and there is no time limit. So you can always practice video poker for free and see how you can beat it before you try for real money.
After playing for free, do you want to place a bet for money? Then, of course, you can choose one of the video poker casinos we tested. You can then deposit money into an account and also gamble with the best casino bonuses is possible on video poker. In short, more than enough possibilities. Who knows, maybe you'll soon be beating video poker and making a nice profit!