It has been several weeks since Evolution launched Craps Live. For the first few weeks, the game's availability was limited. Only a select number of online casinos were allowed to offer the game.
Now, a few weeks later, more online casinos are offering this popular dice game to their players. Suppose you'd like to play Craps Live, but you're not really familiar with the rules? Then we've got some tips and standard betting options for you.
The basics of Craps Live
What many players consider to be a disadvantage, is often an advantage for a beginner. In Craps Live, players are not allowed to roll the dice themselves. In a real casino, of course, they do, and many players therefore feel that they have a say in the game. Of course, this is not the case because a shooter (someone who throws the dice) can never determine what he is going to throw. There are a few stories known about notorious craps players who practiced so many times and used a special technique that they could throw certain patterns, but that is really the high exception.
In Craps Live, there is a mechanical arm that throws the dice. Because the mechanical arm throws each roll at a different, random speed and force, the outcome is completely random and unpredictable. Craps is a dice game in which players bet on the outcome of the roll, or series of rolls, of a pair of dice.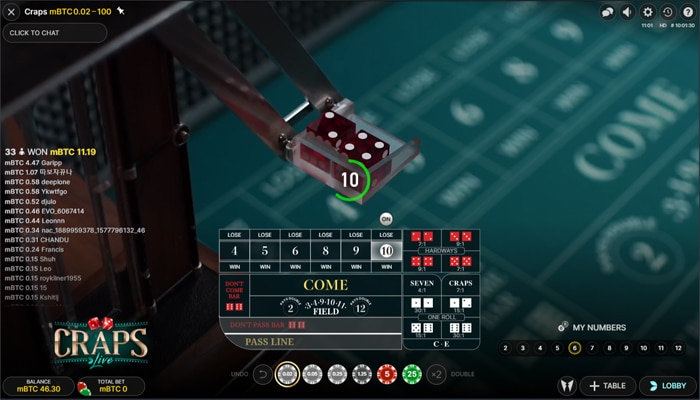 The dice are thrown with a mechanical arm
The right bets for Craps Live
There are numerous possible bets at Craps Live. We will use this article to explain the simplest and safest bets. If you follow these bets you will be playing the game with the lowest house edge for the online casino. This gives you the best chance of winning and making the most of your bankroll.
The best and safest bet to place when a new game begins is on the "Pass Line", the so-called "Pass Bet". This bet is based on the outcome of the shooter's roll. If the shooter rolls a 7 or 11 then you immediately win back an iznet. If the shooter rolls a 2, 3, or 12 then you lose the bet. Any other number rolled is the number that goes "On", and then the game really begins. From the moment the game is "On" you can start placing multiple bets.
At these casinos you can play Craps Live New Casino!
Casino777
Welcome Bonus 100% up to €250 Jacks Casino Online
100% Welcome Bonus up to £100
bet365
Deposit min €10 and receive 100 free spins
Grab the bonus
BetCity
Welcome bonus up to €100 in free spins
Our best bonus! Circus
Get a bonus up to €250
What bets do I have to make when the game is on?
Once the number is determined by the throw of the shooter, the game is "On". You can then increase your Pass Bet, which is something many players do. That bet is paid out the moment the particular number that is "On" is rolled again. The only condition is that the number 7 is not rolled before, because then the game is "Off" again and most bets are lost again. Most players always bet along with the shooter and thus hope that no 7 will be rolled.
A common strategy is to bet the throws after the game is set to "On", in addition to the Pass Bet you already have to then bet on "Come". If a 7 is rolled, you win the bet and lose the "Pass Bet", giving you a bit of damage control. If no 7 is rolled, you automatically play the number that was rolled. This can be repeated and is a nice active form of playing reasonably safe.
Bets to avoid
There are some bets that seem very attractive. This is because these bets pay out well. But in fact the odds are a lot smaller and they are actually not that good bets to place. An example of this is the "Hard Bets". The name says it all, hard bets. These are outcomes that are not thrown very often. "Hard 6" is throwing 6 in a tricky way, and it is 3 3. All doubles are "hard bets". So you have 1 1, 2 2, 3 3, 4 4, 5 5 and 6 6 which all have nice payouts but are very hard to throw. In the long run these are bad bets. They do add excitement, so if you're a gambler, they're certainly fun to place, but they're not as safe.
It's probably wise to check out the online casino first. If you have an account you can also watch the game at your leisure and try to get the hang of it. What's especially fun is if you ever want to go to Las Vegas and play craps at a real table in a casino. You'll see that you'll have a great time and will soon be cheering along when the shooter does well for you.