Those who end a gambling session with a loss do not, as a rule, walk out of the casino with a smile on their face. Fortunately, most gamblers can at least keep a cool head after playing their bankroll.
However, there are also plenty of examples of gamblers who have a hard time keeping their emotions under control after a loss. There are even cases of gamblers who have gone more or less crazy after losing big on gambling.
The consequences range from lawsuits to murder. Some gamblers now live in disgrace because of their misdeeds after losing at the casino. A few have not even survived. In this article, some high-profile cases where people went totally out of control after losing.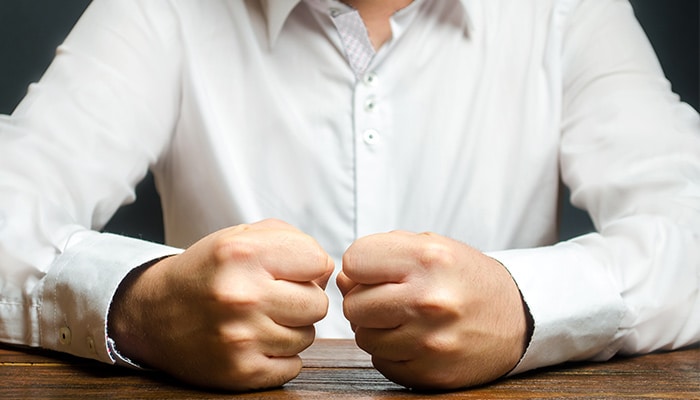 A gambler who loses can have trouble controlling his emotions and start doing strange things
Jack McCall
Jack McCall was a gold mining camp outside the town of Deadwood in South Dakota. On August 1, 1876, McCall got extremely drunk at the local saloon. He lost a large sum of money during a game of poker against "Wild Bill" Hickok. Wild Bill showed himself a gentleman and offered to lend McCall some money and pay for his breakfast. McCall reluctantly accepted and was also offended by the offer.
The next day, poker was played again in the saloon, but without McCall. Hickok normally sat with his back against the wall so that he could better protect himself from enemies. On this day, however, that spot was not free and so he did not see McCall coming when he shot him in the back of the head from behind. Hickok was instantly dead and McCall made a failed attempt to escape.
He was arrested and tried for murder in the mine camp. McCall argued that he was justified in his action because Wild Bill had killed his brother. The jury believed him and found him not guilty. People involved in the case had doubts about the verdict. Some also doubted the validity of the mine camp court. Nevertheless, McCall was a free man for a time.
However, he was arrested again in Wyoming after someone overheard him bragging about the murder of Wild Bill. McCall was taken to a federal courtroom in Yankton for a new trial. This time he was found guilty of murder. Three months later, he was hanged at the age of 24.
Safa Abdulla Al Geabury
Safa Abdulla Al Geabury was a collector best known for his remarkable Islamic art collection. This was estimated to be worth $1 billion. During a visit to London's prestigious Ritz casino, he lost a whopping $2,200,000.
In doing so, however, he played on credit, which was entirely customary. Any winnings would be paid by the billionaire to the casino later. Al Geabury, however, decided that he would not pay the loss. He argued that the Ritz was abusing his gambling problem and that he was not responsible for the losses.
However, the Swiss businessman had signed a document before he started playing stating that his gambling problem was under control. The Ritz Club used this document during the lawsuit the casino filed against the businessman.
The judge also found that Al Geabury contradicted his own story too often and ordered Al Geabury to pay. However, the latter refused even after the judge's ruling. He was ordered by the judge to return to the London courtroom and finish the case.
But the sore loser claimed that he could not afford the trip from Switzerland to London. The judge decided that enough was enough and charged Al Geabury with contempt of court. As a result, he was sentenced to almost a year in prison.
Terrance Watanabe
A man who made his fortune as CEO of Oriental Trading. He bought this company in 1977 and built it into a multi-million dollar company. In 2000, Watanabe decided to retire and sell his majority stake in Oriental Trading. Until then, the Japanese-American businessman had been completely focused on his company.
With hundreds of millions of dollars in his account, he decided to enjoy life. For Watanabe, this fun all began at the casino. He spent weeks at various casino resorts in Las Vegas. Watanabe participated in everything during these visits. From drugs to casino games, nothing was too much for him.
Unlike many highrollers, he made no distinction between the types of games he played. Watanabe was even willing to play high-stakes slot machines and Keno, both of which have very high house benefits.
However, he did not do very well on the casino floor. In 2017 alone, he lost $120,000,000. Watanabe soon blew through the fortune he earned as head of Oriental Trading. His troubles came to a head when he was sued by Caesars Palace. This was because he was accused of writing false checks worth over $14,000,000.
He fought back with a countersuit blaming Caesars Palace for allowing him to use drugs on their property. The Nevada Gaming Commission fined the casino $225,000 after hearing these allegations. However, this fine did not absolve Watanabe of his debts. He still had to reach a settlement with Caesars Palace for an undisclosed amount.
Also play at these casinos New!
Casino777
Welcome bonus 100% up to €250 Jacks Casino Online
100% Welcome Bonus up to £100
bet365
Deposit min €10 and receive 100 free spins
BetCity
Welcome bonus up to €100 free spins
Our best bonus! Circus
Get a bonus up to €250
Brad Booth
In 2000 a true poker hype occurred. Brad Booth was one of the many players who profiled himself as an insanely good poker player in that year. He also became famous by playing in the TV program High Stakes Poker.
However, his career suffered a serious setback when it became known that he had been the victim of a major cheating scandal. He said that the culprit, consultant Russ Hamilton, had swindled him out of more than $2,000,000 and that this had left him with no confidence in his game.
He then lost another $4,000,000 and blamed the scandal for causing him to hesitate longer with each choice. Later, he began launching online attacks on Phil Hellmuth, once a prominent player sponsored by Russ Hamilton.
Brad claimed that Hellmuth knew more about the scandal than he pretended to. But eventually Booth got into more trouble himself. For example, he was exposed for not repaying money loans. Booth still plays poker with low stakes, but very little of his reputation is left by now.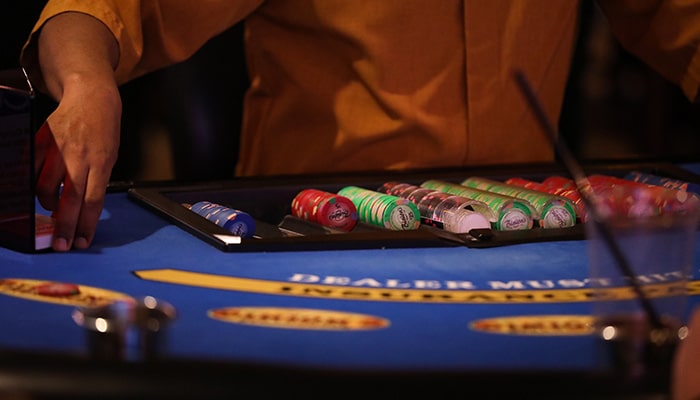 You can win a lot of money in a poker tournament, but you can just as easily lose the money you have won.
Harry Kakavas
This man was once a very successful Australian real estate developer. He accumulated millions of dollars by developing homes on the Gold Coast of Australia. Instead of using these profits to further his business, Kakavas began gambling large amounts of money at the Crown Casino in Melbourne.
He estimated that he wagered about 1.5 billion total and lost $20,500,000 of this amount. Kakavas chose not to pay and instead started a lawsuit. He claimed that the Crown Casino had taken advantage of his gambling addiction.
Kakavas presented as evidence the many compliments the casino had given him as well as numerous invitations to come and play again. The casino was even willing to send a private jet to pick him up.
The Supreme Court ruled that casinos are not required to "protect gamblers from themselves." The court also noted that Kakavas was by no means a special case in terms of gambling addiction and thus drew the short straw.
Erick "E-DOG" Lindgren
Erick initially began a very successful poker career. He won big tournaments including a $1,000,000 prize at the 2002 WPT Partypoker Million III cruise. The wins kept coming. He eventually signed a lucrative sponsorship deal with Full Tilt Poker who reportedly paid him $300,000 a month.
But underneath all his success was a festering problem of sports betting. Lindgren gambled and lost millions of dollars on sports. He was able to absorb these losses when the Full Tilt checks came in. However, he eventually lost this sponsorship deal after Black Friday (April 15, 2011).
From then on, things went downhill for Lindgren. In November 2012, he was unable to repay his debts incurred from sports betting and went to rehab. He also faced a lawsuit over a $4,000,000 loan from Full Tilt.
According to Howard Lederer, a former board member of the poker site, he accidentally loaned Lindgren $4,000,000 instead of $2,000,000. Erick refused to repay the money, or rather, could not repay it. His inaction and refusal to communicate about the issue led to the lawsuit.
Lindgren eventually filed for personal bankruptcy in 2015. He had less than $50,000 in assets, while owing more than $10,000,000 to various creditors.
Stu Ungar
Stu Ungar is perhaps the greatest gambler of all time. He dominated gin rummy to the point where he could not find a single person who would take him on in a regular game. "The Kid" instead had to offer decoys to trap opponents into playing games. For example, he would play every hand from the unfavorable dealer position.
Ungar switched to poker in 1977 after being unable to find a decent rummy player. Just a few years later, he won back-to-back WSOP Main Event titles in 1980 and 1981.
Unfortunately, Ungar began using cocaine around the same time. Initially just to get through the long poker sessions. However, his cocaine use became a lifelong habit. He soon began losing large sums of money while betting on sporting events.
There was a brief flurry in 1997 when Billy Baxter bet him in the WSOP Main Event. He won that event and together they earned $1,000,000. Unfortunately, Ungar soon lapsed back into his old behavior after that. A year after winning the WSOP Main Event, he died of a heart attack caused by cocaine use.
Conclusion
Most of the gamblers described above were once very successful players. Some even managed to win millions of dollars with their specialty. Unfortunately, after suffering hefty losses, they all also went on a rampage in one way or another.
From murder to failing to repay debts to having a heart attack from using drugs. These are sad stories and these are just the most famous in history.