Every serious gambler knows that one of the first things one looks for when choosing a casino game is the level of house edge. In short, the house edge is a percentage of revenue that is counted as profit for the casino.
Suppose you have a game with a house edge of 10% and you play $100. Then you can assume that you will lose $10 to the casino. The remaining 90% will be returned to you in the form of winning rounds.
The house edge of the casino
The lower the house edge of a game, the less each round of play or wager will cost you. The more likely you are to make a profit in the long run when playing a game.
Typically, the two most advantageous games to play at the casino are blackjack and video poker. These games have the lowest house edge. So in the long run they cost you very little to play and you even have the possibility of making a profit.
The house edge in the different variants of video poker is different, but usually the house edge is below 1%. What's important is that you play video poker with the best strategy. Also, choose a game that offers you the most favorable opportunities (see the paytable).
Video poker allows you to use a strategy that many other casino games do not. If you choose the right strategy and select a video poker game with a favorable pay table, you'll have the best cards in your hands to ultimately make a profit.
The importance of the house edge is still too often underestimated. This is certainly a crucial mistake to make in video poker. For that reason, in this article you'll read all about the house edge that can be found in different varieties of video poker and how to deal with it.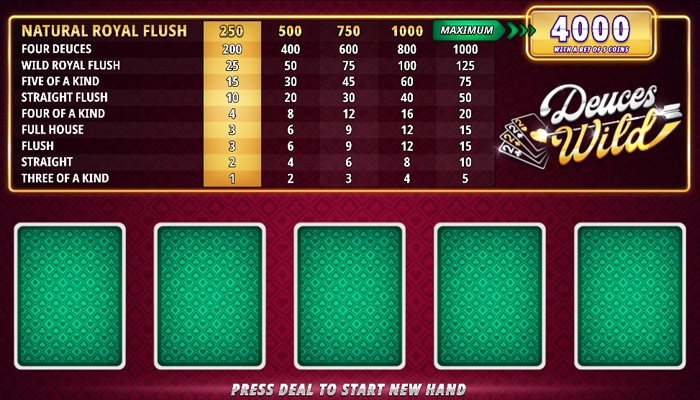 Before playing video poker, decide on the right strategy and check the paytable.
Low house edge in video poker?
One of the reasons that professional or very experienced casino customers prefer playing video poker is because the game has such an extremely low house edge. Especially when compared to other games in the casino.
A low house edge means that the game has a high Return To Player. This means that you get more money back in the form of winnings than in other games.
The interesting thing about video poker is that it is fairly easy to calculate the RTP of a video poker game. You can do this by looking at the payout table. This lists the payouts that you receive for the different winning hands that you can get.
It is then easy to quickly calculate how likely it is that you will get one of the different combinations when you assume a deck of 52 playing cards. The only way the casino can increase the house edge is by adjusting the payout table. You then get less profit for a winning hand.
Games where this is the case should simply never be played in order to maintain the best house edge. There are video poker games that have a negative house edge. This requires playing with a good pay table and the best video poker strategy.
Full Pay variants and effect on house edge
A full pay video poker game is one where the highest possible payout is offered. For example, suppose you are playing the Jacks or Better variant, the best hand is one that pays you nine times your bet.
There are also games that pay out only 6 times your bet. These are called half pay video games and should be avoided.
Games that give you the highest payouts therefore give you the best chances of winning. But that in itself is not enough. You'll have to play according to a strategy and stick to it.
The disadvantage of full pay video poker variants is that there aren't that many games out there that offer these best pay tables. So you'll have to search carefully and compare games with each other. The best way to do that is to visit several casinos.
Other factors that influence your odds
As a rule, the best option for choosing a video poker variant is to look at the highest payout table. In addition, it is also very important that the strategy you choose is the right one for the variant of the video poker game.
One strategy advises you in a video poker game to hold certain cards, for example. While another strategy advises you not to hold the cards. Choosing the right strategy is therefore just as important as choosing the right video poker variant.
You can only reduce the house edge when you combine the right strategy with the right video poker variant. If you play a variant that uses jokers, you'll notice that certain hands will be formed more easily. This also has an effect on the game's pay table.
Usually the payouts are lower than in games where no joker is used. This makes sense, since games with a joker allow certain hands to be formed more easily.
Video poker games with the best odds
If you've been practicing regularly and know exactly what strategy to use, it's just a matter of choosing the right video poker game to play on. All the games we list below can be very lucrative. This is provided you practice a little and use the right strategy.
We have listed the best games for you. If you're not familiar with each variant, it's advisable to try them all out before choosing your favorite video poker variant.
Progressive video poker
Progressive video poker has a jackpot that is separate from the winning card combinations usually found in the game. The jackpot of this progressive video poker game is filled by the stakes of all games that are linked.
Each time a player places a bet and plays a game round, a small percentage of the bet is added to the progressive jackpot. As a result, amounts for such a progressive video poker game can be quite large.
However, to play a progressive video poker game you need to have a sizable bankroll. Most progressive video poker games require you to play the maximum bet in order to have a chance of winning the progressive jackpot.
Also take a look at these casinos New Casino!
Casino777
Welcome bonus 100% up to €250 Jacks Casino Online
100% Welcome Bonus up to £100
bet365
Deposit min €10 and receive 100 free spins
BetCity
Welcome bonus up to €100 in free spins
Grab the bonus
Our best bonus! Circus
Get a bonus up to €250
Deuces Wild
This variant of video poker is preferred by many players because jokers are used in this game. These jokers are called wildcards and help you make winning combinations. The game is played with a typical deck of 52 cards.
However, the twos act as wilds that can replace any other card. Thus, there are no separate cards in the game. In this game, there are some common hands that do not count. The lowest hand that can offer a payout is not a Pair but a Three of a Kind.
If you want to try this variant, the best choice is to look for a game that pays out five times your bet on a Three of a Kind. You will then know that you are playing on the most advantageous game variant. It is a great variant for players who want to use the maximum bet in combination with the most optimal strategy.
If you play the right way, you can have an RTP of 0.76% in this and thus make nice profits in the long run. It is definitely one of the variations that offers the best payouts. With the introduction of wilds, it is definitely a great way to play. So if you use the right type of strategy and play in the right way, then you can definitely make high profits.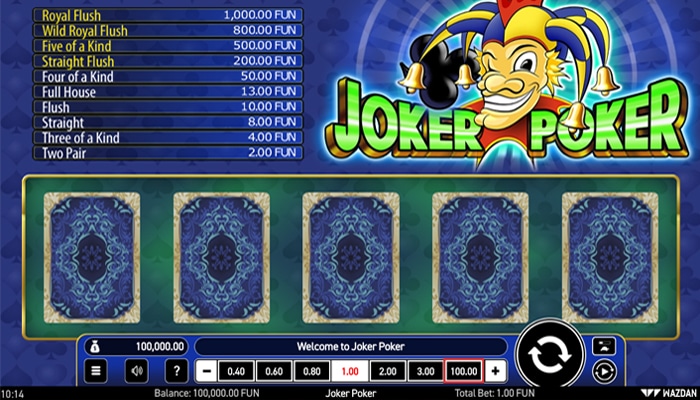 There are many video poker variants and Joker Poker is one of them.
Joker Poker
Another rather popular variant of video poker is Joker Poker. The name of this variant already suggests what is so special about the game. It is because an extra joker is added to the game. This joker is called the wild card and is a separate card in the game.
This joker, which is the 53rd card in the deck, can help you form a winning hand a little easier. It also offers more variants for a better payout. However, you must have at least a pair of kings to force a payout. Any combination that is lower does not pay out any winnings.
There is also a hand that is typical only for this variant of video poker and that is Five of a Kind. This pays out even more than Royal Flush with a joker. The only hand that gives a higher payout is a Natural Royal Flush, which is formed without a joker.
If you are looking for the best paying variant of Joker Poker, you should take a look at the payout table. Look for an option that offers a payout of 7 to 1 for Full House, 5 to 1 for Flush and Four of a Kind where you get paid 20 times your bet.
If you have found a full pay version and you use the right strategy, then you can achieve an RTP of 0.65% in this. If you come across a game with the title Joker Wild, then you are playing with the same rules and the full pay version is exactly the same.
The fact that it gives you the chance to form a unique winning hand makes Joker Poker a favorite with many video poker fans. Moreover, the casino advantage drops below 0% when players stick to the perfect strategy to play.
Jacks or Better
This is without a doubt one of the most popular and talked about variants of the game of poker. It is not only a very fun and exciting game, but also offers very lucrative payouts. Another advantage is that Jacks or Better can be played at almost any online casino, something that cannot be said of any other video poker variant.
If you want to play this variant, make sure you choose one that offers you the highest possible payout. For a Full House, then, you should get nine times your stake, while a Flush should get you six times your stake. With variants that pay out less, it's simply not worth playing the game.
It is a simpler variant of video poker because it uses the standard deck of 52 cards and there are no jokers or wilds. Often Jacks or Better is given as an example and one should always bet the maximum amount on video poker. Betting five coins on Jacks or Better will yield 4,000 credits with forming Royal Flush.
If you use a perfect strategy on a 9/6 variant of Jacks or Better, the RTP is estimated to be 99.54%. When you compare this percentage to 97.30% of the 8/5 variant and 96.15% of the 7/5 variant, you can quickly see why the full pay version is the best option.
Double Double Bonus
This variant is somewhat similar to the Double Bonus variant, but with the addition that players are paid a bonus when they have a Four of a Kind with aces and a so-called kicker card (the fifth card of the hand) with a value of 2, 3 or 4.
Unlike some other video poker game variations, there are no wilds here and the deck contains the standard 52 cards. Because the extra winning hands lower the house edge, many casinos choose to lower the payouts for certain hands.
Therefore, you should be very careful when choosing which option to play. When choosing the Double Double Bonus game, you should choose a variant that pays out 10 to 1 for Full House and 6 to 1 for Flush. When you use the optimal strategy, it is possible to reduce the house edge to 0.07%.
Conclusion
If you are looking for the best video poker variations with lucrative payouts, then you will always need to keep two things in mind. The first is that the payout tables of the different video poker variations differ. The second is that benefits can only be achieved when you play according to a good strategy.
This strategy should suit the variant you choose, because not every strategy fits every video poker variant. So it's definitely worthwhile to do some research first and compare different variants with each other.