Fruitkings has online slot machines
If you crawled behind a slot machine, it was often a so-called 'Fruit slot'. This meant that the symbols on the slot machine took the shape of all kinds of fruit: oranges, strawberries, raspberries. You name it. Because playing on such fruit machines used to happen so much, for many people there is a nostalgic feeling attached to this. They miss it.
Fortunately, these days video slots are simply being developed that have the same character as these traditional fruit machines. This can be done by producers who also make other types of video slots, but also by developers who focus specifically on these online slot machines. The latter group includes Fruitkings.
They are, despite their small size, known as one of the top developers in this field and of course we wanted to test that. That's why we took a good look at this developer and made a list of advantages and disadvantages for you.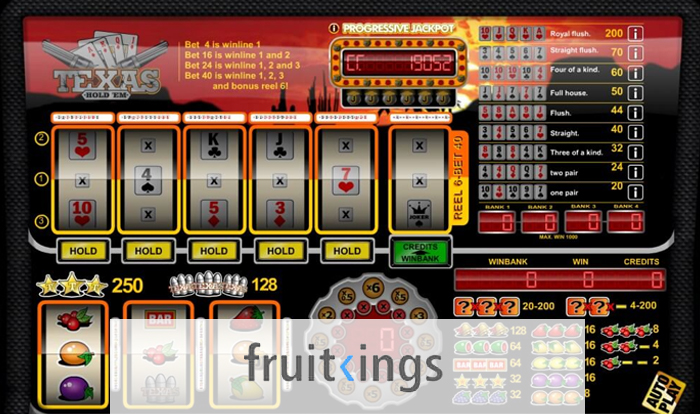 Fruitkings
The charm of Fruitkings
The power of Fruitkings is definitely in the atmosphere. Everyone who has ever played on an original slot machine and now goes to play a game of Fruitkings, has the feeling he stepped back into the past, which can be a very nice and sometimes even magical feeling. Creating this atmosphere is not something you do lightly though, you need quite a few qualities for that. Everything has to be right: the sounds, the graphics and the overall picture. Fruitkings is the master at this, which is their great strength.
However, it's not the only thing the developer deserves praise for, because although the games themselves already existed, Fruitkings made sure they function optimally within the online world. This means that the gameplay has been adjusted in such a way that everything runs quickly and smoothly, which means that there are never, ever any annoyances for the players. Likewise, the chances of winning have been brought to such a high level that this will also delight the customers. Because although playing is fun, winning is even more fun.
In these areas Fruitkings has to watch out for lagging behind
The biggest disadvantage of the Fruitkings games is that they can't be played on mobile applications. As said Fruitkings is not the biggest producer. On the one hand, this has to do with the fact that they are thus almost exclusively concerned with the limited market for slot machines, but on the other hand, they are also not the biggest within that market either. This inevitably results in some disadvantages. For example, due to a lack of resources and manpower, they cannot create a huge offering like the competition, and so they have to make do with somewhat fewer games. Moreover, they manage so hard to deliver to casinos, which is why almost no casinos have Fruitkings.