The development of online casino games is in a kind of acceleration. New online slots games appear on the market almost daily. Also in the live casino new games appear more often. If these games become popular then the provider often makes a First Person game of it.
First person games. What exactly are these? How do they work and which ones are currently available online? And which games will be available this year in First Person mode? All questions that we are going to answer in this article.
What are First Person Games?
Live casino games are very popular with players at online casinos. The great thing about live casino games is that you can play a casino game that is presented live from a studio with a lot of players at the same time. You can chat with the dealer and there is a lot of interaction. However, there are also players who don't want that interaction and who love the game but just want to play at their own pace.
For these people there is the First Person mode of live casino games. This is a computerized version of the live casino game. So there is no live dealer or host running the game. No, everything happens digitally and an RNG (Random Number Generator) ensures that the player's odds are exactly the same as those in the live version of the game.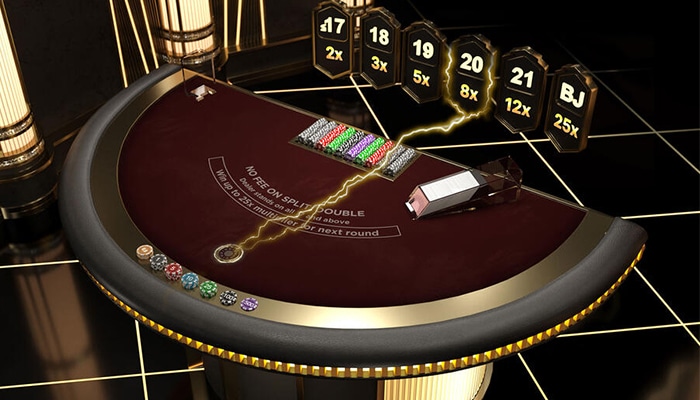 Lightning Blackjack as a First Person Game
What First Person games are out there now?
There are already quite a few of these types of games available at an online casino. Not every casino has the same games. It also depends on the providers that an online casino works with. Evolution in particular is known for its super nice live casino games and they have made a First person version of many of these games as well.
Currently, these First Person games from Evolution can be played in an online casino.
Baccarat First Person
Deal or no Deal First Person
Blackjack First Person
Roulette First Person
Lightning Roulette First Person
Lightning Blackjack First Person
Golden Wealth Baccarat First Person
Lightning Baccarat First Person
Dream Catcher First Person
Craps First Person
Mega ball First person
Football Studio First person
American Roulette First Person
Dragon Tiger First Person
These legal dutch online casinos have First Person Games New Games!
Casino777
Welcome bonus 100% up to €250 Jacks Casino Online
100% Welcome Bonus up to £100
bet365
Deposit min €10 and receive 100 free spins
BetCity
Welcome bonus up to €100 in free spins
Grab the bonus
Our best bonus! Circus
Get a bonus up to €250
Differences between Live Casino Games and First Person Games
Even though the game looks the same and has the same rules and betting options, there is a difference between the live casino game and the First Person game. Live you are tied to a limited time to place your bet. In First Person mode this does not affect you at all. You decide how fast or slow you want to play. The game starts the moment you click on the "play" button.
The game itself often seems to move a bit faster, so all in all you don't really lose much time in First Person Mode. The biggest difference of course is that everything is animated. Everything is done by the computer and is virtual. Many players don't feel comfortable with that and want to see a live dealer at work. They find it more familiar.
What games are coming in First Person Mode?
There are a lot of new games coming out this year. The question is, which ones will be released in First Person mode? We expect these games to be First Person:
XXXTreme Lightning Roulette
Monopoly Big Baller
Andar Bahar
Cash or Crash
These are great First Person Games
Deal Or No Deal First Person

First Person Lightning Roulette Conclusion
We personally are more fans of the live casino games. We love the interaction and the whole live presentation of the games. But we can also imagine that people don't like that at all. They want to play their favorite game at their own pace, which can be faster or slower. No one to see what's happening, no chat and no happy host talking everything up. That's exactly what you don't have to deal with in the First Person Games.
Big advantage of the First Person variant is that you determine the pace. Only when you press start the game starts. You are not bound to a limited time and things like that. And the game itself is often a bit faster than the live version. There's something to be said for both. And that's exactly why Evolution offers both variants.