Felt Ltd.
Felt Ltd. has had a lot of success developing and producing their games over the last few years. They are sought after by casino operators and players alike and are available on every device imaginable. From smartphones to computers. At the moment we can consider Felt Ltd. the absolute market leader in the specific genre of online table games. They offer these games in multiple formats. For example, for online live casinos. Here a table game is played under the guidance of a live dealer. Other well-known table games such as Caribbean Stud, High Hand Blackjack and Sidebet Blackjack are also offered with a 'multi-player' option. This means that you can also play these game variants with several people at once.
What characterizes the table games of Felt Ltd.
Felt Ttd. has understood very well what the player expects from a casino game, and that is above all familiarity. And this is especially true for online versions of the games. The games may be digital but one still expects a real casino experience. Therefore, an online Roulette table should also look like a Roulette table. Preferably as classic as possible, with a stylish and authentic look.
Therefore, most of the games have chosen a style based on the table games from the 1950s. This style is consistently implemented, from cards and chips to typography and ornaments. But make no mistake, the games may be traditionally designed, but they are packed with technological and interactive contrivances.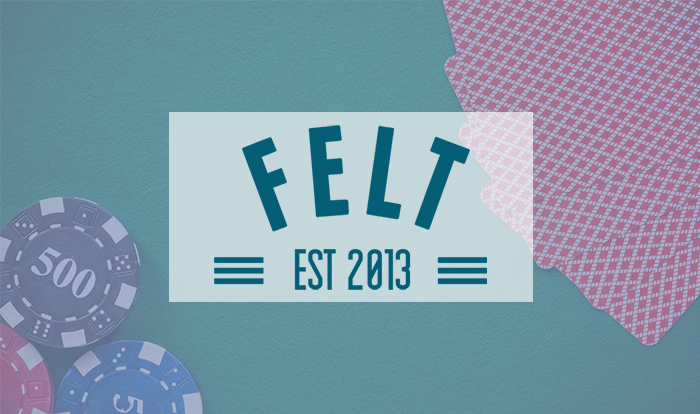 Felt Ltd.
Why are Felt Ltd.'s table games in such demand?
At the moment, the table games of Felt Ltd. are immensely popular. As a result, you can find them in all relevant online casinos. And this is not just because of the beautiful, classic design. The casinos are lining up to add the game to their online assortment because of the particularly high house edge of up to 4 to 7%. But also the visitors of the casinos consider the games of this developer to be very lucrative because of the very high winnings.
Play Felt Ltd. at: Best Live Casino
Betsson
No license in the Netherlands
Read review
Conclusion
The strength of the games from Felt Ltd. is that they have looked very carefully at what both the online casinos and the players like to see in a table game. The casino, of course, wants a nice game from which they can make a lot of money. The players are looking for a real casino experience. And they certainly get that with the games from Felt Ltd. The vintage design is done in detail and that is actually what one expects from a table game in a way. No kitschiness but class. And on top of that, there are very nice cash prizes for players to win. This makes the game not only fun to play, but also just as fun to win.