Very few sports gamblers are able to remain profitable over a long period of time. However, while they may have a certain instinct that has enabled them to be successful, most winning sports bettors share some common characteristics.
Make no mistake! There is no formula that guarantees consistent profits. However, there are some qualities that are shared by almost everyone who can be considered a good sports gambler.
In this article, we will name things that good sports gamblers have in common. If you want to belong to that group, then after reading this article you will know what you can work on.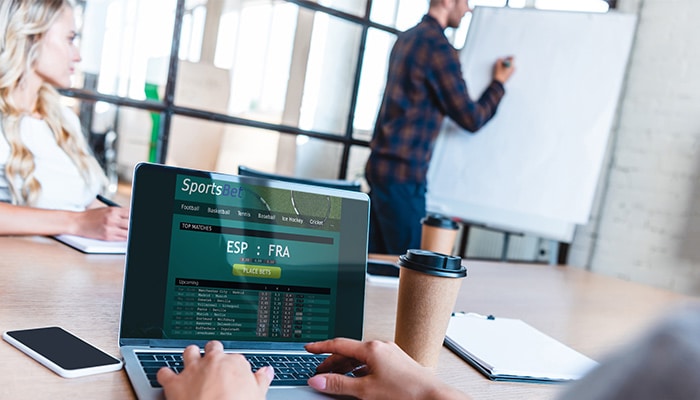 Do research on a particular team beforehand and don't let emotions lead you
Don't gamble with emotion
When gambling, emotions are always involved, after all, that's what you're human for. Exactly the same can be said about sports. When you put them together, it's easy to see why some people find it difficult to turn off emotion when they place a bet on a game.
It is extremely difficult to completely turn off emotion. But it is absolutely crucial to bet with your head and not your heart. Betting firms more or less rely on bettors to make emotional decisions. They often rely on recent results as a way to place the odds in their favor.
Stay realistic
Regardless of what you bet on, chances are you have at least some feelings about a particular team or player. Feelings that go beyond the numbers, data or analysis. Perhaps a team has a player that you are consistently a fan or not a fan of. And in the worst case of an emotional bet, you're betting on your favorite team.
If you are not familiar with the concept in the context of sports betting, "recency bias" is the phenomenon of placing too much emphasis on what happened in the previous game. For example, if Ajax has beaten Feyenoord, the betting companies may put Ajax as the favorite in the next encounter. This, because they know that people still remember the last result.
There is not really a watertight strategy to avoid emotional betting. But there is one method that helps: try to go against yourself before making a choice.
This may lead to the painful back and forth mental debate, but it will be well worth it. It will help you to list all the facts that support betting on both sides and then choose who has more in the "pros" column.
In the end, emotional sports betting is the enemy of the professional sports gambler. Regardless of what your rooted interests are, you must do everything possible to make impartial and rational judgments.
Managing the bankroll properly and keeping an eye on it.
Setting up a bankroll is not exciting. Keeping a close eye on and documenting your cash flow can be tedious. But it is this discipline and attention to detail that enables sports bettors to manage their money properly. This will help them make a profit in the long run.
When you regularly gamble on sports, you need to know where you stand in terms of your finances at all times. This can help you understand when to increase or decrease risk. And it helps give an accurate picture of your overall performance.
Also play at one of these casinos New!
Casino777
Welcome bonus 100% up to €250 Jacks Casino Online
100% Welcome Bonus up to £100
Grab the bonus
bet365
Deposit min. €10 and receive 100 free spins
BetCity
Welcome bonus up to €100 free spins
Our best bonus! Circus
Get a bonus up to €250
Decide in advance with which amount you are going to play
Gambling, while fun and exciting, should be about winning money if you're really serious about it. The only way to do that is to pay as much attention to your bankroll as you do to placing your bet. At the most basic level, you need a functioning bankroll. That means a set amount of money that you have set aside to bet with.
After you have determined and set aside that amount, the next step is to settle on a percentage range in which you will bet. For example, most experts say it's best to bet between 2% and 5% of your total bankroll on a single game. But you can mess around with the numbers based on the total amount present in your bankroll.
The final step of effectively managing your money as a gambler is to create a tracking system that is easy to read at a glance. It can then be easily updated after you know the results of your bets. It doesn't necessarily have to be complicated, but it should be somewhat detailed.
The components of a good tracking sheet are:
A section that shows which games you are betting on.
A section that shows what bets you have made.
A section that shows how much money you have risked.
A section that shows how much you could win, regardless of whether or not you won or lost the bet.
And then, of course, a section with the final result, profit and loss.
The bottom line is that the more effort you put into keeping your bankroll up to date, the more insights you will gain in the long run. It can be tedious, but it is essential for success.
Good sports gamblers aren't afraid to lose
No one likes to lose, but it's important to remember that not all wins and losses are equal. When was the last time you bet on an underdog on the money line over +200? For most bettors, this is a very rare event. While the risk is certainly high when a team is significantly better, in many cases the payout can be worth that risk.
The goal of sports betting is not to win as many bets as possible, but to win as much money as possible. Sports betting is all about finding value. That means making bets that the general public will not dare to make. For them, the risk is just too great. There's just not much value to be found if you're always betting on favorites.
An example of this philosophy can be seen in professional baseball, where the most popular bets are money line games. This is instead of the traditional spread like in soccer or basketball. Historical data shows that if you bet on the underdog money line every time, you would lose the majority of the bets, but still end up with more money left over as pure profit. We are not suggesting that you should always blindly take the underdog money line bet, but if you never take it, you will miss out on a lot of big profits as a result.
Do plenty of research and preliminary work
The odds at betting shops change based on the money coming in. Generally, the public is unaware of the details of each game and relies on what they think they know about each team or player, but don't make this mistake. Doing a small amount of research on a particular match up can make all the difference.
Don't just look at injury reports or statistics from the past week. Also consider motivation, previous match ups and detailed analysis. These can help you gain a small edge over the general public. One method that has been found to be an effective way of getting a match up is by looking up two different 'expert' opinions, each of which has a different conclusion.
For example, if Ajax is playing against Feyenoord, try to find a site where one expert explains why Ajax will win and another site with explanations of why Feyenoord will win.
Betting based on "feel" is exactly what the betting companies hope you will do. Take your time and do 20 minutes of research before you bet. It doesn't guarantee a win, but at least you won't be ignoring data that could potentially help you gain an advantage over the less informed public.
Conclusion
Winning money through sports betting is a challenge, but it is possible. Remember, no matter how much you try to beat the betting companies, in reality you are actually trying to get an edge over the other bettors.
Finally, it is important to note that losses, both good and bad, are inevitable. Good management of your money should be able to keep your head above water long enough to see the tide turn in your favor. This is especially important when you have placed a number of losing bets in a row. Above all, make sure you never risk more than you can afford.