🎁 Welcome Bonus from Fair Play Casino
Fair Play Casino has a welcome bonus ready for new players. If you make your first deposit after registering, you can avail of this bonus. In order to use this bonus you must be at least 24 years old.
Welcome bonus of 50% up to €250.
Minimum deposit is €10
Maximum deposit is €500
Bonus amount must be wagered 25 times before cashing out any winnings
Stake weighting factors
Bingo and casino games: 100%
Live casino games: 25%
Table games: 10%
Other games: 10%
Play online with one of our partners New Casino!
Casino777
Welcome bonus 100% up to €250 Jacks Casino Online
100% Welcome Bonus up to £100
bet365
Deposit min €10 and receive 100 free spins
BetCity
Welcome bonus up to €100 in free spins
Grab the bonus
Our best bonus! Circus
Get a bonus up to €250
October 1, 2021, the day Fair Play Casino received a license from the Dutch Gaming Authority. The online casino has a well-known name, from the land-based casinos. Now the casino may also offer online gambling in the Netherlands.
Fair Play Casino quickly realized that, with the introduction of the Distance Gaming Act, a large and good potential market could open up in the online casino world for the Netherlands. For that reason, the casino continued to develop plans for when online gambling would become legal in the Netherlands.
Responsible gaming
Fair Play, this name was chosen for a reason. The casino puts responsible and fair gaming first. This means that you'll find an extensive page on the website where everything concerning responsible gaming is stated.
In it, the following aspects are described:
Risks of online gambling
Gambling is and remains a game of chance
Responsible gaming and tips
Link to online self-tests
Analysis and registration of gambling behavior
Information on assistance agencies
Self-exclusion from gambling
CRUKS
Addiction prevention policy
Intervention
As you can see, these are a lot of aspects that Fair Play Casino pays attention to in order to make players aware of responsible gambling.



Fair Play Online Casino
Game offerings Fair Play Online
Fair Play Online offers several casino games. On the homepage you can choose between different categories. For example, popular games are displayed, or you can choose classics.
This online casino does not offer a sportsbook, so betting on sports is not possible.
If you have an account you can also mark games as "Favorite". You do this by clicking on the heart at the top right of the game. This way you can easily find your favorite games.
The games offered by Fair Play Casino are the following:
Slots

You can choose to play slots. These are listed on the website under "Slot Machines". You'll find Starburst, Gonzo's Quest Megaways, TwinSpin and many other slot machines.

Table Games

Fair Play Casino also offers table games. You can choose from different variants of blackjack or roulette. These games are offered by Microgaming and Evolution. The Microgaming games can also be played in a demo version. For this you need to be logged in. This way you can practice the game before you start betting money.

Live Casino

Finally, Fair Play Online also offers a Live Casino. Here several games are displayed. You can choose from table games or game shows. Well-known games you may encounter include Crazy Time, Craps, Monopoly Live and roulette variants.
Bingo at Fair Play Online
Fair Play Online now also offers bingo games. You're used to Fair Play Online's dark color theme: black and gold.
Play bingo at Fair Play Online
With bingo, they want to turn this around. They will start thinking about a 'light mode'. Think of white and gold as primary colors with black as an accent color.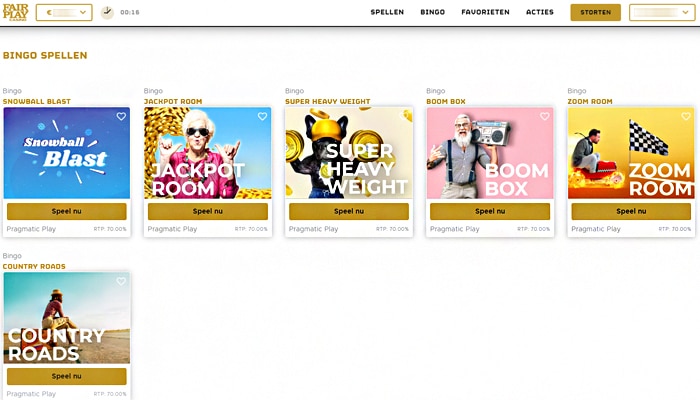 Fair Play Bingo
Bingo was chosen instead of sports betting because there are already many other players on the market offering sports betting. The online casino will therefore focus on casino and bingo.
Fair Play Online is partnering with game provider Pragmatic Play to offer online bingo. The game provider allows online casinos to make use of the bingo platform. Players can expect a unique, fresh bingo experience.
Pragmatic Play has won an award for Bingo Supplier of the Year. In the past year, the provider's bingo offerings have made huge developments with new features such as Drop Pots and Reels Rooms. These features allow for a faster gaming experience combined with classic bingo gameplay.
One of the developer's newest bingo products is Bingo Blast. This variant is designed to allow players to play 90-ball bingo as much as 3 to 4 times faster. The features of this bingo variant are:
Faster play
Mobile-first: perfectly designed to play on mobile devices
Easy to play
Exciting due to the speed of the game
Exclusive; only available at Pragmatic Play
Bingo offer from Fair Play Casino
For now, there are a number of different variants of bingo waiting for you in the lobby of Fair Play Bingo. The payout percentage of these games are all the same: 70%.
When you click on one of the bingo games to play, you will be taken directly to the game. If the game is already open, you can buy bingo cards. But if the game is still closed, you can click in the game on the logo of the game with a cross next to it. See the picture below: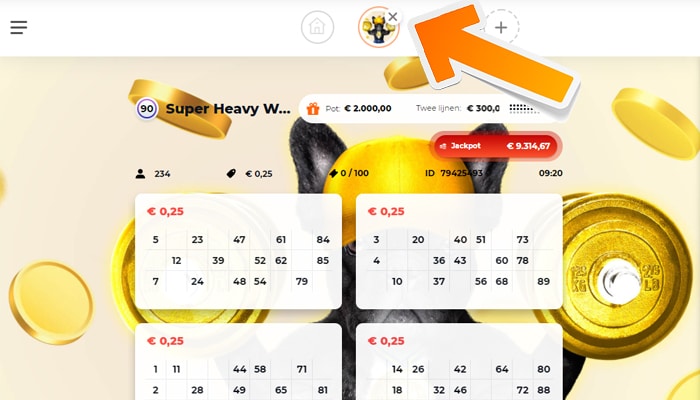 Super Heavy Weight Fair Play Bingo
If you click on that cross, you will be taken to the Bingorooms. Here you can see exactly which bingo games are in progress, which ones are about to start and how long it will take before the next one starts.
Also you can see the amount of the jackpot, if there is a jackpot connected to the game. You can see how much one bingo card costs and you can see how many active participants there are at the moment.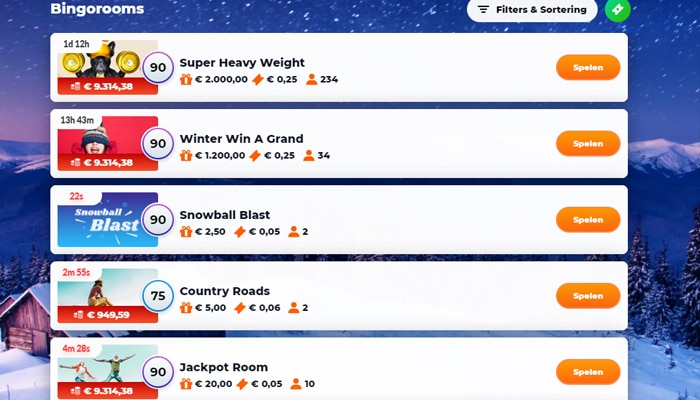 Bingorooms Fair Play Bingo
It also states which bingo variant it is. At Fair Play Bingo you can enjoy the following bingo variants:
90 Ball Bingo
80 Ball Bingo
75 Ball Bingo
30 Ball Bingo
History of Fair Play Casino
Before Fair Play went online, they already had several physical establishments in the Netherlands. The casino got its first branch in 1983. Now, in 2021, Fair Play Casino has as many as 38 branches in the Netherlands.
The company was taken over in 1985 by the sons John and Chris. Over the years, several directors have been appointed. Finally, Fair Play Casino in Rotterdam managed to grab the title for 'Best Casino in the Netherlands' in 2017.
In the casinos you will find a wide range of casino games. From video slots to roulette. To this day, the Janshen-Hahnrats Group owns this family-owned business.
Summary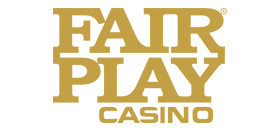 Responsible gaming is paramount
Depositing can be done via iDeal
Different casino and live casino games
Dutch license since October 1, 2021
Go to casino
How do I register at Fair Play Online? 1. Create an account
To start playing you need to have an account. You can create one by clicking on the "Create account now" button on the homepage. Do you already have an account at Fair Play Online? Then click on the button "Login".
Create your account now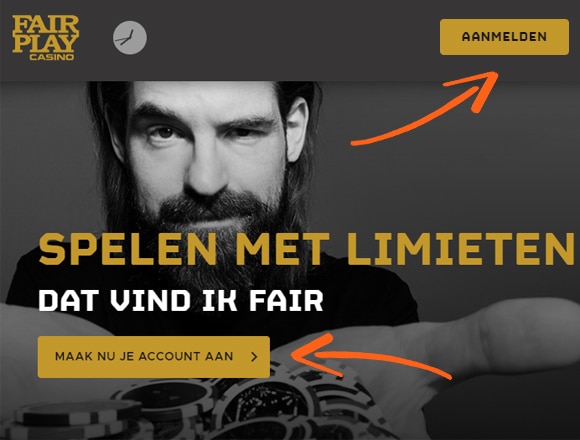 2. E-mail, phone number and password
Next you'll be directed to this page. Here you fill in your email address, your phone number and think of a password for your account. Make sure it is an email address you use often.
Through this email address you will receive a verification email. It will also be used to contact Fair Play Casino in the future.
Next, a number of terms and conditions will be displayed. You will have to agree to these terms in order to proceed to the next step. These terms and conditions all relate to responsible gaming.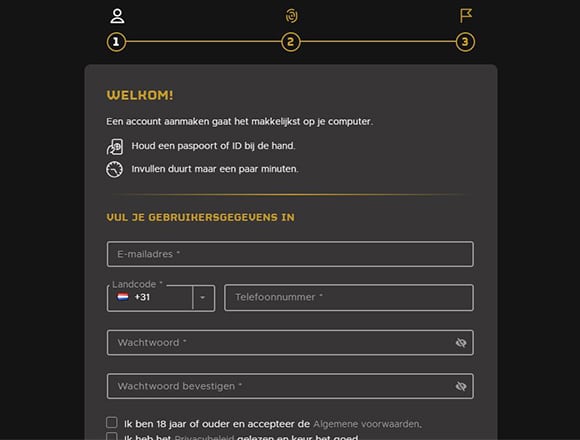 3. Fill in your personal data
Here you will be given the choice to fill in your personal data manually or you can do it via IDIN. This is of course a personal choice, but we recommend you to fill in your personal details via IDIN at Fair Play Online. This is very easy and much faster than doing it manually.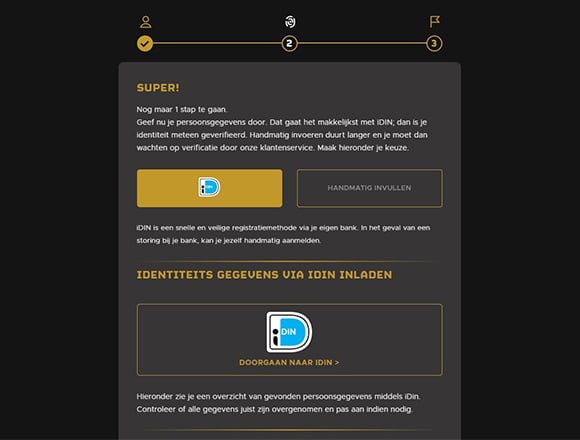 4. Choosing a bank
After clicking on "Proceed to IDIN" you will see an overview of Dutch banks. Here you click on your bank.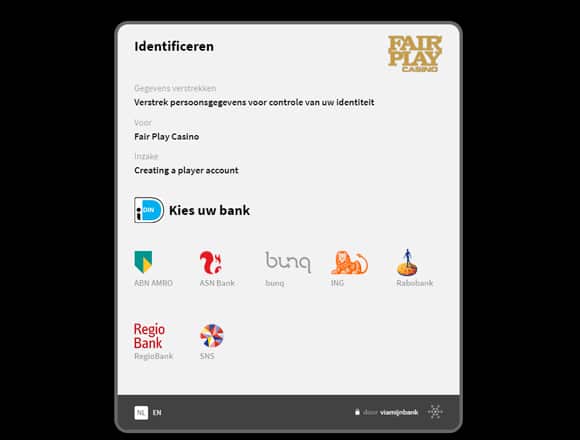 5. Scan QR-code
When you have chosen your bank, you arrive at a QR code of your banking environment. Now you can scan the QR-code with your Mobile Banking App in order to give permission for IDIN to share your data with Fair Play Casino.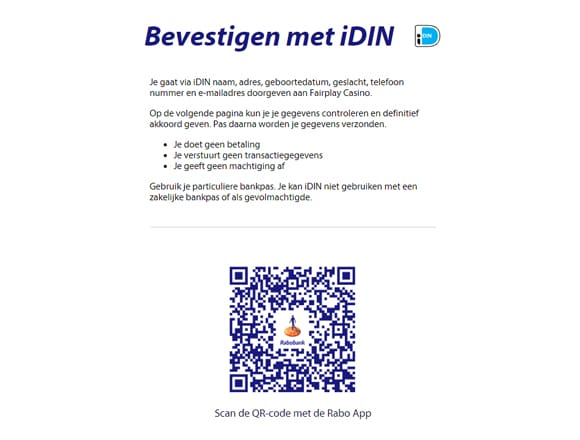 6. Confirm data
Now your data will be displayed. Always check if this is correct, otherwise click "Cancel". Is the information correct? Then click on "Continue".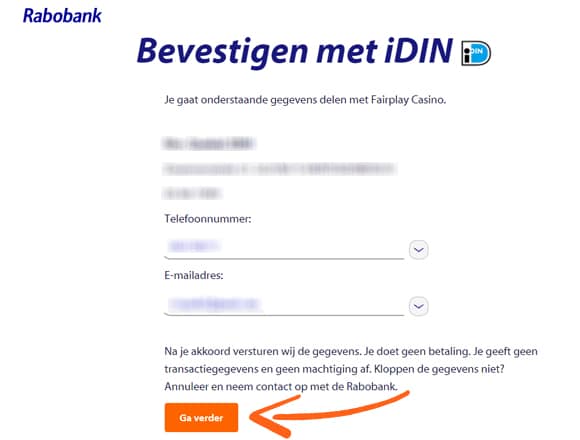 7. Data received successfully
Next you will get a pop-up stating that your data has been successfully received. Click on "Go to website" to continue.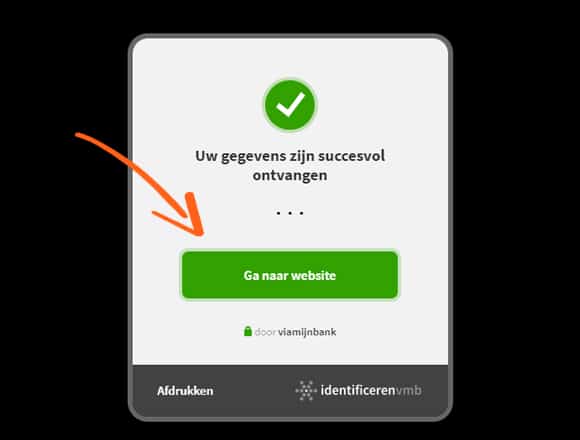 8. Fill in personal data
Here you have to fill in some data manually, such as your BSN number and your address. These data cannot be taken over by your bank.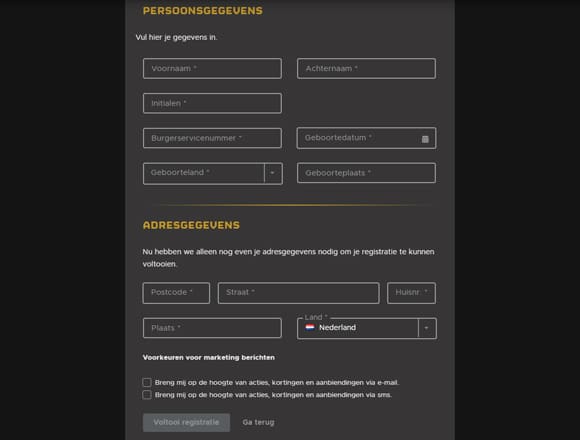 9. Logging into your account
Once your personal details have been entered, you can start logging into Fair Play casino online. You will still need to verify your account and set personal limits.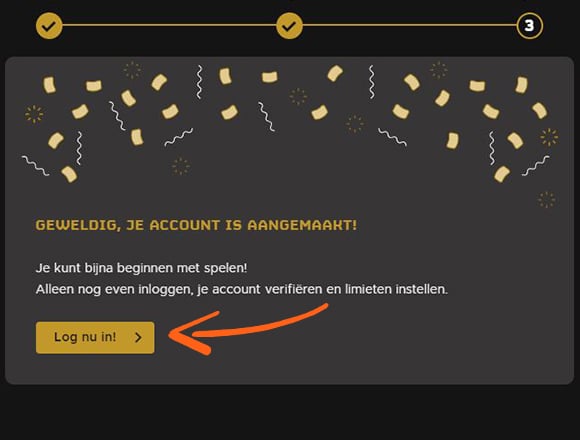 10. Accept that your money is safe
Once you have entered your e-mail address and chosen password at the login screen, you still need to click on "Accept" in the next field. You indicate here that you agree with the fact that your money is in a separate account, which the online casino cannot access.
You can click refuse, but then you won't be able to log in. So to play you will have to click on "Accept".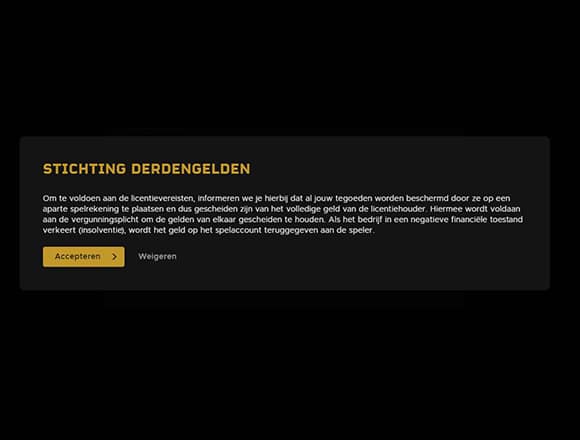 11. Continue with verification
Now you're almost done. You have created an account and are logged in. You just need to perform a verification. Therefore, click on "Continue verification" in the top right of the screen.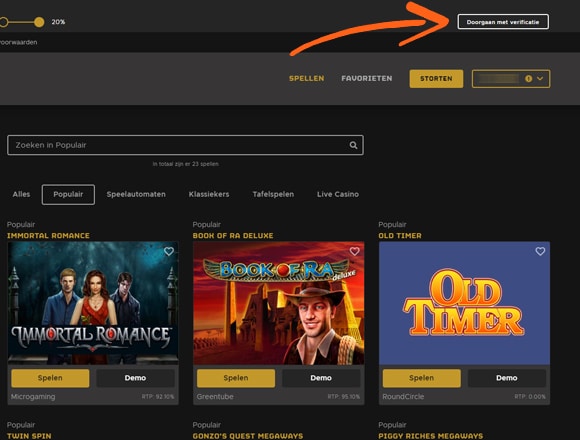 12. Confirm
Click on "Send code". Then open your e-mail and enter the 5-digit code. Then click on "Confirm".
You will also receive a code by SMS. You have to fill this in in the next step. Then you click on "Confirm" again.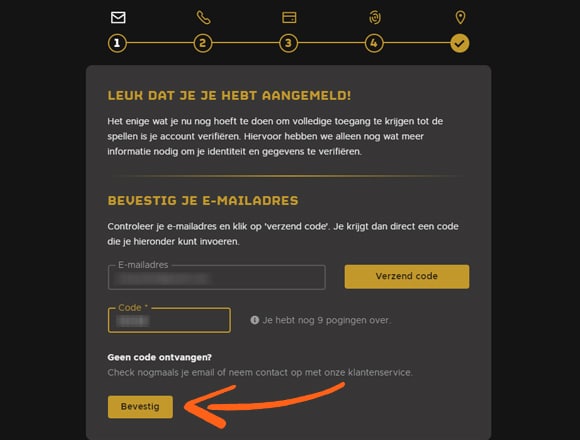 13. Confirm IBAN
In this step you confirm your bank account number. You can find your IBAN number in your Mobile Banking App or on your bank card itself.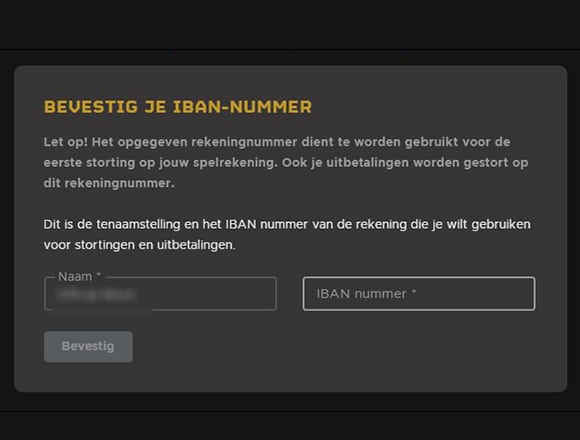 14. Upload identity document
Now you need to upload the front and back of your ID. You have the choice of a passport, driver's license or identity card. Fill in the details you are asked and upload the photos.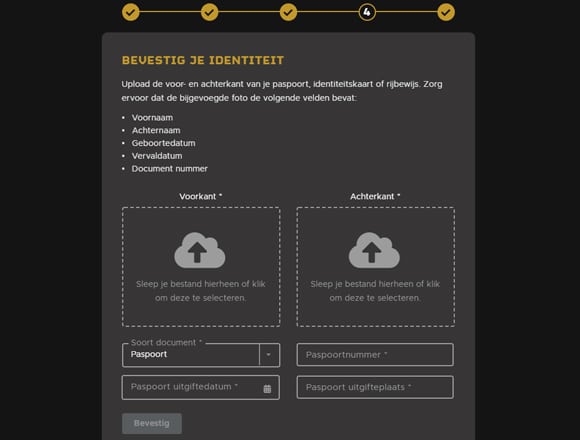 15. Set personal limits
Here you have the opportunity to set limits. As you can see on the picture you have the option to set limits for:
Deposit
Maximum balance
Play limits
Time limits
Pause
Self-exclusion
After each limit entered, click "Save".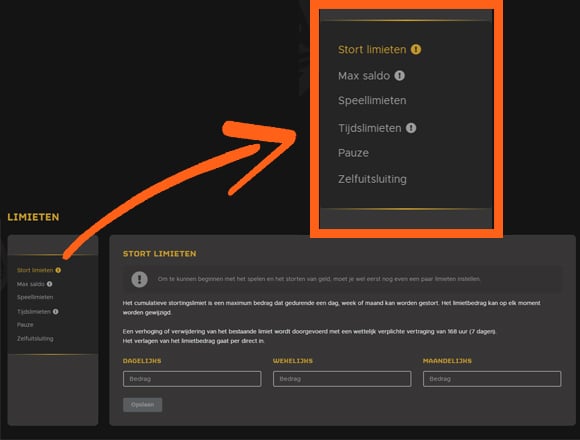 16. Deposit and play!
After you have saved all your limits, you can start depositing. You can choose an amount in the Suggested Amounts bar. But you can also enter an amount yourself.
Your deposit limit is shown above the amount bar. Depositing more than that amount is therefore not possible.
Have fun playing!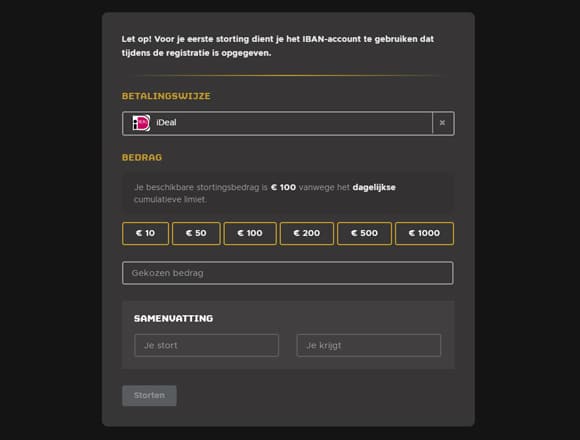 See all steps
Learn more about Fair Play online
How do I pay out at Fair Play Casino?