Don't immediately assume that most gamblers are men because this is certainly not the case for a long time. Women also visit casinos and choose to gamble at gambling sites so their share in the gambling world is only growing.
However, there are several myths when it comes to women in the gambling world. These are mentioned in the following list.
Women gamble less than men
The idea that women gamble less than men can be dispelled immediately. They have the same rights as men and can do the same things. Where this wasn't always the case in the past, they are now allowed to play the same games in casinos as men. They can also place bets at online casinos in the same ways, bet on sporting events, participate in tournaments and so on. Especially with the growth of online gambling, it has become increasingly easier for women to participate in it.
Gambling is only for older ladies
A second misconception is that gambling is only for old ladies. In older movies, scenes filmed in casinos often show older ladies putting their entire pensions into slot machines, but this image does not exactly reflect reality. In most countries of the world you are allowed to gamble from the age of 18 and with the rise of online gambling, more youthful players are being attracted. The online gambling companies are actually targeting young adult players and have long since left the stuffy old ladies image behind.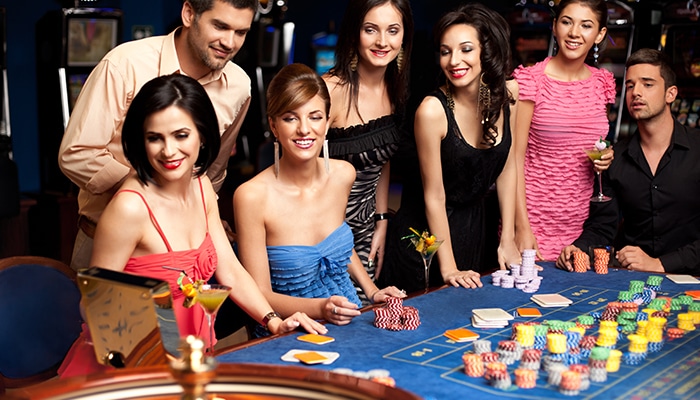 Women like roulette
Women are less lucky than men
It is said that men are luckier than women but this is not true. This idea might discourage women from taking a gamble but their odds of winning are equal to those of men. In fact, women are known to often play more cautiously but with more attention to the game so they are actually more likely to win. They too can develop good strategies to make a game a success and go home with the winnings.
At online casinos many women play as well. These casinos have great bonuses. New!
Casino777
Welcome bonus 100% up to €250 Jacks Casino Online
100% Welcome Bonus up to £100
bet365
Deposit min €10 and receive 100 free spins
BetCity
Welcome bonus up to €100 free spins
Our best bonus! Circus
Get a bonus up to €250
Women who gamble are a risk
The next misconception consists of the idea that women in the gambling world are a risk. This does not correspond to reality because women can take just as much of a risk as men and are at times quite competitive and just want to win. Women are usually more cautious about betting a lot of money than men, but they certainly compete for the win. If only to win from a man.
Women are less likely to become addicted
The assumption that women are less likely to become addicted than men is not true. They too can become addicted to gambling because they face the same problems as men (especially if they lose more). For example, they may also run into financial or relational problems caused by excessive gambling or by the difficulty in quitting.
Women gamble less on sporting events
Women tend to care less about sports than men and therefore gamble less on sporting events. Nowadays, most women are sporty themselves and follow various sports, so they can also place a bet on them. It's not that only certain sports are practiced or watched by men. Also for women there is plenty of interesting stuff to do and they can also simply gamble online on something that is known as a typical men's sport (and usually isn't even that anymore).
Women only gamble for social reasons
It is a misconception to think that women only gamble and go to the casino for social reasons. Of course they like to go out for a night out with friends to renew their social contacts and this can also mean a trip to the casino. Women, however, experience the excitement of the game in the same way as men do and simply want to emerge victorious. This has nothing to do with your gender but simply with the influence of gambling on individuals in general.
Gambling is only for single women
Finally, it is sometimes said that gambling and going to the casino is something for unmarried women and that mainly singles choose such an outing. This is not even true but the casino does not care what your status is in that regard. Married, in another relationship, single, it doesn't matter at all because any woman over 18 is welcome at the casino or can place an online bet if she wants to.