There are a few alternatives to traditional fixed-quote betting. Each of these involves risking money on the outcome of sports matches in one way or another.
All of these sports betting alternatives work a little differently. In this article, we'll take a brief look at them all.
Live betting
This is based on traditional sports betting with fixed odds. However, there is one important difference. With traditional betting with fixed odds, bets must be placed BEFORE an event begins. With live sports betting, the bets can be placed TIME an event begins. This creates a whole new set of betting opportunities and it has proven incredibly popular with bettors.
Exchange betting
Exchange betting also uses fixed odds, but does not involve a bookmaker. Instead, the two parties to this form of betting are always gamblers. One bettor supports a certain selection of bets, while the other invents this selection.
The inventor actually ACTS as a bookmaker and offers the other party a certain quote. If the selection of bets is correct then the deviser must pay him out at the agreed-upon odds. If the bookmaker's selection is not correct then he receives the bet from the player.
Here you can place sports bets bet365
100% betting credit up to €100
BetCity
20€ Free Bet with your first deposit

Bingoal
100% bonus up to €250 + 100% Odds Boost
Betting on different sports:
Betting on darts

Betting on tennis

Betting on golf

Bet on Max Verstappen Spread betting
There are no fixed odds at spread betting. You have to choose whether a particular number will be higher or lower than the bookmaker's spread, and the amount you win or lose depends on HOW much higher or lower the number is.
Example: When betting on soccer, you want to bet on the total number of goals scored in a soccer match. A bookmaker may place a spread of 2-3, you then have to decide whether you think there will be more than three or less than two goals. If you want to bet on more than three goals, you supposedly buy the spread. For every goal more than three, you win a multiple of your bet. So if four goals are scored, you win an amount equal to your initial bet. If five goals are scored then you would win twice your initial bet.
If less than three goals were scored then you lose a multiple of your bet per goal less than three. So if two goals were scored you would lose an amount equal to your initial bet. If only one goal is scored then you would lose twice your initial bet.
Betting on less than two goals is called spread selling. Wins or losses are calculated in the same way as above, but in reverse. You win if less than two goals fall and lose if more than two fall.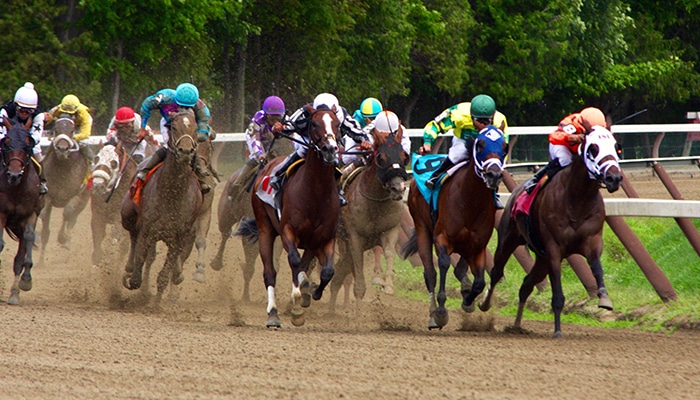 Pari-mutuel betting in horse racing
Pari-mutuel betting
Pari-mutuel betting is mostly seen when betting on horse races, but it can be used for other sports as well. It does not require a bookmaker, nor are there any odds associated with it.
Example: There is a horse race and bets are made on different horses. All bets go into a pot and those who backed the winning horse share the pot. Each winning player's share is calculated based on how much he bet and how many others backed the winning horse.
Esports betting
Betting on Esports has fixed odds/quotations just like traditional betting. However, there is one major difference; it does not involve betting on traditional sports. Instead, those who choose esports betting will be betting on a sports competition in the form of a video game.
Although competitive video games have been around for decades, it is only in the last few years that it has become really popular. In Esports, the leagues are broadcast online or streamed online, and there they attract a large audience. Can this really be considered a sport? That may be up for debate, but there are certainly plenty of people who think so. That is why it is possible to place bets on it these days.