Slingo Deal or No Deal is a game that is easy to understand and fun to play. This online game will seem familiar to most players because it contains many elements of television show Millionaire's Hunt.
Picking a box, waiting to bid the game and the excitement it brings makes Slingo Deal or No Deal a fantastic online slot and bingo game.
Deal or No Deal Slingo Review
Deal or No Deal online games come from a variety of creators. For example, you have Live Deal or No Deal and Deal or No Deal Megaways. Slingo has also ventured into the field and has managed to bring a very nice game to the market. This online slot works basically the same as the television show where you, the player, have to pick boxes of prizes. If you are expected to find a high prize in your box, then you can be sure that you are going to win a lot.
It brings a little extra excitement. Slingo Deal or No Deal can be played at several online casinos. Bet365, for example, offers this game and it is a reliable and safe online casino. Slingo Deal or No Deal has a Return to Player percentage of 95.94% which is as much as other Slingo games. The largest amount you can win is with a Full House, which means that you unlock the entire card. You then get your 2000x your bet.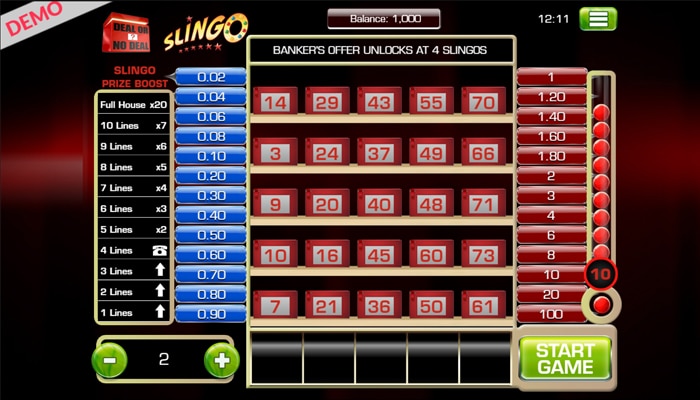 Deal or No deal Slingo from Slingo Originals
Theme
One of the most famous television game shows has been transformed into a slot game. With Slingo Deal or No Deal you can sit in the chair yourself, choose a box after which you will take on the banker (read game). If you manage to beat the banker, big winnings are waiting for you with a top prize of 2000 times the stake. The theme is completely in the style of Deal or No Deal which you know from the television show.
The graphic design of this game is all studio style with the accompanying sound effects. This makes playing Slingo Deal or No Deal extra fun and exciting. By the way, the concept of Deal or No Deal was created by Dutch media company Endemol. That gives the game an extra Dutch touch.
Prizes
The success of winning large sums of money depends on which numbers you spin on the reels. With each spin, different numbers will appear on the reels. You hope that these numbers match the numbers on your playing card. It starts to look like a bingo game very quickly. The goal of Slingo Deal or No Deal is to clear five boxes in a row. The direction does not matter in this one.
Is it horizontal, vertical or diagonal, anything works. If you manage to clear such a row it is called a Slingo. Ultimately the more Slingos you achieve the higher your chances of winning. If you have the whole card full of Slingos (a Full House) then you have a chance to win the biggest win amount and that is 2000 times your stake.
Possible extras
Slingo Deal or No Deal makes relatively little use of bonus features. Spinning the reels does bring benefits. Because not only can you spin numbers, but also special symbols that bring additional benefits. For example, you have the Joker symbol that opens a box in the column above. A Super Joker symbol allows you to open one box across the entire map. A Free Spin symbol allows you to enjoy an extra spin.
Finally, you have the Devil symbol, which does nothing. Once you have achieved a minimum of 4 Sling's you will get a cash offer from the game as an extra. What you can do is to accept the offer or continue playing. With Deal you accept the offer. With No Deal you decline the offer and can choose your own box and hope for a nice prize. Or you just continue playing without accepting or rejecting the deal.
Buying Extra Spins
When all regular spins and any free spins are done you have the option to buy extra spins. The price of such an extra spin depends on the chance of getting a bigger prize. The better the prize, the higher the price for an extra spin. So it's weighing up each time whether it's worth taking extra spins.
Here you can pob Deal or No Deal Slingo for free
Play the game Frequently Asked Questions What is the return to player percentage for Deal or No Deal Slingo?
It is around 95%. Compared to other online slots, this is not very high, but a lot more than in a normal bingo game.
How can you win a lot at Deal or No Deal Slingo?
You would have to employ a strategy to win a lot. For example, try to take each bank offer or choose the same box during each new game.
Is there a jackpot to be won at Slingo Deal or No Deal?
No, there isn't. You really have to assume the bank offer, achieve as many Slingos as possible or go for your own box.
Can you play this game on your smartphone?
All Slingo games can be played on the computer, tablet and smartphone. It makes it extra easy to play your favorite game anywhere.
Summary
Slingo Deal or No Deal brings the mega famous television game Deal or No Deal to the online slots. The creators of Slingo have created a hybrid bingo and slot game that is incredibly fun and exciting to play. There is plenty of variety in the game and while playing it feels like you are in a television studio. With a 5 times 5 playing card, the goal is to get as many Slingos as possible. Slingos are 5 numbers in a row that you have to cross off. From 4 Slingos onwards you get a bank offer.
You can accept this offer or continue playing. Slingo Deal or No Deal does not contain any additional bonus features, but during the spinning of reels it is possible to get special symbols that can be advantageous for you.