Cryptocurrencies and online casinos go together perfectly. These digital currencies offer players an anonymous and secure way to pay and transactions are often completed practically instantly. In addition, the additional costs are significantly lower, which makes it more attractive to transfer small amounts to play with as well.
At the moment it's no wonder that many online casinos have adopted cryptocurrencies as their official means of payment and at some you can't even use "regular" currencies at all. Here you can read what you need to do to start playing with cryptocurrencies, which currencies are most accepted and what you should pay attention to before you start.
Getting started with cryptocurrencies
It is very easy to buy and start using cryptocurrencies. All you need is money and a wallet. You can easily download this wallet from the internet and you can often access it from your cell phone or tablet as well as from your PC. With this wallet you can manage your currency and you can receive and transfer money. In your wallet you will find a receipt address. You provide this when you go to an Exchange to buy your cryptocurrencies. The price at which you buy your cryptocurrency depends on the exchange rate at the time.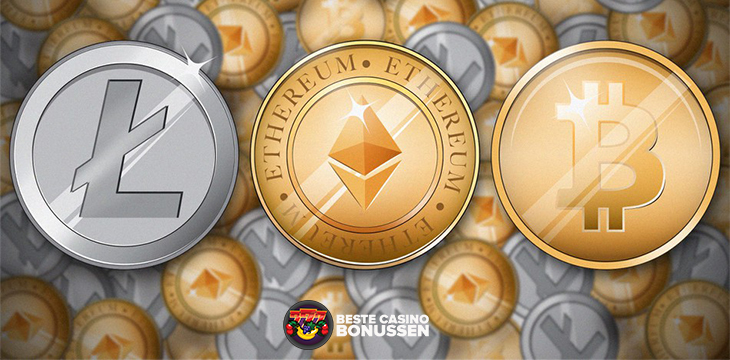 Often you can easily pay with credit card or internet banking. From the moment you bought the money, it enters your wallet and from now on it is up to you to do what you want with it. If you use it to play at an online casino, the big advantage is that it is transferred practically instantly and you can start playing five minutes later. And to use your cryptocurrency you never have to give out any personal information. So playing at an online casino with a cryptocurrency is private, anonymous and your finances are therefore very safe. Here are three crypto currencies that you can use at online casinos.
Bitcoin
By far the most accepted crypto currency is the Bitcoin. This currency has been on the market for almost 10 years and is used by millions of people worldwide. If you want to play at online casinos with a cryptocurrency, the Bitcoin is the currency you can use at most casinos.
Litecoin
Litecoin is often considered the biggest second cryptocurrency and by its own admission, this is a currency designed for the general public. While a maximum of 21 million Bitcoins are allowed on the market, for Litecoin this number is 84 million. This makes it more suitable as a digital currency for small transactions and a large number of users.
Dogecoin
Like Litecoin, Dogecoin is a so-called altcoin of Bitcoin. However, the number of Dogecoins that will eventually be put into circulation is considerably larger at 100 billion. Dogecoin thus hopes that the price of this crypto currency will remain low (while that of Bitcoin and Litecoin will rise, as there will be significantly fewer in circulation) and that it will therefore attract a large audience.
The advantages and disadvantages of gambling with cryptocurrencies
So there are a large number of advantages to gambling with a cryptocurrency instead of a "regular" currency. For example, it is safer because you do not pass on any personal information when you make a transaction. This also makes it anonymous, which of course appeals to online gamblers.
Payments are processed almost instantly so you can start using your money right away. And these payments often cost nothing, whether you transfer a small amount or a large sum.
Nevertheless, there are also some disadvantages that you should take into account before you start playing in, for example, a Bitcoin Casino. This is because the price of crypto currencies is determined by the users and the extent to which they buy and sell the money. As a result, the rate fluctuates more than it does with, say, the Euro or the Dollar. Also, not everyone is yet convinced of the usefulness of cryptocurrencies and they are not yet so widely accepted that they can be seen as everyday means of payment. Governments in particular have problems with these currencies because they cannot influence what happens to them. So investing in crypto-currencies is still somewhat of a risk.
Points of attention when gambling online with cryptocurrencies
A final drawback, which directly affects gambling at online casinos, is that the major (read: reliable) casinos often do not yet accept these digital currencies. This is due to the negative image of cryptocurrencies in this environment. Indeed, it is mainly the smaller and illegal casinos that were the first to accept cryptocurrencies for their anonymous nature and low cost.
So it is very important that before joining an online casino that accepts digital currencies in October, you first check if you are dealing with an honest company with a Dutch license.