When you are in a casino in Las Vegas the atmosphere around the Craps table is different. People celebrate their winnings together and it is usually very cozy around the Craps tables.
Craps in Las Vegas casinos
Craps can be a complicated game of dice, but by learning the different bets, you too can have a great time at the craps tables in Las Vegas. You will be able to play with 1 or more players at the same table and bet against or on the shooter. Two perfectly balanced dice are used by the Vegas casinos so all outcomes are random. Players can alternately roll these two dice as a 'shooter'.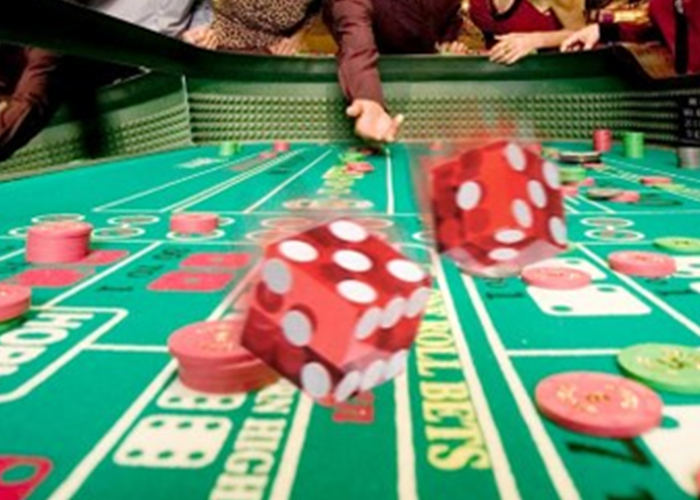 Playing Craps in Las Vegas
Hotel and airline reservations
Unfortunately, there is no Craps game in the Netherlands at Holland Casino. Are you planning on playing Craps in Las Vegas? We recommend you to plan well in advance. For example, you will need to book a hotel in which to stay and you will also need a plane ticket.
Information about this can be found on many websites on the internet. You might also want to find out which casinos are in Las Vegas and where to go to play Craps. Make sure you spend enough time and energy gathering information so it will make your trip easier and you'll end up at the right casino for an exciting game of craps.
These are the casinos where you can play craps live New Casino!
Casino777
Welcome Bonus 100% up to €250 Jacks Casino Online
100% Welcome Bonus up to £100
bet365
Deposit min €10 and receive 100 free spins
BetCity
Welcome bonus up to €100 free spins
Our best bonus! Circus
Get a bonus up to €250
How you should play craps
Learn the rules of the game, so you can get started right away in Las Vegas. You'll also find information about the house edge and what the betting options and payouts are.
Craps Basics
Craps is one of the most exciting casino games you'll find in a casino. It is common to hear many people screaming and cheering at a craps table. It is played on a green playing field and two dice are used. The dice should always be properly inspected for any damage or defects.
To begin with, a 'Shooter' (one of the players) will have placed a minimum bet on the 'Pass Line' or 'Don't Pass Line' to participate. Sometimes these bets are called 'winning/good' or 'not winning/bad' bets. The Shooter is presented with five dice by the 'Stickman' and two dice may be chosen to use.
Each round has two phases. Both 'Come Out' and 'Point'. To start a round, the 'Shooter' must roll one or more 'Come Out' rolls. A 'Come Out is a 2, 3 or 12 and this will end the round for players with a bet on the 'Pass Line'. The Come Out roll can also land on 7 or 11 and this will result in a win for the 'Pass Line bets'. The Shooter will continue to roll until a 4, 5, 6, 8, 9 or 10 is rolled, which becomes the "Point".
The idea is for players to guess the correct outcomes. Each round is exciting and a round can last a very long time. If a "Point" is not made or certain number of eyes are not rolled, your bet may stand for a long time. Eventually when a new round comes around, the dice will be handed to the next player.
Betting Options & Payouts.
Any Craps: this bet wins when a 2, 3 or 12 is rolled and offers a payout of 8 to 1.
Any Seven: this bet wins if a 7 is rolled and offers a payout of 5 to 1.
Eleven: if an 11 is rolled this bet will win and offers a payout of 16 to 1.
Ace Deuce: wins if a 3 is rolled and offers a payout of 16 to 1.
Aces or Boxcars: wins if a 2 or 12 is rolled and offers a payout of 30 to 1.
Horn Bet: if you place a bet on an outcome of 2, 3, 11 and 12. The Horn Bet only wins if one of these numbers is rolled and the payout depends on how many times it is rolled consecutively. The other three bets are lost and offers a payout of 8 to 1.
Hardways: a bet on Hardways will win if two similar dice are shown. Take for example 1-1, 2-2 or 3-3. This must happen before a 7 is rolled and offers a payout of 8 to 1 for a Hard 4 and Hard 10 (2-2 or 5-5) and a payout of 10 to 1 for Hard 6 and Hard 8 (3-3 or 4-4).
The House edge in Craps
Check out the house edge of certain bets in Craps below.
Pass and Don't Pass offers 1 to 1 payout with house edge of 1.41%
3, 11 and all "easy" bets offers 16 to 1 payout with house edge of 5.56%
Any craps (2, 3 or 12) offers 7 to 1 payout with house edge of 11.11%
2, 12 and all "difficult" bets offers 30 to 1 payout with house edge of 13.89%
Any seven (any 7) offers 4-to-1 payout with a house edge of 16.67%.
More about Craps in Las Vegas
Craps

Craps Strategy

Free Craps How to play
What are the rules of the game? At live casinos in Las Vegas you always have a 'Stickman' present, also often called the dealer. He can hand the dice to the shooter. The shooter can choose from several dice and pick out two. He will now throw them on the Craps table and hope for a good outcome.
The number of pips thrown will affect the game and the winnings of other people at the table. It starts with a 'Come Out' roll where the shooter throws the dice against the other side of the wall of the table. This dice game is played in several rounds, with the first roll being the Come Out.
During the Come Out roll a Point can be made or a 7 or 11 rolled. If a Point has not yet been made then this is called Seven Out. Then the dice will be handed over to the next shooter and he can roll them across the Craps table.
Basically, there is always one shooter, two dealers who keep an eye on everything and the 'Stickman'. These will make sure that the payouts are fast enough, markers are placed on the 'Point' and any money is exchanged for chips.
Success stories from Las Vegas
There was once a gambler who befriended someone who worked at the MGM Grand Casino in Las Vegas. This employee told him that he had only met one player who ever played Craps professionally and made a profit. He had no control over the dice and didn't really use a casino strategy. All he did was place bets of $25 on the Don't Pass Line until he reached a profit of $200. With that, he would immediately end his session and walk away.
Sometimes it would only take 25 minutes and sometimes it would take up to 10 hours for him to achieve this. Yet, this gambler always walked away a winner with $200 profit in his pocket. Stories like this are going around and this still doesn't make you want to play Craps in Las Vegas? Then it's not for you and you should look for another casino game!
But if you're curious, there's now a great alternative. Craps Live from Evolution allows you to play live craps online. This is very close to the real game.