All bonuses of Circus elaborated
On the website of Circus there are several possibilities to get an attractive bonus. As a new player you can use a nice welcome bonus. You can choose the sports or casino welcome bonus.
Besides the Circus welcome bonus there are also other attractive bonuses available. You can think of bonuses that are linked to certain tournaments or daily opportunities to win great prizes. For all bonuses there are certain conditions which are important for receiving the reward.
The bonus conditions determine what requirements you must meet in order to receive a reward and to be able to keep it.
The website clearly states the rules that apply to certain bonuses. For example, there may be a minimum deposit required to receive a reward.
Casino Welcome Bonus
Receive a bonus of 100% up to €250 on your first deposit. The welcome bonus is valid once. You can use this bonus on a huge range of casino games.
Sports Welcome Bonus
Receive 25 free bets worth €10 up to a maximum of €250.
100 first deposit: up to 10 free bets of €10
250 first deposit: up to 25 free bets of €10
€500 first deposit: up to 25 free bets of €10
The minimum deposit to claim this bonus is €20. The minimum odds are 1.60. Once the free bet has been received it must be used within seven days.
Superodds
Enjoy a super high odd of 10.00 on your first deposit. You can use this bonus on the matches selected for Superodds. Please note that the first deposit must be a minimum of €10. This bonus is subject to a maximum bet of €5.
At Circus you can recently create an account as a Dutch player to play the best games. The company is originally Belgian and offers various opportunities to bet online on sports. For both casino and sports you can make use of a nice welcome bonus.
Table games included in the offer include Baccarat, Poker, Roulette, Craps, Blackjack and more. Various casino bonuses are offered and depositing money can also be done in multiple ways. To be able to offer its services, Circus has licenses from the Belgian Gaming Commission and the Dutch Gaming Authority.
Circus Review
This review is intended to provide more information about Circus. We have examined the website and the provider on several points. For example, you get information about the background of the platform and we cover the casino games on offer. You can read about the partners with whom the company cooperates, the bonuses that are offered and the conditions attached to them.
Other information you receive relates to the payment methods that can be used for depositing money, the ways in which winnings can be paid out, the security of the website, the reliability of Circus and the state of its customer service. We give you answers to some frequently asked questions and finally you get our conclusion.
Background of Circus
Circus an originally Belgian online casino that offers its services since 2011. The platform's website can be visited in Dutch or in English. Creating an account is easy. Since the launch of Circus in 2011, the company holds a license issued by the Belgian Gaming Commission. Since March 9, 2022, the casino also has a license from the Dutch Gaming Authority to offer its services.
Game offer
To play at Circus, an account must be created. Then you get access to the website and you can bet money in different ways. For example, a section of the website is set up for betting on sports. With that, money can be wagered on different types of matches in a variety of sports and competitions.
The casino offers an attractive range of table games offered by various providers through the platform. These include such diverse variants of games as Baccarat, Poker, Roulette, Craps and Blackjack. For those who love slot machines, there is also plenty to enjoy.
The website has a considerable offer of slot machines, some of which feature a progressive jackpot. Like most other providers, Circus also has a live casino. Players can go there to play games such as Baccarat, Blackjack or Roulette in different live versions. In addition, various game shows are also made available through this part of the website.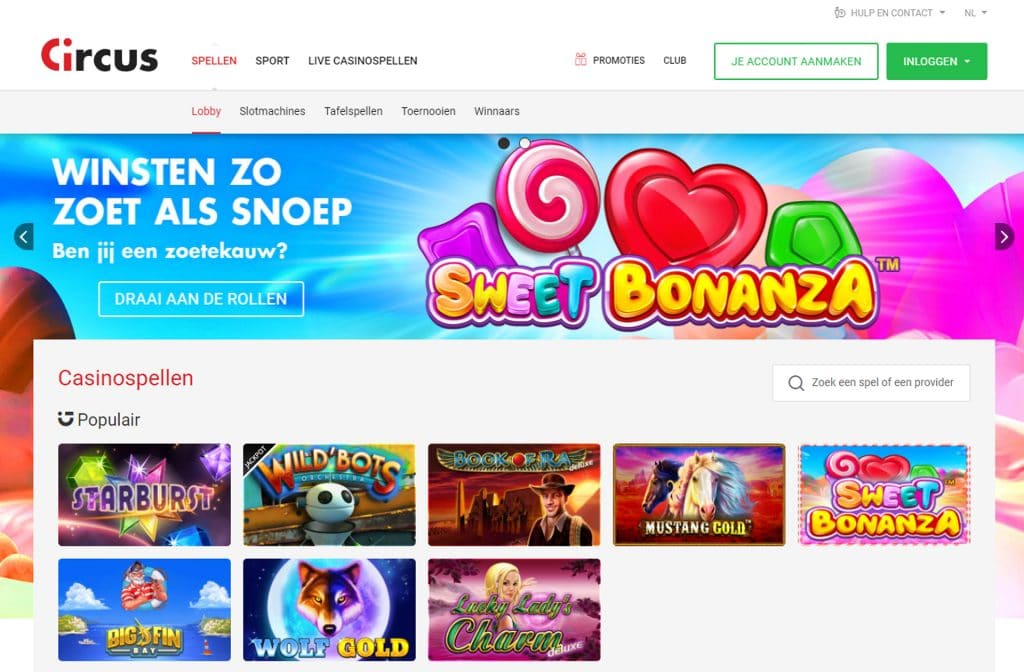 Circus – Casino games
Partners
To keep the range of games relevant and to offer as much as possible, Circus has many partnerships. The website is filled with a variety of categories offered by both large developers and small studios.
Familiar names included are developers such as NetEnt, Greentube, Pragmatic Play, Red Tiger and Thunderkick. The live casino games are offered by Evolution.
Payment methods
If you want to start playing for the real prizes, money needs to be transferred to the account. This can be done by using a variety of payment methods. The website of Circus offers information about the different possibilities and also shows in which currency a deposit can be made.
If you want to deposit at Circus, you can do so in the following ways:
Safety of Circus
We have examined the security of Circus by looking at various points. In any case, the website is well secured with an SSL encryption, which protects players' data. With SSL encryption, Circus ensures that a secure connection is made.
This is established at the moment you log in to the website. With this security it is not possible for others to access your account, passwords, money or other data. The security with SSL encryption can be recognized by the image of the padlock in the address bar of your browser.
Reliability of Circus
We also examined the reliability of Circus. For that we looked at whether you as a player have a fair chance of winning with the games on offer. We can conclude from a number of facts that Circus can be trusted.
The company has the necessary permits in the Netherlands to operate as a provider of games for gambling. In addition, they have a license issued by the Belgian Gaming Commission in 2011. These licenses are only given to companies that meet very strict requirements, which are also enforced by the granting authorities.
Customer Support
Players can get help from Circus' customer service in several ways. The website has a nice collection of frequently asked questions and their answers. This makes it easy to get many of the questions you have answered yourself.
If you cannot find answers on this part of the website, there are also several ways to get in touch with customer service. For example, you can ask a question via the contact form, email or live chat. If you would like to speak to a member of staff in person, you can also call the customer service number.
Summary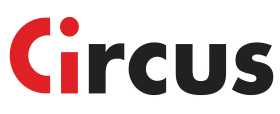 | | |
| --- | --- |
| Established | 2011 |
| Active in the Netherlands | 2022 |
| Owner | Ardent Group |
| CEO | Martijn Maertens |
Grab that bonus
How do I create an account at Circus? 1. Go to Circus.nl
The first step of creating an account is to look up the website in your browser. Go to Circus.com and click on the button "Create your account" on the homepage.
Sign up with Circus now!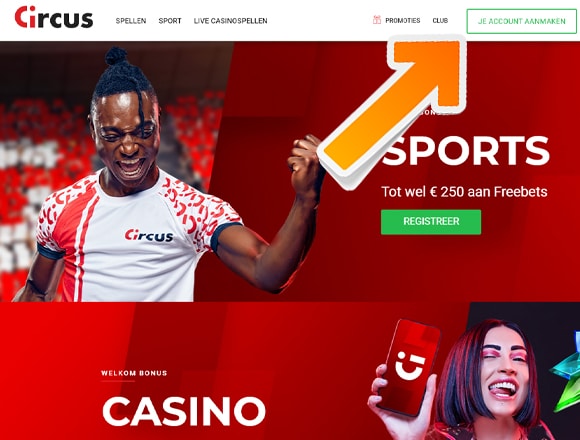 2. Fill in your login data
In this step you fill in your login data. You fill in a valid email address. Create a username and password. And fill in some personal information as well. Circus asks you for your first and last name, date of birth, nationality and BSN.
NOTE: At Circus you can only register from the age of 24 or older.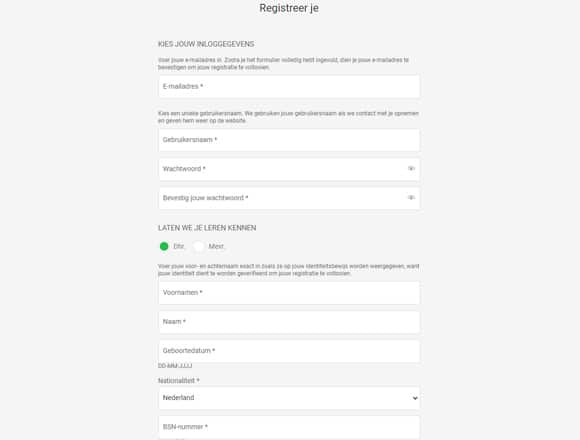 3. Address and contact information
Next, you fill in your address data. This includes your street name and house number, postal code, municipality and country. In addition, Circus would also like to know your phone number and you have to fill in your IBAN. Here you can immediately set your personal limits. Circus does this to promote responsible gaming behaviour.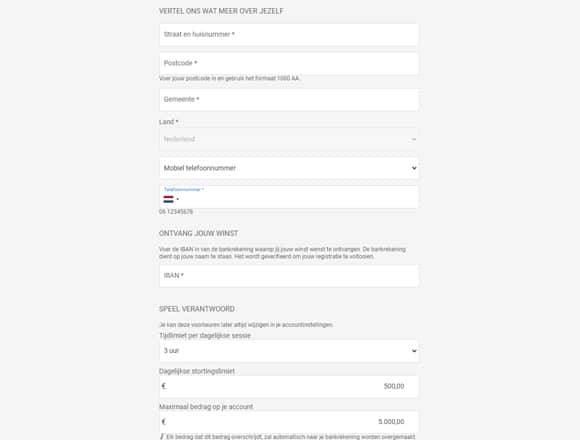 4. Entering promotions and accepting conditions
If you have received a promotion code, you can fill it in here. Check the boxes in which you agree to the terms and conditions and privacy policy.
Then click on "Go for it".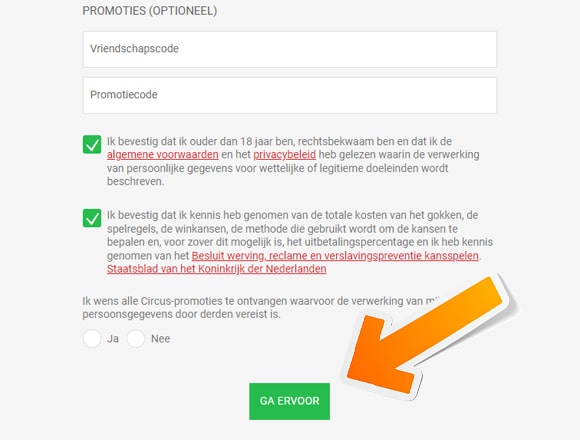 5. Verifying your account
After you have entered your data, Circus still needs to verify a few things. This consists of four steps:
Verify email address
Verify identity
Verify Address
Verify bank account
Click on "Let the fun begin" to start the verification process.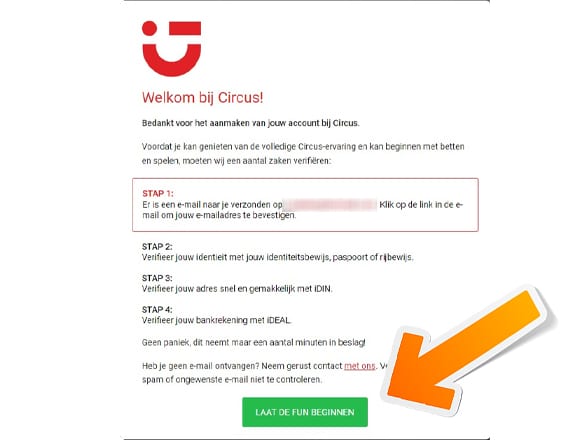 6. Step 1: confirm your email address
You need to verify your email address. You do this by opening the mailbox of the email address you provided. Here you will see the following link, click on it.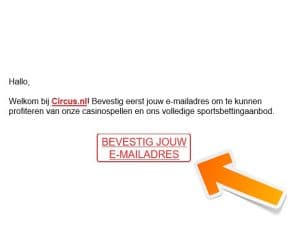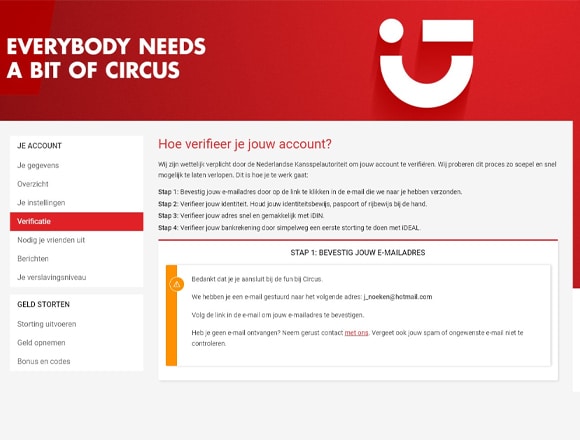 7. Step 2: verify identity
Your identity can be verified by means of an identity document. You need to upload this. You can do this in three ways; with your phone camera, with your webcam or by uploading a file. You have three options for uploading your proof of identity:
Passport
Driving license
Identity card
Click on "Verify your identity".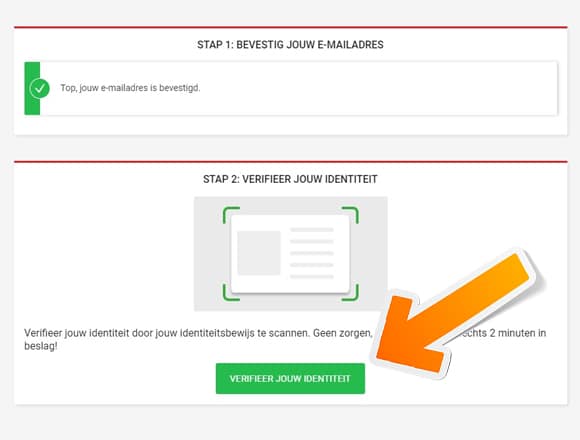 8. Step 3: verify address
To verify your address details, Circus works with IDIN. This is a very simple way to share your data. You choose your bank you are affiliated with, open your banking app and scan the QR code.
You can choose from the following Dutch banks: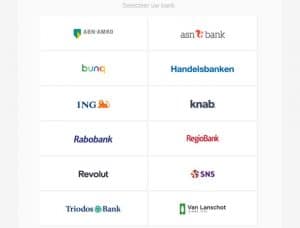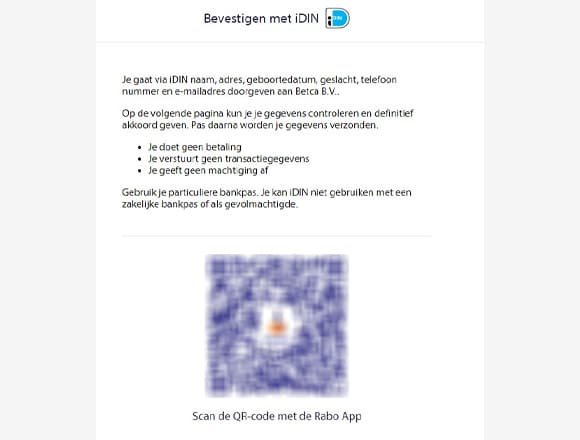 9. Step 4: verify bank details
The last step of the verification process is to confirm your bank details. You do this by making a deposit.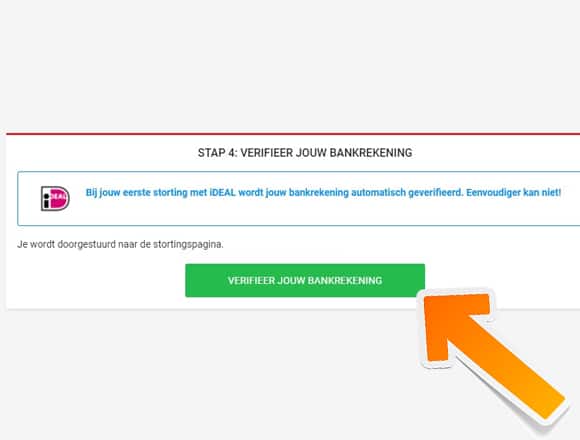 10. Make a deposit and choose a bonus
Choose an amount to deposit. You can choose from €20, €50, €100 and €250. But you can also enter an amount yourself. Then click one of the welcome bonuses. You can choose from:
Sports Welcome Bonus
Casino Welcome Bonus
Superodd from 10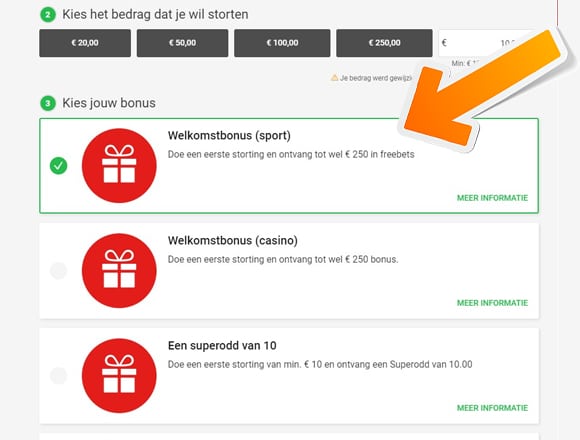 11. Choose your bank and pay
Choose one of the following banks to complete your first deposit. Pay by opening the mobile banking app and scanning the QR code.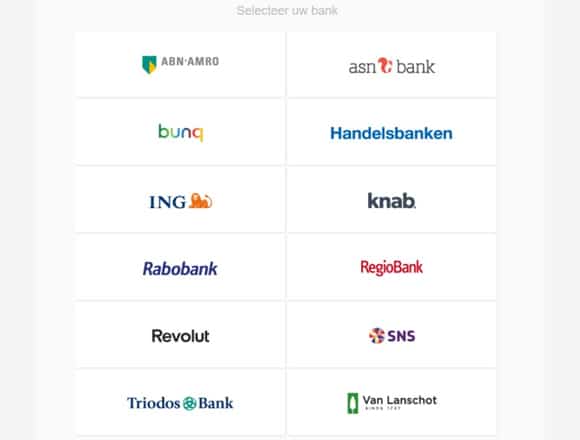 12. Account registration is complete
After your payment has been approved by Circus, the deposit is added directly to your account. You can now start playing immediately. Click on "Let the fun begin."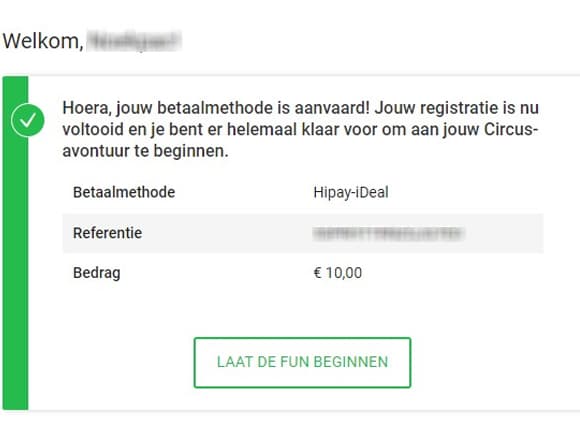 View all steps
More instructions about Circus
How do I set limits at Circus? The loyalty program of Circus
This makes us happy … Circus has as one of the few online casinos in the Netherlands a great loyalty program ready for you. And a very extensive one at that. We are going to explain the program for you.
The Circus Club is the program that rewards your loyalty. How does it work? It's very simple. You play and you are rewarded with points and coins that you can exchange for free bets or bonuses. As a member of the Circus Club, you win on every bet and every game.
What can I win as a member?
If you are a member of the Circus Club, you can win lots of great prizes. These are divided into several categories:
Bonus
Direct bonus
Free bets
Free bets on deposit
Deposit bonus
Circus Club – Bonus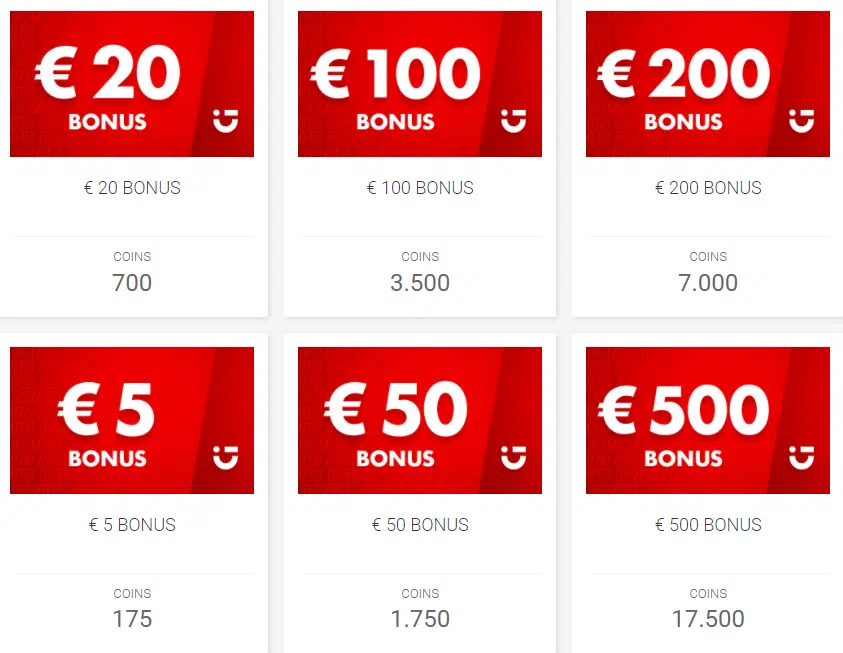 Circus Club – Direct Bonus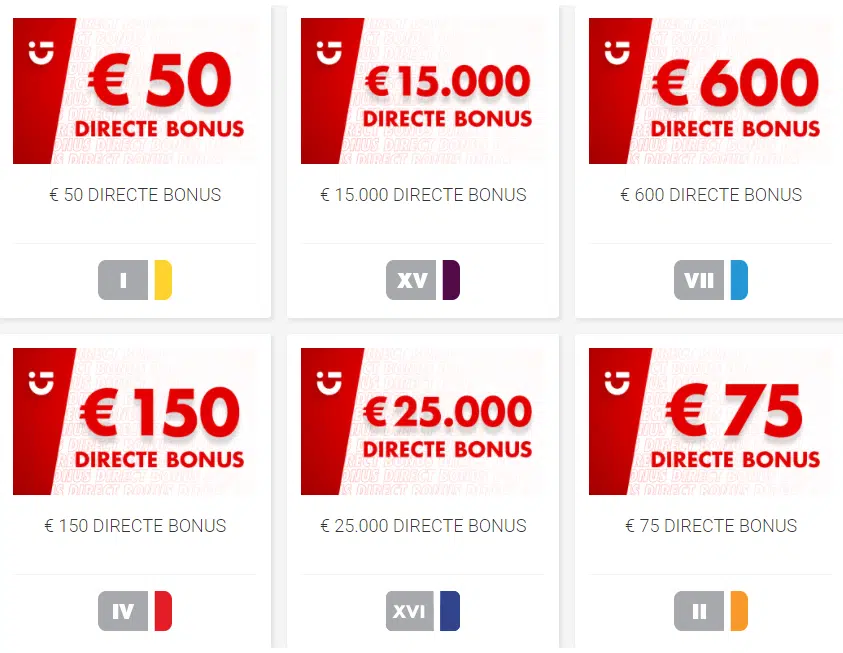 Circus Club – Free Bets on Deposit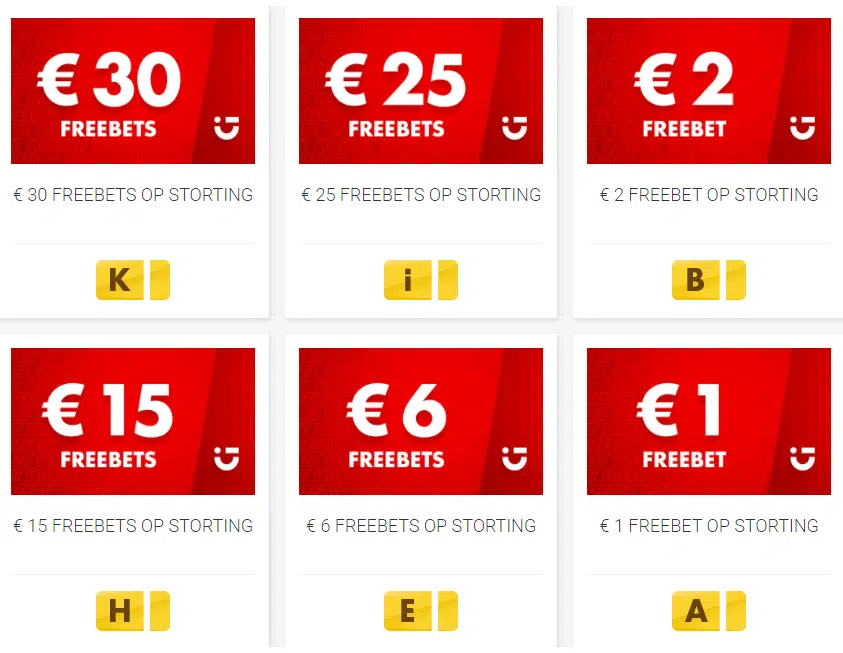 Circus Club – Free Bets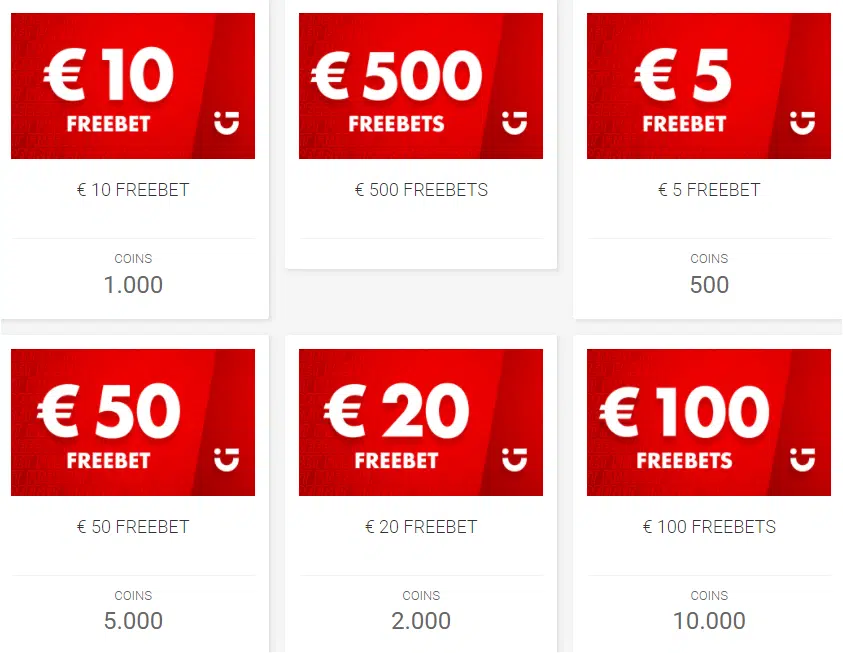 Circus Club – Deposit bonus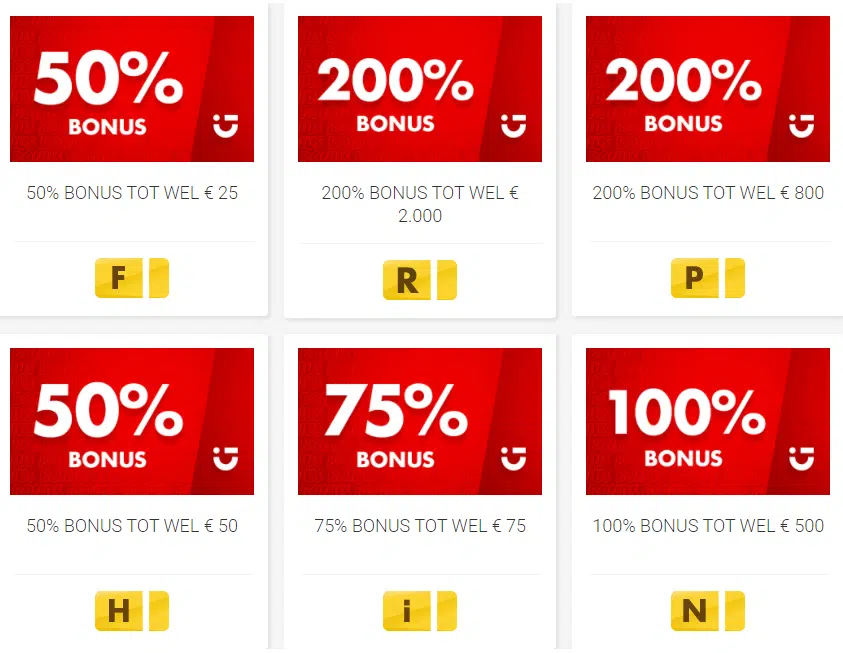 Frequently asked questions about Circus 🎪 Does there have to be a minimum deposit to play at Circus?
For the deposit of money into the account, there are several limits set. A minimum amount of €10 must be transferred to be able to play at the provider. The maximum amount of a transaction is €25,000.
🎪 Is Circus licensed?
Yes, the company holds licenses issued by the Belgian Gaming Commission and the Dutch Gaming Authority.
🎪 What games can be played?
There are several categories available on the website with a variety of games. You can think of table games like Poker, Baccarat, Blackjack or Roulette. In addition, there are many slot machines, you can bet on sports and there is a live casino.
Circus bonuses Casino Welcome Bonus
100% up to £250
Grab Bonus Sports Welcome Bonus
100% Up to €250 in free bets
Grab Bonus Superodd
Enjoy an exceptionally high odd of 10.00 on your first deposit
Grab Bonus