By knowing the hand values and the rules of the game well, you'll also know when it's best to call or fold. Each hand value is formed by five cards. You'll need to place an ante to receive these five cards.
The most important value you can achieve is a Royal Flush. This also gives you the opportunity to win a progressive jackpot if you play for it. Just place a chip on the area with the jackpot written on it and you'll be playing for the jackpot. On this page you'll find all the hand values explained, so you can sit down at the Caribbean Stud Poker tables at the casino with more knowledge.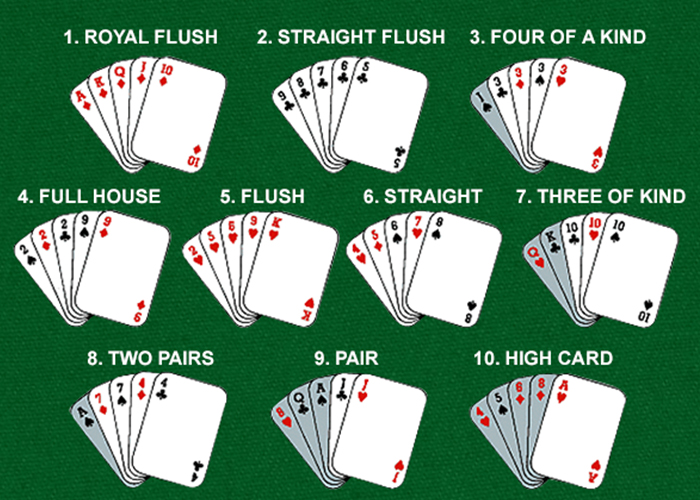 Hand values at Caribbean Stud Poker
Play the game with real money at one of these online casinos! New Casino!
Casino777
Welcome bonus 100% up to €250 Jacks Casino Online
100% Welcome Bonus up to £100
bet365
Deposit min €10 and receive 100 free spins
Grab the bonus
BetCity
Welcome bonus up to €100 free spins
Our best bonus! Circus
Get a bonus up to €250
Hand values at Caribbean Stud Poker Royal Flush
A Royal Flush consists of a straight of 10, J, Q, K and A all of the same suit. You win two hundred times your total bet. This combination is the most difficult to achieve and will win the progressive jackpot.
Straight flush
A straight flush consists of any street (except 10, J, Q, K and A) of the same suit. This pays out 50 times the total bet at the time. If you are playing for the jackpot, it will also pay out 2500 x 1.
Four of a Kind
If you have four similar cards such as 10, 10, 10 and 10, then you will have a Four of a Kind. This hand value pays you 20 times the total bet. When you play for the jackpot it will also pay out 250 x 1 euro.
Full House
A full house consists of a pair (10, 10) and a three of a kind (Q, Q, Q). In this case, a hand of 10, 10, Q, Q, Q. This combination pays out seven times the total bet. The jackpot payout amounts to 100 x 1 euro.
Flush
A flush consists of cards of the same suit. For example, only clubs. No straight may be formed, otherwise it is a straight flush. This Caribbean Stud Poker hand value pays out five times the total bet. In case of a jackpot bet you will also receive 25 times 1 euro.
Straight
A straight can be formed with consecutive cards. For example 9, 10, J, Q and K. These cannot all be of the same value or it will be a straight flush. A straight pays out three times the total bet and as a jackpot payout you also receive 10 x $1.
Three of a Kind
Three of a kind pays out three times the total bet. You can make this combination with three similar cards, for example 6, 6, 6 or K, K, K. It also pays out 5 times 1 euro if you have wagered 1 euro on the jackpot option.
Two Pair
Two Pair is basically two pairs and is formed with two pairs. As an example you will have 8, 8, J, A in your hands. This means you have two pairs and it will pay out twice the total bet. This pays nothing for the jackpot bet because it will be less difficult to achieve.
Pair
A pair is formed with two similar cards. For example Q, Q and this will pay out once the total bet. It does not play for the jackpot bet.
Ace + King
These are an Ace and King in hands and also the easiest hand value to achieve in Caribbean Stud Poker. It pays out one time the total bet and, like a Pair, will not play for the jackpot bet.
Read also these articles about Caribbean Stud Poker
Caribbean Stud Poker

Live Caribbean Stud Poker

Caribbean Stud Poker jackpot

Free Caribbean Stud Poker
Make sure you master the sequence of hand values. In Caribbean Stud Poker, you already see 1 card from the dealer. This combined with the fact that you also see your own 5 cards can give you an advantage. Make sure you take advantage of this. A little bit of probability can also give you an advantage.
Caribbean Stud Poker is above all a very fun game with the excitement of whether your hand is good enough and whether the dealer is playing. Frustrations are also part of the game. You can play a super hand and the dealer no qualified hand. In that case, you only get a very limited payout.
Have fun playing Caribbean Stud Poker!