As an online casino player, you know that there is a huge selection of various online casinos with many slot machines. Many online casinos deploy attractive bonuses, promotions and offers to attract new players and differentiate themselves from their competitors.
One of the latest trends is the feature drop in slots, called Buy a Bonus. By deploying this feature, you go straight to the bonus round which of course can come in very handy.
The Buy a Bonus Feature
A Buy a Bonus feature is not always cheap, but it can greatly increase your chances of winning. There are a number of risks involved and there are definitely a few things you should know before you play it. Want to know more about this Buy a Bonus feature? Then read on!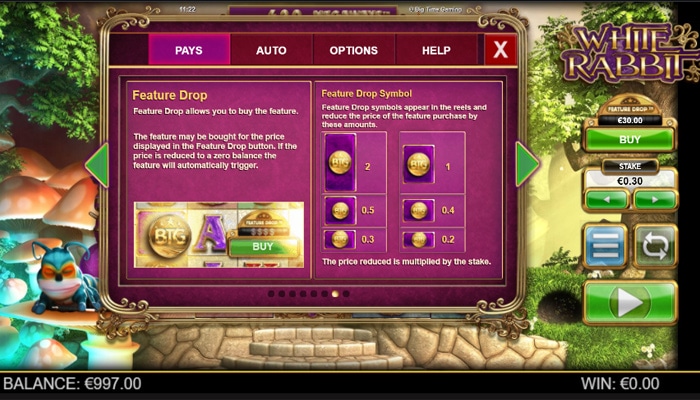 Big Time Gaming is the inventor of the Buy a Bonus. At White Rabbit Megaways, this was first found.
The origins of the Buy a Bonus Feature
Game provider Big Time Gaming is the inventor of the Buy a Bonus feature and has a trademark on it. The feature was first found in the slot machine White Rabbit Megaways.
The Buy a Bonus feature was soon noticed by other casino manufacturers and became very popular in many other casino games. You can now find it in many online slots games.
How does the Buy a Bonus work
When you play an online game on a slot machine, you can make use of the unique Buy a Bonus feature. This feature allows you to instantly activate the bonus game, without having to wait very long.
By buying the Buy a Bonus, you get instant access to the bonus game without having to do it the normal way. As a player this is of course very attractive, because in the bonus game you can achieve extra large profits. You can obtain this functionality in two different ways.
First, as a player you can buy the bonus game. The amount you put down for this is often 100x the value of your bet. This can even go up to 250x the value of the bet. So instead of playing the game the normal way, you pay your stake X25, X50, X100 or even X250.
Secondly, as a player you can collect or save items during the game. Often this is in the form of coins, for example. By collecting these coins, you can reduce the cost of the Buy a Bonus functionality.
It is even possible to reduce the cost to 0 with the number of coins collected. Deploy the coins to activate the feature. This feature is also called a drop feature. You can buy the drop feature at a high discount by the number of items you have collected or you can even get it for free.
Is it wise to buy a Buy a Bonus?
The Buy a Bonus feature sounds like music to the ears of many casino players, but is it really that smart? By pressing one button you are sent straight to the bonus round.
Not everyone finds this fair and responsible. If you can afford it financially, there is nothing wrong with using this functionality to go to the bonus round of your favorite games. However, it is not responsible to buy and use this with every game.
The games where the Buy a Bonus feature is available often have high volatility. Some slots only pay out five times your stake, so keep that in mind.
You think you're going to make a lot of profit by buying your way into the bonus round, but of course there are some conditions of the casino attached to that.
Play Buy a Bonus Feature at slots at: New!
Casino777
Welcome Bonus 100% up to €250 Jacks Casino Online
100% Welcome Bonus up to £100
bet365
Deposit min €10 and receive 100 free spins
BetCity
Welcome bonus up to €100 free spins
Our best bonus! Circus
Get a bonus up to €250
What to look out for when buying this bonus
Would you like to buy a Buy a Bonus in an online slot? Then it's important that you pay attention to a few things. An online casino often has a maximum bet rule with the bonus money. This often comes down to an amount of $5 per spin.
If you buy a Buy a Bonus or a feature drop, then you often pay a high amount. This can cause you to violate the casino's wagering requirements. This may happen without you even realizing it, but if the casino finds out, you will lose all your money.
It is very important to always read the wagering and bonus terms of the casino and the slot machine itself very carefully and abide by the rules. Otherwise you could lose all your money without even realizing it.
Have fun, but play in moderation
With online casino games the rule is always: have fun, but play in moderation. Keep it fun and give yourself a balance limit. Keep a certain budget in mind and don't go over it.
Playing games and especially unlocking casino bonuses is very attractive, but it is also very addictive. Playing is all about having fun, so keep it fun!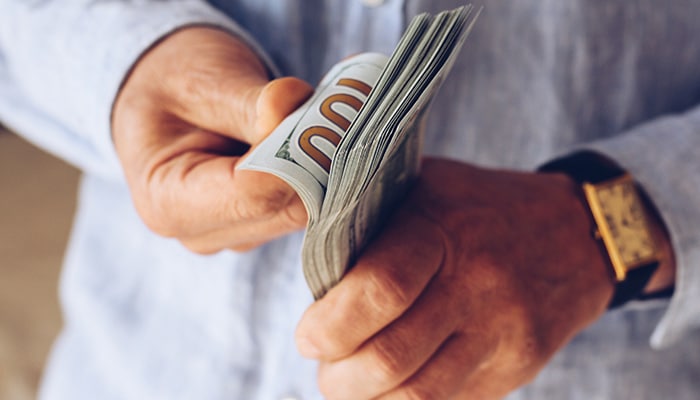 Unlocking bonuses is very attractive, but therefore also very addictive.
The difference between Buy a Bonus and Feature Drop
You've probably seen the feature drop before as a casino player. This feature is basically the same as a Buy a Bonus. The only difference between these two features is that you can often buy the feature drop for free or at a discount.
In order to buy a feature drop at a discount or even for free, you have to collect or save things during the game. Often this is in the form of coins. The more you collect in the base game, the higher the discount you get when buying a feature drop.
This is done to keep players involved in the game longer. The longer you play the game, the more items you can collect and the higher the discount for buying the bonus.
Choose a reliable online casino
When buying a Buy a Bonus there are a few things you should pay attention to, but of course it is also important that you choose a reliable online casino where you will play the game.
Online there is a wide range of various online casinos, each of which has a wide assortment of different slot games. There are also some things you should check carefully before you start playing.
These include: What bonuses are available? What exactly are the wagering conditions? Are payouts made on time? Is the users' personal and financial information handled securely? If necessary, check the reviews of other players.
Try a Buy a Bonus game for free
Are you curious about how the Buy a Bonus feature works exactly? Try it out in a free online game. This is a great way to get a feel for the feature without spending money right away.
That way, when you play other casino games with Buy a Bonus in the future, you'll know exactly what to expect and how exactly it works. The more experience you have with it, the more likely you are to make a high profit!
Tips for the Buy a Bonus feature
Here is what you need to know about this feature!
Buying a Buy a Bonus will send you straight to the bonus round. With one click on the button you no longer have to take the normal route, but go straight to the bonus game.
By going straight to the bonus round, you can buy a Buy a Bonus feature. The amount you pay for this is often 50 or 100 times the value of your stake.
To go directly to the bonus round, you can also buy a feature drop. This works a little differently than the Buy a Bonus feature, as you can greatly reduce the amount of the feature drop by collecting or saving certain items in the game. This takes the form of coins, for example. If you save a lot of coins, the feature drop can even become completely free.
Be sure to read the bonus terms of the particular online casino and game. The wagering requirement can go as high as 250X. It is not always wise to buy this bonus.
Pay close attention to the rules of the game and make sure you never violate the wagering requirements. This can cause you to lose money already.
Enjoy, but play in moderation. It is advisable to keep a certain budget in mind and not go over it. Buy a Bonus is very attractive, but not always wise.
Choose a reliable casino. Read through the terms of use and reviews from other users.
Try out a free demo with a Buy a Bonus feature. This way you know exactly what to expect and get a feel for the feature. That could come in handy!
Conclusion
In this article we will tell you all about the Buy a Bonus feature. Questions that will be answered include: What is a Buy a Bonus feature? How did it originate? How does it work? What to pay attention to? In this article you will find answers to all these questions and more. Everything you need to know about this Buy a Bonus feature is right here for you!