The great extra features of Boom or Bust
When you start playing Boom or Bust you will see that you can bet on three bonus games. In addition to these bonus games, there is another great feature added in the game, namely the 'Power Up'.
When the box is revealed and it says 'Power Up', it means that all multipliers are increased. Usually these are doubled and then the dice are rolled again to reveal a new box. Is there a box revealed with a multiplier? Then you win your bet times that multiplier.
But if a box is revealed with a bonus game, things get really interesting. We'll explain the bonus games to you:
Dice Battle
When you start playing this bonus game, you don't play with two dice anymore, you choose one. They play against each other, so to speak. It's up to you to guess which of the two will achieve the highest multiplier.
You choose from two colors: yellow or blue. The multiplier of your chosen color is ultimately the multiplier that is applied to your bet. And so this will be your final win.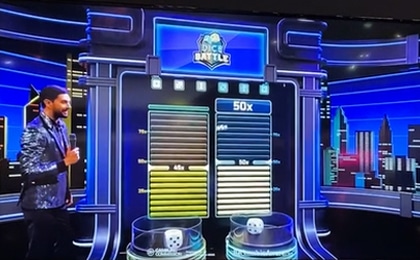 Dice Battle
Lucky Drop
In Lucky Drop you make a choice between one of the six pips on the dice. The two dice are then rolled six times.
The more times your chosen number is thrown, the higher the bar increases with multipliers. In total you can win up to 250x your stake with this bonus game!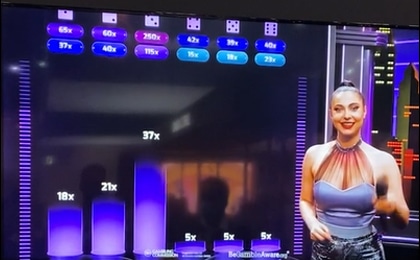 Lucky Drop
Boom or Bust
This is perhaps the most exciting bonus round of all. You play with seven rounds. You may decide for yourself when you stop.
Will you stop before the seven rounds are over? Or do you dare to wait until the last round? We'll briefly explain how it works:
Each round you can earn an extra multiplier. But… you can also get a red cross. If so, then you will lose all the multipliers you have accumulated so far in the bonus round.
So that's why you get the chance to quit after each round. The multipliers you have then built up are multiplied by your bet. This, of course, can add up to an amazing win.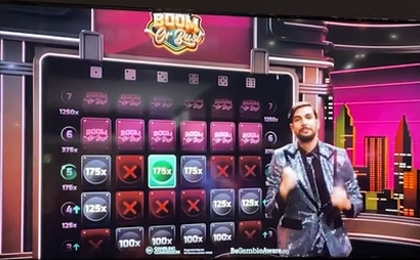 Boom or Bust
Frequently Asked Questions 💥 What is the minimum bet to play?
Boom or Bust is accessible to every kind of player. You can play as early as €0.10 per round.
💥 What bonus games are there?
At Boom or Bust you play with three different bonus games:
Dice Battle
Lucky Drop
Boom or Bust
💥 When can I start playing Boom or Bust?
Boom or Bust is expected to go live around June 2022. Every online casino that offers live games from Pragmatic Play will then also add Boom or Bust to their offer.
Our conclusion
Since Boom or Bust isn't live yet, we haven't been able to test the game for you. But from our sneak peak, we can guarantee that this is going to be a hit. The multipliers that have been added to the game are very interesting and can result in big winnings. In addition, the bonus games are also very nice. These ensure that the game will not get boring at all. We are eagerly awaiting the go live.